100th G20 Meeting during India's G20 Presidency
The G20 members account for nearly two-thirds of the world's population, over 75% of global trade, and 85% of the world's GDP.
Today, India celebrates its 100th G20 Presidency with the Agriculture Chief Scientists (MACS) meeting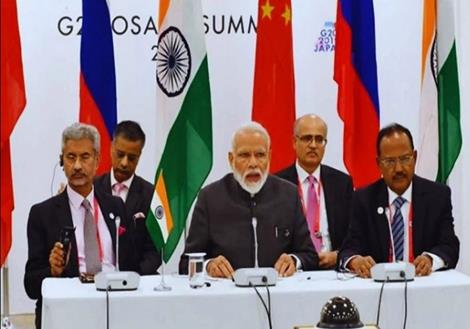 in Varanasi. Today also sees the 2nd Digital Economy Working Group in Hyderabad, the 2nd Health Working Group in Goa, and the Space Economy Leaders' Precursor Meeting in Shillong.
India's one-year G20 Presidency began on December 1, 2022, and will last until November 30, 2023, after Prime Minister Shri Narendra Modi received the G20 Presidency during the G20 Bali Summit on November 16, 2022. The G20 logo and India's G20 Presidency theme, "Vasudhaiva Kutumbakam"—"One Earth. One Family. One Future"—was previously announced by the Prime Minister on November 8, 2022. The G20 logo, which was created using the colours of the Indian flag, represents our pro-planet stance and growth despite obstacles.
A total of 19 nations—Argentina, Australia, Brazil, Canada, China, France, Germany, India, Indonesia, Italy, Japan, the Republic of Korea, Mexico, Russia, Saudi Arabia, South Africa, Türkiye, United Kingdom, and the United States—as well as the European Union, make up the Group of Twenty (G20). The G20 members account for nearly two-thirds of the world's population, over 75% of global trade, and 85% of the world's GDP.
The G20 Presidency of India has had some of the highest in-person attendance ever. Meetings relating to the G20 have attracted more than 12,300 delegates from over 110 countries. G20 members, nine invited nations, and 14 international organisations will all be present. As of this writing, the 100 G20 summits have been held in 41 cities throughout 28 States and Union Territories. With the full backing and involvement of State Governments and Union Territories, meetings are being organised all throughout India. The largest geographical spread of any G20 Presidency, India will welcome international delegations for more than 200 G20-related meetings in almost 60 places throughout India during our Presidency. Meaningful interactions have been started by all 13 Sherpa Track Working Groups, 8 Finance Track Workstreams, 11 Engagement Groups, and 4 Initiatives. In the course of our G20 Presidency, new Working Groups on Disaster Risk Reduction (DRR), Engagement Group "Startup 20," and Initiative Chief Science Advisers' Roundtable (CSAR) have been operationalized. The 11 Engagement Groups offer a forum for discussion between the public and corporate sectors, academia, civil society, young people, women, and organisations like parliamentary bodies, auditing agencies, and city administrations.
The G20 Foreign Ministers Meeting (FMM) took place in New Delhi on March 1-2, 2023, the first Finance Ministers and Central Bank Governors Meeting (FMCBG) took place in Bengaluru on February 24–25, 2023, and the second FMCBG meeting took place in Washington, DC, on April 12–13, 2023. Udaipur (4–7 December 2022) and Kumarakom (30 March–2 April 2023) each hosted a Sherpa Meeting. All delegations, including Ministerial-level dignitaries, participated in person at a record-breaking high level in the FMCBG, FMM, and Sherpa sessions. The productive conclusion documents from these meetings helped to develop agreement on the G20's common aims.
With the Voice of Global South Summit, which was held in January 2023 and was presided over by the Prime Minister, 125 countries, including 18 at the level of Heads of State or Government and other countries at the level of Ministerial, participated in amplifying the voice and concerns of the Global South and developing countries.
Africa has participated more actively than ever during a G20 presidency, including South Africa (a G20 member), Mauritius, Egypt, Nigeria, the AU Chair Comoros, and AUDA-NEPAD. The itinerary for the visiting delegates included memorable encounters showcasing India's diversity, inclusive customs, and cultural richness. Over 7,000 artists have taken part in over 150 cultural events that have taken place. A "People's G20" is being created through the simultaneous holding of Jan Bhagidari activities and active public participation. In-depth discussions will take place during India's G20 Presidency on topics like inclusive and resilient growth, SDG advancement, green development and Lifestyle for the Environment (LiFE), technological change and public digital infrastructure, multilateral institution reform, women-led development, and global peace and harmony. The G20 Members and visiting nations have overwhelmingly endorsed India's G20 Presidency for its inclusive, ambitious, action-focused, and decisive agenda.