2 Billion Doses of Covid-19 Vaccines By August-December 2021
Towards the second half of the year, India's pharmaceutical sector is planning to manufacture 216 crore vaccine doses. Russian made Sputnik V to also enter Indian markets
India may get over 2 billion doses of various Covid-19 vaccines between August to December, 2021, Dr. VK Paul, Health Committee Member, NITI Aayog said on Thursday. He further added that Russian made Sputnik V Covid-19 vaccine will be available in Indian markets from next week, but only at private hospitals.
Towards the second half of the year, India's pharmaceutical sector is planning to manufacture 216 crore vaccine doses, a little over two billion. Government officials spoke to pharma companies that are currently producing/testing vaccines and provided their targets for the upcoming months. Between August and December, the Serum Institute of India is aiming to produce 75 crore doses of Covishield, a vaccine already in the market, and 20 crore doses of Covovax, which it is in the process of manufacturing. The latter is an Indian version of SII's internationally selling vaccine, Novovax.
Other Indian companies also aim to provide large stocks of their vaccines, including the Zydus Cadila DNA vaccine, Bio E Sub Unit vaccine, Bharat Biotech's Nasal vaccine, and Genova mRNA vaccine. Altogether, the government is planning to procure 51 crore doses of the vaccines mentioned above, Dr. Paul said at a press briefing.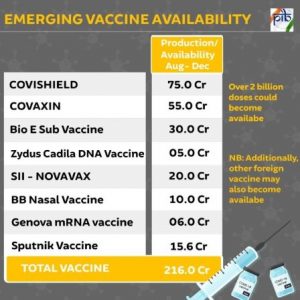 These quantities, however, are still provisional. Multiple vaccines mentioned by Dr Paul are still in the process of finishing trials. The Bio E Subunit vaccine is currently in phase 3 trials, as is the Zydus Cadilla vaccine. "Both are expected to apply for licensure soon. These are promising vaccines. There is still a possibility they may not get the approval, but we are prepared fully in case they do," Dr. Paul said.
The Sputnik V vaccine, which has already been sent to India and is currently undergoing tests for final approval, will be made available in the market next week onwards. However, the vaccine will also be manufactured in India in collaboration with Bharat Biotech, which aims to produce 15.6 crore vaccine doses between August and December. "Manufacturing will begin in July," Dr. Paul added.
He also hinted at the possibility of other foreign vaccines making an entry to India's vaccine market. "We have been in touch with Pfizer and Moderna, and have been requesting them to either provide vaccines in India or manufacture them in collaboration with an Indian pharma company," he added. Foreign vaccines are being imported to India under the 'liberalised' phase III of India's vaccine policy.
---
---
Guidelines under phase III also permit states and private hospitals to directly procure vaccines from pharmaceutical companies, which were previously being procured only by the center. While the guidelines were revised due to state governments complaining of low vaccine stocks, the problem continues even in the ongoing phase.
Officials of the Delhi government, raising an alarm of vaccine shortage on Wednesday, said that vaccine stocks in the capital will only last for 5-6 days, and claimed that Bharat Biotech had refused to supply the vaccine doses required this month. Addressing a press conference, Deputy CM Manish Sisodia said, "Delhi had asked for 1.3 crore doses of (both) Covaxin and Covishield, but Bharat Biotech refused to supply the vaccine because of central government directives." He further added that Delhi government is forced to shut down 100 Covaxin-vaccination sites in 17 schools due to lack of supply.
Bharat Biotech had responded to Delhi government's demands in a letter on Tuesday, which read, "There has been an unprecedented demand for our vaccine and in spite of increasing production, we are unable to keep up with the demand. We are making dispatches as per directives of the concerned government officials."
Refuting the allegations put up by Mr. Sisodia, Dr. Paul said that the Central government is working to facilitate the procurement process. He added, "75 thousand Covaxin doses were given to Delhi in May. Through January to May, 13 lakh doses were provided to Delhi. Other than that, the UT has procured 1 lakh doses directly, and 20 thousand have been procured by private hospitals. Vaccine has been procured through all 3 channels in Delhi."
India witnessed a dip in Covid-19 cases on Thursday and registered 3.66 lakh fresh infections. The number of active vases in the country now stands at 37,10,525. The country has vaccinated over 18 crore citizens, and about 1/3rd of India's 45+ population has received at least one dose. "The 2nd dose targets in the case of healthcare workers is almost complete. 35.6 crore vaccine doses have been procured by the Central government in the ongoing vaccination drive. Until July, 51.6 crore doses are available, which includes the vaccine doses availed by states and private hospitals," MoHFW Joint Secretary Luv Aggrawal said.