PM's Political Jibe: Dyslexia is not a subject of mockery
If Prime Minister Narendra Modi's remarks as part of his #videoconference at the #SmartIndiaHackathon are anything to go by along with the young audience caught laughing at the remark, it raises questions over the level of awareness of mental health issues in the country.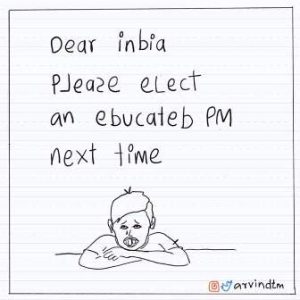 Twitter was abuzz with #Dyslexia #Tania hashtags as soon as Prime Minister Narendra Modi took a political jibe in form of a "joke" on Opposition leader Rahul Gandhi when an engineering student as part of the Grand Finale of the Smart India Hackathon told him about an app to help dyslexic children write and read better. Cutting her through, during the video conference beamed live to thousands, PM Modi said, "Will this program work for a 40-50 year old child too?", an indirect pot shot at Gandhi.
The student then responded, "Yes sir, it will work." PM Modi, then remarked, "Then that will make the mothers of such children very happy."
As a learning disorder, Dyslexia involves difficulty in reading, writing and spelling as there are problems in identifying speech sounds and is related to the language processing part of the brain.
The exchange between the student and PM Modi and his purported humour drew sharp criticism on social media with many calling PM Modi's remarks uncalled for and indicating how mental health issues still draw laughter and grins rather than sensitivity and understanding. Others also supported the engineering student's grit and asked her work to be highlighted.
---
---
Sharing that he is proud of his daughter #Tania who suffers from dyslexia, former Member of Parliament, Shahid Siddiqui, Managing Director and Chief Editor of weekly 'Nai Duniya', tweeted, "My daughter Tania is a special person and I am proud of her, she is doing her best to cope with learning disabilities and I won't allow anyone to look down upon her, however exalted that person may be. I fought for the rights of differently abled as a MP & continue to do so."
Former Reserve Bank of India Governor Raghuram Rajan tweeted, "The @PMOIndia of the country mocking a serious disorder says a lot about current situation of awareness of mental disorders in the country. There's a no doubt that India is lagging far behind as far as mental health is concerned. It's a shame." #Dyslexia
Secretary General of Communist Party of India was quick to point out that in the last 70 years, a person with such "crassness" occupies the chair of PM.
Shameful and distressing. Some of us have dyslexic or disabled relatives, friends, children and parents. Sattar saal mein pehli baar, a person with this crassness occupies the chair of the PM. Enough, Mr Modi. Yeh hain sanskar aapke?https://t.co/8wBvtjPy7q

— Sitaram Yechury (@SitaramYechury) March 3, 2019

Targeting Modi, former Karnataka Chief Minister Siddaramaiah tweeted, "Just came across a video of our @narendramodi taking political potshots using the name of dyslexic people. Shame on you Modi!! You just can't go below this. Your insensitivity can't be washed away by dipping in any river. They may be slow in learning but not heartless like you."
---
---
As a nationwide initiative, Smart India Hackathon organised by the Indian Institute of Technology, Roorkee, allows students a platform to solve problems in everyday lives through fostering a culture of innovation. While addressing the students, Modi said, "India Must Reach Top 25 In Global Innovation Index Soon."
He added, "The country today is the world's third largest start-up nation and has cemented its position based on the culture of innovation and entrepreneurship."
"Since 2017 when we started this effort, we have expanded it…What started with 30,000 students, this hackathon has now grown to two lakh participants…Smart India Hackathon has emerged as the world's largest national level open innovation model where on one platform, industry, educational institutes, government agencies, professionals and students come together," he said.
On the comment, National Platform for the Rights of the Disabled (NPRD) pointed out that his remarks revealed his mindset. "Even during the 2014 Lok Sabha election campaign, Modi had used terms like blind, deaf, lame to belittle his rivals. It is a reflection of a totally regressive mindset."
However, the cross-disability rights group further added that "other political leaders" too seemed to be displaying a similar tendency. Recall that Gandhi had called Modi "schizophrenic", it said.