Adjuvant Molecules to Fight Antibiotic Resistance
Researchers at JNCASR have developed nonantibiotic compounds called antibiotic adjuvants to target bacterial resistance and improve therapeutic regimes.
A growing global clinical and public health challenge is antibiotic resistance. Antibiotics are the last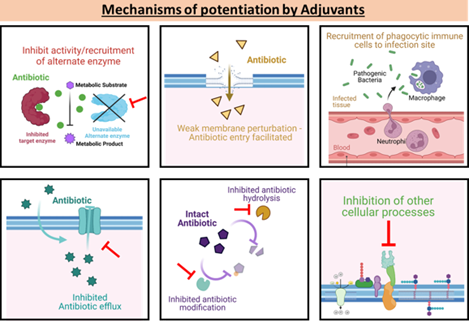 line of defence against multidrug-resistant bacteria. Antibiotic adjuvants are non-antibiotic substances that target bacterial resistance and can be used with outdated medications for an enhanced therapy regimen, according to research from the Jawaharlal Nehru Centre for Advanced Scientific Research (JNCASR), Bengaluru.
"It is crucial to look at the outdated approved antibiotics, target resistance mechanisms to them, and restore their efficacy in the expanding era of antibiotic resistance and strict criteria for producing new medications. "Antibiotic adjuvants," which target these resistance processes and are inspired by the prescription of a combination of medications, offer a good alternative, the researchers say in an interview with India Science Wire.
Discovering new drugs is frequently halted by strict cut-offs for effective medication design. To increase the effectiveness of antibiotics, scientists are continually examining various antibiotic resistance mechanisms.
In their review study, the JNCASR researchers examined numerous innate and learned mechanisms of bacterial resistance. Additionally, they discuss how "antibiotic adjuvants" can either directly or indirectly address this resistance. These include different types of enzyme inhibitors, inhibitors of efflux pumps, substances that target membranes, substances that target other cellular processes, and substances that modulate the host. Despite being ineffective against germs, these substances can be used with current medications to combat infection.
Based on their thorough literature review, the researchers provided some thoughts on bridging the gaps in producing various types of adjuvants. The only kind of adjuvants that are currently approved are -lactamase inhibitors. In-vivo toxicological research, pharmacokinetic and pharmacodynamic investigations, and studies on the link between structure and action have all been emphasised as being crucial for developing new kinds of adjuvants. To circumvent Gram-negative bacteria's permeability barrier and efflux processes and potentiate several antibiotics, they have also discussed the construction of mild membrane-perturbing adjuvants.
The commercialization of combination therapy has enormous promise. The research community has grown enormously, creating cutting-edge strategies for rehabilitating current antibiotics. However, efforts need to be undertaken to take such compounds to the preclinical and clinical development stage," said the researchers.
Geetika Dhanda, Yash Acharya, and Jayanta Haldar's team have emphasised the significance of focusing on more complex types of infection, such as biofilms, intracellular infections, and persister cells, as the requirement to look at the host-modulating capabilities of various adjuvants. ACS Infectious Diseases has published the article. (India Science Wire)