Cherrapunji: A Journey to the Wettest Place
The Noskalikai Waterfall, the biggest fall of Meghalaya with 340 m height and 23 m width, is located at Cherrapunji.
The month of November provides a feasible climate to visit most of the tourist places of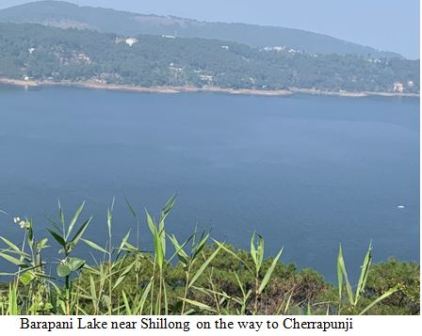 interest. India possesses plenty of tourist destinations all through its territory. Cherrapunji, the wettest place on Planet Earth and the popular tourist destination, is worthwhile to visit once in a lifetime. Situated close to the border area between India and Bangladesh, dominated by Khasi tribal community in Meghalaya, Cherrapunji is a tableland. It has many places of tourists' interests, where many tourists within and outside the country visit every year. I got an opportunity to visit Cherrapunji in November 2021 along with a diverse group, led by Siddharth Edake. The TERI, New Delhi, organized a four-day workshop at Guwahati, a gateway to northeast India, on November23–26,2021. The first two days were devoted to presentation and discussion in a synthesis workshop. This was followed by a two-day field visit of Cherrapunji. We hired a bus and started our journey at 8:30 am from Ginger Hotel, Guwahati.
After traveling about 15 km from Guwahati, we entered a narrow valley surrounded by small hills. There was a police check post at Byrnihat, also called 17 miles, the border area between Assam and Meghalaya, where all the formalities related to the COVID-19 pandemic were carried out to enter into the Meghalaya State. A long queue of tourists was lying over there. After all clearances, we proceeded further. Along the roadsides and hill slopes, dense subtropical forests, Areca nut trees, and banana fruits were growing. Besides, pineapple gardens on the sloppy lands were stretching roadsides and the folks were selling local products. Dhabas, tea stalls, and restaurants were located all along the roadsides, which were serving tourists.
A total of 20 service centers of different sizes between Guwahati and Cherrapunji were lying. Nongpoh (500 m), Barapani Lake (990 m), Mawiong (1370 m), and Shillong were prominent. The altitude increased from Guwahati (50 m) to Shillong (1600 m) and Cherrapunji (1600 m). A few places on the road were located above 1800 m altitudes.
It was the autumn season. Flowers were blossoming, both sides of the road, making the landscape panoramic. Paddy fields, tea gardens, and ginger and turmeric farms were adding the beauty of the landscape. Few shifting cultivation plots and terraced farms could also be seen in the dense forest areas. We saw subtropical grasslands and forests with rich biodiversity upto 850 m. The dense pine forests started from 900 m and were continued upto 1,600 m in a vast area.
In the higher altitudes, temperate forests along with blue pine were found. As we were moving upward, the temperature was decreasing, becoming chilled. Barapani, one of the biggest wetlands in northeast India and spread over 220 km2, is located 20 km before Shillong. The reservoir was created in the 1960s in the Umiam River. Surrounded by dense forests, it makes a beautiful waterscape. About 5 km road goes along its course toward Cherrapunji.
---
---
Tea gardens were located upto 1800 m. An army camp was also situated on the beautiful landscape from where a road goes to the elephant fall on the right side. A plateau-shaped landscape started from the army camp with panoramic landscape till Cherrapunji. The fish ponds in the arable land and vegetable gardens were also seen along the roadsides. Cherrapunji is a stony barren land, the wettest place on Planet Earth. On the other hand, it is the also driest one during the dry session when water scarcity prevails. The rainwater runs off directly into streams because of stony terrain, does not have pores and therefore, groundwater is just unavailable.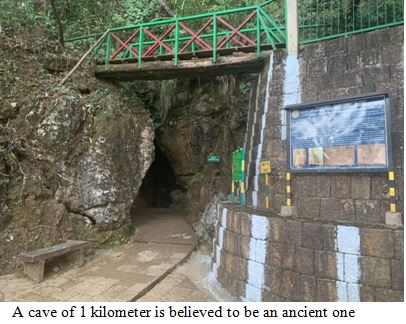 We were hungry and as soon as we reached Cherrapunji, we sought a restaurant and a tea "Special Thali" with diverse and delicious food. It was extremely cold! I wore a jacket and after a meal, we went for a trip to the surrounding areas of Cherrapunji. It was a tourist season and after the impact of the COVID-19 pandemic declined drastically, tourists visited out numbered.
The Noskalikai Waterfall, the biggest fall of Meghalaya with 340 m height and 23 m width, is located at Cherrapunji in the East Khasi hills, bordered by Bangladesh. In surrounding it, dense temperate forest, grassland, and stony barren land are found. Cherrapunji is also known as Noskalikai, close to which, Mawsynram village, where the world's highest rain occurs, is situated. Maw means stone. The whole region is stony barren except a few patched. Mainly, Khasi tribes inhabit the region. Meghalaya has three hills—Garo, Khasi, and Jayantiya—where several tribal communities inhabit.
After visiting Cherrapunji, we went to Kongthong village for a night's stay. It was quite dark. On the way, for an hour, it was dense fog, and then gradually, the sky was clear. We reached the village at about 7:00 pm. We had a meeting with the villagers, the Khasi tribes, about their socioeconomic conditions. After an hour-long meeting, we had dinner. We stayed in a bamboo hut, which had the capacity of accommodating four people. It was too cold and we had limited woolen clothes. Early morning at 5:17am, suddenly the hut started shaking and I awakened immediately. I observed it was a mild earthquake. At 7:00 am, we went to a nearby Jhumland with a Jhumia to understand their agricultural practices. After a visit, we all went back to Guwahati and the next day, I went back to Mizoram University, Aizawl. The entire journey was enjoyable and memorable.