Congress-led farmer Protest Rally takes over Modi-led govt.
Congress vs BJP: The All India Kisan Khet Mazdoor Congress-led protest rally witnessed farmers questioning the present government's strategies ahead of the 2019 General Elections.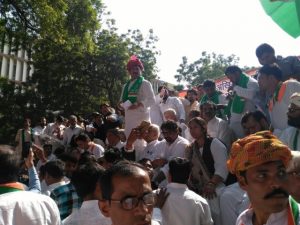 "Mera Chowkidar Chor Hai" shouted hordes of farmers gathered at the Kisan protest rally at Sansad Marg near Jantar Mantar in New Delhi on Tuesday. Referring to the infamous jibe by Congress President Rahul Gandhi where he called the Prime Minister as a "Chowkidar who opens the door and lets thieves in", at a public meeting in Andhra Pradesh's Kurnool last month, the farmers alleged that none of the promises by Prime Minister Narendra Modi are actually fulfilled until now including the recommendations of the Swaminathan Committee – which emphasises on sustainability in farming and making farm commodities profitable and cost-effective.
Organised by the Kisan Khet Mazdoor Congress which is Congress Party's recently revived farmer cell, the farmers and farm labourers from close to 40-odd farmer organisations from across states including Punjab, Haryana, Tamil Nadu, Rajasthan and Andhra Pradesh "blamed" the Modi-led BJP Government and said that there has been "no relief in sight" for farmers.
Agitated farmers could be seen shouting slogans, carrying posters, India's National Flag and Congress Flags even as Congress' senior leaders Harish Rawat from Uttarakhand, Randeep Singh Surjewala from Haryana, to name a few were in presence at the rally called "Jawab Do, Hisab Do" Rally and "Sansad Gherao Andolan".
The farmers' cell Chairman and former MP from Bhandara-Gondia, Nana Patole, who is the newly-appointed chairman of All India Kisan Khet Mazdoor Congress said these protests are a reminder to the Central government and the PM about their failure to fulfill "grand promises". "We want to remind the PM of the lofty statements he made in his first speech in Central Hall (of Parliament). He had said this government is of and for the poor and the farmers but their actions have been exactly the opposite. Farmers are very angry for the treatment being meted out to them including the remuneration for their toil," said Patole.
"Loan waivers, price of farm produce and the state of agricultural markets were some of the flagged concerns."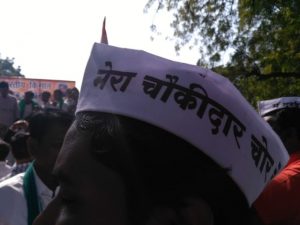 "There has been no rain, no water in ponds and farmer distress has been disheartening. But Central as well as Tamil Nadu State government have not done anything for us," Muthu Payanivel who came with 24 other farmers from Tamil Nadu's Thanjavur told Delhi Post.
His friend and fellow farmer, Kozhandai Payinivel added that without money and without a fixed MSP, farmers are forced to take extreme steps.
"Farmers were assured that they would get a minimum support price or MSP of 50 per cent higher than the cost of production. But nothing happened. We want our money for our hard work on an immediate basis," he told Delhi Post.
Another farmer from Uttar Pradesh's Kanpur Vinay Raj Singh Chandail told Delhi Post, "The king gave us many promises back in 2014 but none have been fulfilled. All we have received are demonetisation, GST and price and fuel hikes. People gave them such a large mandate but now the very people feel robbed off. Everywhere farmers' plight is deplorable. Janta wants change and that change will show in the five poll-bound states."
This stir is expected to be followed by participation in a national convention of farmer organisations from across the country on November 30, and Gandhi's mega rally early next year.