Direct Shipping Service between Tuticorin to Maldives
PM Narendra Modi's 'Neighbourhood-First Policy' and vision of Security and Growth for all in the Region are driving bilateral trade between India and Maldives.
The M.V. MSS Galena was flagged off as the Direct Shipping Service between Tuticorin and the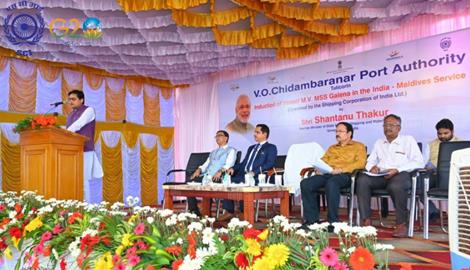 Maldives at a ceremony yesterday by Shri Shantanu Thakur, Minister of State for Ports, Shipping, and Waterways.
The need to improve connectivity between India and the Maldives through establishing supporting infrastructure was emphasised during Prime Minister Shri Narendra Modi's visit to the Maldives in June 2019. This will also help to stimulate bilateral trade between the two nations.
This service is being offered as a result of the Memorandum of Understanding for the Establishment of Passenger and Cargo Services by Sea signed on June 8, 2019, during the State Visit of the Prime Minister of India to the Maldives, between the Ministries of Port, Shipping & Waterways of India and the Ministries of Transport and Civil Aviation of the Maldives. This is consistent with the "Neighborhood-First Policy" and the regional vision of security and growth for all.
On 04.05.2023, the ship "M.V. MSS Galena," operated by the Shipping Corporation of India, can transport 421 TEUs of containers and bulk cargo docked at PSA SICAL Container Terminal.  At PSA SICAL Container Terminal, 270 TEUs of containers were put onto it. On May 5, 2023, the "M.V. MSS Galena" will depart Tuticorin for Male. The Male is expected to receive it on May 7, 2023. This shipping service will make three monthly calls in Tuticorin – Male – Tuticorin rotation.
Speaking at the event, Shri Shantanu Thakur stated that by launching this historic and ground-breaking service, our Hon'ble Prime Minister had concretely followed his promise when he visited the Maldives. This initiative lowered logistical and other costs, improved connection, and decreased the time it took to carry commodities between our two nations. He stated this service encouraged, developed, and stabilised shipping connections between Indian & Maldivian ports, opening a new chapter to connectivity activities launched by both countries in the (IOR) Indian Ocean Region. He added that this would further stimulate bilateral trade between India and the Maldives, resulting in more commercial and economic prospects and strengthened maritime trade connections between the two nations.
Previously, barges and sail-ships were used to transport bulk freight from Tuticorin to the Maldives, and containers are now transported via Colombo. SCI ran a service between Tuticorin, Kochi, Kulhudhuffushi, and Male. The vessel "MCP Linz" was launched on September 21, 2020, and has a capacity of 200 TEUs of containers and 3000 Tonnes of general cargo. The Contract expired on August 28, 2022.