ECI Announced Assembly Poll Schedule in Five States Today
Amidst the Covid-19 third wave, the conduct of assembly elections in five states will have seven phases from February 10 to March 7 and the results will be declared on March 10.
The Election Commission of India (ECI) announced the poll calendar for assembly elections in Uttar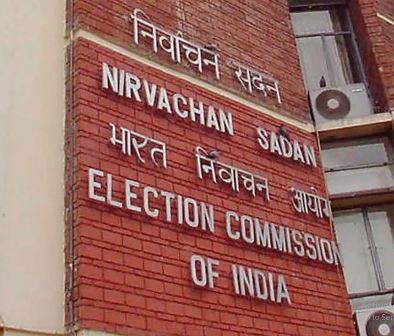 Pradesh, Uttarakhand, Goa, Punjab, and Manipur. Seven phases Poll to begin on February 10 and the results will be announced on March 10. Uttar Pradesh will go to poll in seven phases from February 10 to March 7. Single phase poll in Punjab, Uttarakhand and Goa to vote on February 14. Manipur to vote on February 27 and March 3.
Elections will be held for 403 assembly seats in UP, 117 in Punjab, 70 in Uttarakhand 60 in Manipur and 40 in Goa. Model Code of Conduct comes into effect immediately from announcement of the poll dates. Election Commission has made detailed arrangements for ensuring the effective implementation of the MCC guidelines.
Prior to the poll announcement, ECI has done the review of the pandemic situation and suggestions of health experts taken to ensure Covid-safe elections. Polling time in all five states to be increased by one hour.
Conducting election during the pandemic and ensuring Covid-safe elections, ECI has issued guidelines and laid new instructions to parties in the poll bound states.
ECI has banned physical political rallies and no roadshows, cycle or bike rallies and processions shall be allowed till January 15. The situation will be reviewed and fresh instructions will be issued later, the CEC Sushil Chandra announced.
All polling stations will be equipped with Covid-19 mitigation facilities including sanitisers and masks, EC added.
Detailed schedule of the state-wise poll is given below:
Schedule for General Election to the Legislative Assembly of Uttar Pradesh:
Poll Events
Phase-I

(58 ACs)

Phase-II

(55 ACs)

Phase-III

(59 ACs)

Phase-IV

(60 ACs)

Phase-V

(60 ACs)

Phase-VI

(57 ACs)

Phase-VII

(54 ACs)

Date of Issue of Notification
14-01-2022

(Friday)

21-01-2022

(Friday)

25-01-2022

(Tuesday)

27-01-2022

(Thursday)

01-02-2022

(Tuesday)

04-02-2022

(Friday)

10-02-2022

(Thursday)

Last date of making nomination
21-01-2022

(Friday)

28-01-2022

(Friday)

01-02-2022

(Tuesday)

03-02-2022

(Thursday)

08-02-2022

(Tuesday)

11-02-2022

(Friday)

17-02-2022

(Thursday)

Date of Scrutiny
24-01-2022

(Monday)

29-01-2022

(Saturday)

02-02-2022

(Wednesday)

04-02-2022

(Friday)

09-02-2022

(Wednesday)

14-02-2022

(Monday)

18-02-2022

(Friday)

Last date of withdrawal
27-01-2022

(Thursday)

31-01-2022

(Monday)

04-02-2022

(Friday)

07-02-2022

(Monday)

11-02-2022

(Friday)

16-02-2022

(Wednesday)

21-02-2022

(Monday)

Date of Poll
10-02-2022

(Thursday)

14-02-2022

(Monday)

20-02-2022

(Sunday)

23-02-2022

(Wednesday)

27-02-2022

(Sunday)

03-03-2022

(Thursday)

07-03-2022

(Monday)

Date of Counting
10-03-2022

(Thursday)

10-03-2022

(Thursday)

10-03-2022

(Thursday)

10-03-2022

(Thursday)

10-03-2022

(Thursday)

10-03-2022

(Thursday)

10-03-2022

(Thursday)

Date of completion
12-03-2022

(Saturday)

12-03-2022

(Saturday)

12-03-2022

(Saturday)

12-03-2022

(Saturday)

12-03-2022

(Saturday)

12-03-2022

(Saturday)

12-03-2022

(Saturday)
Schedule for General Election to the Legislative Assembly of Uttarakhand:
| | |
| --- | --- |
| Poll Events | Single Phase (All 70 ACs) |
| Date of Issue of Notification | 21-01-2022 (Friday) |
| Last date of making nomination | 28-01-2022 (Friday) |
| Date of Scrutiny | 29-01-2022 (Saturday) |
| Last date of withdrawal | 31-01-2022 (Monday) |
| Date of Poll | 14-02-2022 (Monday) |
| Date of Counting | 10-03-2022 (Thursday) |
| Date of completion | 12-03-2022 (Saturday) |
Schedule for General Election to the Legislative Assembly of Punjab:
| | |
| --- | --- |
| Poll Events | Single Phase (All 117 ACs) |
| Date of Issue of Notification | 21-01-2022 (Friday) |
| Last date of making nomination | 28-01-2022 (Friday) |
| Date of Scrutiny | 29-01-2022 (Saturday) |
| Last date of withdrawal | 31-01-2022 (Monday) |
| Date of Poll | 14-02-2022 (Monday) |
| Date of Counting | 10-03-2022 (Thursday) |
| Date of completion | 12-03-2022 (Saturday) |
Schedule for General Election to the Legislative Assembly of Goa:
| | |
| --- | --- |
| Poll Events | Single Phase (All 40 ACs) |
| Date of Issue of Notification | 21-01-2022 (Friday) |
| Last date of making nomination | 28-01-2022 (Friday) |
| Date of Scrutiny | 29-01-2022 (Saturday) |
| Last date of withdrawal | 31-01-2022 (Monday) |
| Date of Poll | 14-02-2022 (Monday) |
| Date of Counting | 10-03-2022 (Thursday) |
| Date of completion | 12-03-2022 (Saturday) |
Schedule for General Election to the Legislative Assembly of Manipur:
Poll Events
Phase-V

(38 ACs)

Phase-VI

(22 ACs)

Date of Issue of Notification
01-02-2022

(Tuesday)

04-02-2022

(Friday)

Last date of making nomination
08-02-2022 (Tuesday)
11-02-2022 (Friday)
 

Date of Scrutiny

09-02-2022 (Wednesday)
14-02-2022 (Monday)
Last date of withdrawal
11-02-2022 (Friday)
16-02-2022 (Wednesday)
 

Date of Poll

27-02-2022 (Sunday)
03-03-2022 (Thursday)
 

Date of Counting

10-03-2022 (Thursday)
10-03-2022 (Thursday)
Date of completion
12-03-2022 (Saturday)
12-03-2022 (Saturday)