Election Commission announces polling dates; Model Code of Conduct in place
Elections to Legislative Assemblies of Andhra Pradesh, Arunachal Pradesh, Odisha and Sikkim will simultaneously take place with #LoksabhaElection2019.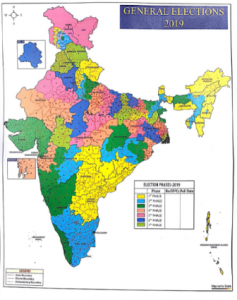 With the announcement of the polling schedule by the Election Commission of India (ECI) on March 10 to be held in seven phases from April 11 to May 19, and results to be out on May 23, the Model Code of Conduct (MCC) came into effect for the entire country in the run up to the 'biggest festival of democracy' General Elections 2019.
Applicable to all political parties and the Union and State Governments and Union Territories, the government of the poll-bound States has also been "directed to ensure that no misuse of official machinery/position is done during the MCC period".
In pursuance of the judgment of Supreme Court (July 5, 2013), the Election Commission has framed Guidelines on Election Manifesto in consultation with recognised Political Parties. These Guidelines have been incorporated as part VIII of "Model Code of Conduct of Guidance of Political Parties & Candidates" and shall be applicable and implemented in Lok Sabha Elections – 2019 as part of MCC.
April 11 will see 91 constituencies in 20 states going to polls; April 18 will see 97 constituencies in 13 states; April 23 will see 115 constituencies in 14 states; April 29 will see 71 constituencies in 9 states; May 6 will see 51 constituencies in 7 states; May 12 will see 59 constituencies in 7 states and May 19 will see 59 constituencies in 8 states followed by results on May 23.
---
---
It also announced that #Elections to Legislative Assemblies of Andhra Pradesh, Arunachal Pradesh, Odisha and Sikkim will simultaneously take place with #LoksabhaElection2019.
In his address, Chief Election Commissioner Sunil Arora pointed out that the ECI has "specified elaborate standard operating procedures for #EVM and #VVPAT".
Hundred per cent use of Voter Verifiable Paper Audit Trail (VVPAT) along with Electronic Voting Machine (EVM) at every polling station to enhance "transparency and credibility of the election process" has been a significant change from the last General Elections 2014, as VVPAT allows the voter to verify his/her vote. "The Commission has already made arrangements to ensure availability of adequate number of EVMs and VVPATs for the smooth conduct of elections," stated the Chief Election Commissioner.
"As per the schedule, the requirement and availability of EVMs and VVPATs for the Lok Sabha and for the State Assembly Elections due to be held together are 17.4 lakh VVPATs and 23.3 lakh Ballot Units and 16.35 lakh Control Units." 

The Commission has also instructed the Chief Electoral Officers of all States and UTs that "end-to-end movement" of all Reserve EVMs and VVPATs shall be carefully monitored at all times, for which all Sector Officers' vehicles with Reserve EVMs and VVPATs shall mandatorily be fitted with GPS tracking system.
For the first time, Braille Photo Voter Slips for visually impaired and blind voters "to ensure wholesome and constructive participation and active engagement of Persons with Disabilities (PwDs) in the election process". The Commission has directed to issue "Accessible Photo Voter Slips with Braille Features to Persons with Visual Impairment or Blind, over and above normal Photo Voter Slips to be issued".
The Commission recently issued instructions to the Chief Electoral Officers of all States/ UTs "to ensure that every Polling Station is equipped with Assured Minimum Facilities (AMF) like drinking water, shed, toilet and ramp for the PwD voters and a standard voting compartment etc".
"All critical events shall be video-graphed. Commission appoints sufficient number of various observers to closely monitor various stages of election; control rooms and complaint monitoring centres will be set up with toll free numbers," said Arora
---
---
The total electorate in the country as per finally published E-rolls in reference to January 1, 2019 is approximately 900 million compared to 814.5 million in 2014. This marks an increase of more than 84 million electors. Over 15 million electors are in 18-19 years age group. Electors in the age group of 18 to 19 years constitute 1.66 per cent of total electors.
All citizens who turned 18 years on 1st January, 2019 and registered as electors will get opportunity to cast their vote in the upcoming Lok Sabha elections and in the respective Vidhan Sabha elections of those States where it will be held. Those who turned 18 years on 1st January 2019 and are eligible, but yet to be registered as electors, they still have opportunities to register as electors. "Through the media, they are requested to apply urgently online through nvsp.in or offline through the BLOs of the concerned polling stations or in the electoral registration office," stated the Commissioner.
The Commission allowed enrollment of transgender persons with gender written as "Others" in the electoral rolls since 2012. The number of electors enrolled as "Others" gender is 38,325. Seventh Parliament amended the Representation of the People Act, 1950, allowing enrollment of Indian citizens living overseas as electors. 71,735 overseas electors have been enrolled in the current electoral rolls. There are 16,77,386 service electors in the electoral rolls.
"In another first, if a candidate with a criminal history contests, the political party representing the contestant needs to "mandatorily advertise" details of it. Along with nomination paper, Form 26, the poll affidavit filed by candidates need to revised. They have to also declare their income in the last five years as well as account for their offshore assets."
Social media(SM) expert is also going to be part of Media Certification and Monitoring Committee. "Candidates are required to furnish details of Social Media accounts and all expenditure on such media campaigning to be part of election expenditure account," stated the CEC Arora.