Eminent Gandhian P.V. Rajagopal to Receive Japan's Niwano Peace Prize
The Niwano Peace Prize, also known as the Japanese Nobel Prize, is the nation's highest honour for work for peace and fraternity in Japan.
P.V. Rajagopal, the founder of Ekta Parishad and a prominent Gandhian, will receive the Niwano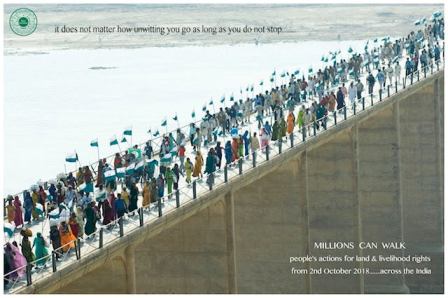 Peace Foundation Award (Rs. 1.23 crore), also known as the Japanese Nobel Prize. The Niwano Peace Foundation Award is the highest honour given by a nation for work for peace and fraternity in Japan. P.V. Rajagopal is well-known for his padayatras (foot marches), which he uses to change the minds of land grabbers and march across the nation for the rights of the poor and landless. Rajagopal is known as Padayatra Gandhi.
P.V. Rajagopal will receive the 40th Niwano Peace Prize for his outstanding contributions to justice and peace. Rajagopal's peaceful and nonviolent methods on behalf of his nation's poorest and most marginalised citizens and his fight for the recognition of equal human dignity and rights for every man and woman, regardless of caste or gender, are much admired. The most highly regarded of his achievements include negotiating the surrender of gangs and facilitating their rehabilitation, training young people to serve the poor, and his dedication to environmental preservation. He is also well aware that the needs of the poor are primarily related to water, land, and forests.
On May 11, 2023, a presenting ceremony will be held in Tokyo, Japan. P.V. Rajagopal will receive a medal, twenty million yen, and an award certificate.
Every year, the Peace Foundation requests nominations from individuals of renowned intellectual and religious stature worldwide to avoid placing undue focus on any one faith or geographic area. Over 600 individuals and groups representing 125 nations and numerous religions are asked to suggest candidates throughout the nomination process. The Niwano Peace Prize Committee, established in May 2003 to commemorate the 20th anniversary of the Niwano Peace Prize, thoroughly screens nominations. Nine religious leaders worldwide who are all active in movements for peace and interreligious harmony make up the Committee currently.
Following are some remarks made by committee members regarding the choice of P. V. Rajagopal for this year's award:
P.V. Rajagopal is a Gandhian who uses the Gandhian technique of foot marches to promote world peace and is dedicated to improving the livelihoods of poor people and farmers in India. He is also addressing the problems of climate change. He deserves the Niwano Peace Prize for his lifelong commitment and work based on Gandhian principles of 'satyagraha' and nonviolent activism. His approach has a global vision, yet it began in local Indian communities and has led to land and livelihood rights, tribal rights, and responsive changes in public policy. New approaches are needed to teach people about non-violence.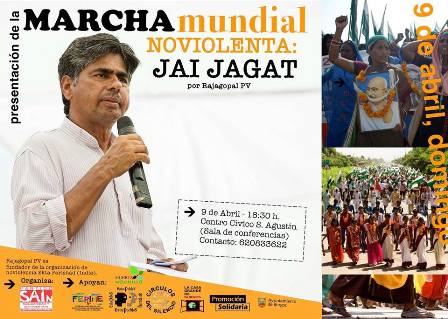 The future lies with young people; involving them in promoting world peace and actively discouraging wars is important. People like Rajagopal, the Founder of Ekta Parishad organisation dedicated to Gandhian ideologies of promoting peace and non-violence, are key figures that are needed in this world. He has organized a year-long nonviolent march covering 12,000 kilometres across ten countries. His activism for peace and justice is based on spiritual practice, and his focus on young people who are the future leaders can change the present violent nature of this world. His recognition of the problem of climate change is also essential, as people live on this earth, but destroying the environment can lead to violent climate changes. Through dialogue, the world can work towards eradicating poverty, encouraging social inclusion, acting on different ways to deal with the climate crisis, and halting conflict and violence.
The Niwano Peace Prize
The Niwano Peace Foundation founded the Niwano Peace Prize to honour and support individuals and organizations that have made significant contributions to interreligious harmony and, in turn, advanced the cause of world peace, and make their accomplishments as widely known as possible. In doing so, the Foundation wants to foster greater interfaith understanding, collaboration, and the growth of new individuals committed to advancing world peace. Nikkyo Niwano, the first president and founder of the lay Buddhist group Rissho Kosei-kai, is honoured by the name of the Award. A dynamic harmony in people's inner lives as well as in our communities, nations, and the world was what Niwano meant by peace, which was not just the absence of international strife. Niwano, who believed that the objective of Buddhism was peace, spent a large portion of his later years advancing world peace, mainly through interreligious dialogue and cooperation.
The Niwano Peace Foundation was chartered in 1978 to promote world peace and enhance a culture of peace. Its assets of 4.4 billion yen make possible grants, research projects, lectures, symposia, and international exchanges. It is a government-recognized charitable organization.
P.V. Rajagopal was born in the state of Kerala in 1948. He earned diplomas in agricultural engineering under the Nai Talim system of education and traditional music and art from reputable institutions in Kerala. He relocated to Madhya Pradesh's Chambal district in the 1970s and established himself as a mediator, securing the surrender and rehabilitation of the dacoits. In these 20 years, his devotion to justice and peace culminated in the founding of Ekta Parishad (Unity Forum), an umbrella mass organisation to achieve land and livelihood rights for oppressed communities via peaceful campaigning. The campaign conducted well-attended marches in 2007 and 2012, successfully negotiated a "Forest Rights Act" in 2006-2007, and obtained land rights for approximately 500,000 families through successful land rights marches with the participation of thousands of people. The COVID-19 epidemic halted the last and most ambitious march from Delhi to the UN headquarters in Geneva (Switzerland), which was scheduled to travel through ten different countries.