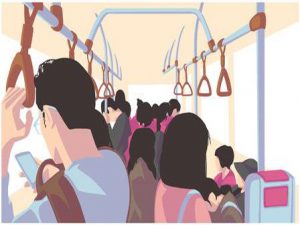 Rani somehow managed to get into the train and secure a safe place to stand. Traveling in Mumbai locals is like being in a basket of sardines. No matter how well dressed you are, you end up looking like having had a tussle with someone. Seats were only for the lucky few who knew who and where they got out. Fourth seat treated you as though you paid just one fourth of the price for your pass. Somehow she managed to adjust herself to the fourth seat without complaining, because it was useless.
When things go your way, something tries to erupt the smooth process. Some tension started building in Rani's tummy, the urge to free the air from inside. But Rani was afraid to leave it, unaware of whether it would be just smell or make sound. Smell is no problem in Mumbai locals, everyone blames the gutters of Mumbai, but sound definitely would attract everyone's attention.
Rani cursed herself for the chickpeas and cottage cheese gravy she had with the fried puri. That did not go well with her tummy. As soon as the last stop came, Rani instead of waiting for the share cab took an individual cab and reached office. She rushed to the restroom only to see the board "Cleaning in progress". The cleaner looked at her angrily for pushing aside the board but seeing her desperate look asked her, "Number 1, go and do it fast without wasting my time."
Relieved to be let into the bathroom, Rani sat on the commode. Now she realized that she could not release the air out freely as the cleaner lady was waiting outside. "Goodness, why are bathrooms made in such way that it is not fully covered", she cursed herself, releasing a little bit of the urine." She came out and instructed the cleaner lady to inform her when she is done. As she came and sat on her seat, her friend brought some sweets. "No", she said firmly to the surprise of her friend. As the friend sat gossiping, the cleaner lady motioned her about the empty washroom. When she was about to rush to the washroom, her boss called out to her, "Rani, directors on line. I want some important data". Rani retraced her steps and went to her boss's room with the required files.
She spent more than four hours in his room. The pressure was building up in her stomach, she had to somehow relieve the tension; the only option was to leave subtle burps. The sound of the AC which was waiting for its maintenance and the continuous purring room freshener came to her rescue, not to mention the boss talking continuously to the directors. At the end of the call, her boss looked up to her and said, "You do not look OK, is something the problem?" Before she could give her reply, "See do one thing, go and give this document to Morarjibhai on your way home and you better leave, you look sick".
The word "sick" has its own magic. No sooner she heard the word, she actually started feeling sick.
She took the document from her boss's hands, came out of his room, leaving it on her table, rushed to the restroom. To her luck there was no one, but that luck was short-lived. No sooner had she entered the washroom, two of her colleagues entered it. Now, everyone farted, every passed motions, but in office restrooms people looked at such person coming out of the washroom, as though he had done something against office rules. Rani controlled her urge and came out of the washroom, greeting her colleague who was waiting to get in.
Boss had sent the car, so that she could drop the document in Morarjibhai's office and had instructed the driver to drop her to the station after that. When she reached Morarjibhai's office, the jovial Morajibhai was unexpectedly there. Morarjibhai was a flirt and loved to do his bit of flirting with every good looking woman. And Rani had reached at a time, when Morarjibhai was sitting leisurely. Morarjibhai offered her water and then tea, but Rani's desperate condition could not let her accept anything. She remembered her boss's words about her, "You look sick'. Rani gave the same excuse. She excused herself saying that she would like to use the washroom before leaving. But looking at the condition of washroom, she decided against it.
Before she could go inside Morarjibhai's office, she had sent the driver back saying that she would take a cab back. Though the driver insisted, she sternly told him to leave. Now after coming back from Morarjibhai's office, she was in her own world to leave the air piling inside her, while waiting for the taxi. Usually the taxiwalas never stop, but to her ill-luck that day, a taxi stopped immediately. Rani didn't know whether to rejoice or cry.
When she reached the station, her train was waiting. She got into a train which was about to leave. She got a safe place to stand with strangers around her. The sound of the local and strangers around her was the best time to unwind herself. But the stupid wind inside had got so much confused that it refused to come out when she wanted. And when it was about to come, suddenly she hears a familiar voice, "Hey Rani". And there was her friend. "Goodness Lord, why did she have to come now", thought Rani, but continued talking to her friend in spite of being in discomfort.
Suddenly Rani felt something break and get loose. The knotted petticoat of her saree could no longer take the strain of the bloated stomach and being an old naddi (petticoat thread knotted on the waist) could not stand the pressure and gave away. Now Rani was in a fix, along with holding the air inside, she had the additional work of holding her saree along with the petticoat, so that it would not do a strip tease of her in the train.
As soon as her station came, Rani ran out and literally bullied the auto driver to take her individually instead of the usual share.
He sensed something wrong with her and didn't want to have a conflict with her. When her destination came, she gave him a 50 rupee note and rushed to her flat without taking the change.
When she reached her flat, it was locked. Never had she felt so miserable at having to open the door all by herself than today. Somehow, she managed to open the door after some juggling with one hand on saree and petticoat and other hand on the lock. As soon as she closed the door behind her, she safely let her hand off the saree and petticoat, which fell on the ground and released the bloated up air inside her like there was no tomorrow. No doubt, home is home and there is no other place like home. It at least lets you fart peacefully.