Human Rights experts urge for Make In India and Skill India responsibly
Eighteen million people in slavery in India (as per Global Slavery Index) and about 24 children trafficked every day as per author and activist Siddarth Kara's assessment with a human trafficking crime rate of 0.1 per cent as per National Crime Records Bureau (NCRB), 2016 report.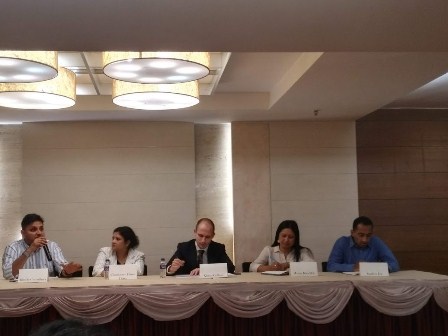 In the recent years while Government of India's Make In India and Skill India programmes have emerged as one of the leading initiatives which have stressed on the country's manufacturing and within the country expertise, experts question how even though it makes "business processes simpler", there are hardly mentions of "vulnerability of trafficking".
"While quality, quantity, timeliness and indigenous technologies are being stressed on, no one is talking about Make In India responsibly. There is a need to look at the macro-economic picture where mostly discourse is missing on whether such trafficked victims are being further exploited. I say that media has a strong role in influencing that discourse," said corporate foundation C&A Foundation's Anindit Chowdhury who works as the Global Programme Manager, Gender Justice and Human Rights.
He went on to illustrate how "weak rule of law in producing countries means the focus remains on production and not on responsible production".
"The focus is on producing more in less time, the supply chain in industries is opaque rather than transparent along with deep social inequalities such as gender discrimination that continues to persist," he opined.
The panel discussion on the topic of reporting fairly and sensitively on human trafficking in India at The Sonnet Hotel in Kolkata organised by Thomson Reuters Foundation also listed out the "push and pull factors" that play a huge role in the continuation of trafficking in the country.
"While complexities of the region where the victim belongs to becomes a push factor owing to migration, lack of jobs and employment, the aspirational value of districts and cities become the pull factor that contribute to these," stated International Justice Mission's Director of Advocacy, Partnership Development and Communications, Mathew Joji.
---
---
Consultant from West Bengal State Commission for Protection of Child Rights, Susmita Chanda told Delhi Post, "As a monitoring body, the commission has sent advisories to all child welfare committees and other bodies to take measures to curb such trafficking in children."
Activist Hasina Kharbhih, Founder, Impulse NGO Network spoke about how "Skill India Mission is leading to vulnerability of trafficking".
"The number of cases that we are encountering for the past three to four years are young girls and women who are under the Skill India Mission programme especially under the wellness sector where in a period of 1-2 months, they get trained. They have been given the aspiration to go to South East Asia for better job option but the people involved in skill buildings are start-ups which are governed by the number of trainees and how many they employ becomes critical," she said.
"Nobody looks between the recruiting to be trained and the recruiting for employability, the safety mechanism and the safety mechanism at the destination point such that many of the cases that we have encountered are even ready to take a fake passport to another country to get a job. But no one is reporting that. This is essential to bring some policy changes," she further said.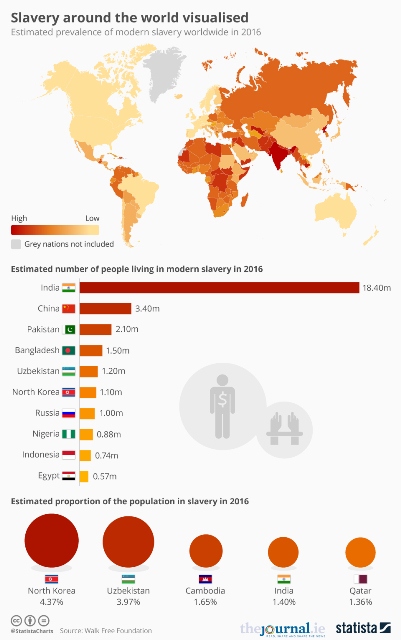 The experts further pointed out how "opening up of borders" and connectivity through Act East Policy and the like is "actually a gateway to Asia which means if it is going to bring more migration, will it further lead to trafficking?" is a big question.
"If yes, there needs to be stories that engage government to re-look on how to build safety nets without hampering connectivity between countries," said Kharbhih.
Eighteen million people in slavery in India as per Global Slavery Index and about 24 children trafficked every day as per author and activist Siddarth Kara's assessment with a human trafficking crime rate of 0.1 per cent as per National Crime Records Bureau (NCRB), 2016 report.
There are many aspects that are "rearing their heads" when it comes to human trafficking and modern day slavery (debt bondage, forced marriage, child labour etc), as per experts.
---
---
Discussing that not much is "often reported" on "what happens after rescue of those trafficked or in forced labour, Journalist Chandreyee Ghose Dutta from The Telegraph newspaper raised the issue of how "media fails to report on rehabilitation of trafficked victims as rescue is just one part of the process".
"The stories often become limited to one-off rescue events which are not followed up with larger stories on what becomes of them later. We need to know more. There are some who really move on, do great things. Their stories need to be told. Also, there is a need to highlight women or girls who are trying to get others back to mainstream society. There are not many rehabilitation plans and we need to make the government proactive," she mentioned.
"Lack of adequate application of law leaves a lot of convictions from taking place, they also said."
As a result, the survivors do not have enough opportunities to be "re-integrated" within the society even after rescue and rehabilitation. "It becomes essential to understand the economics of re-integration or where survivors have access to education, employment and training to rebuild their life," she said.