IFAD and India to Deepen Commitment to Build Resilient Rural Livelihoods
IFAD has supported 32 rural development projects in India, benefiting 63,41,436 families.
As India takes over the G20 presidency, the International Fund for Agricultural Development (IFAD),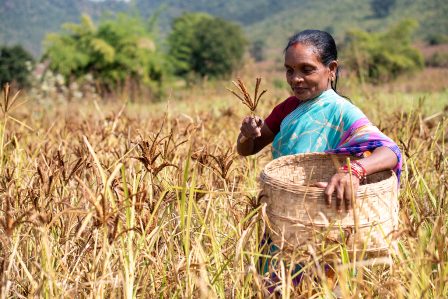 the UN's rural development agency, has committed to building resilient rural livelihoods in the country. An IFAD delegation to India led by Donal Brown, Associate Vice-President of the Programme Management Department, and Reehana Raza, Regional Director for Asia and the Pacific, met key officials, including B.V.R. Subrahmanyam, CEO, Niti Aayog, and Manoj Ahuja, Secretary, Ministry of Agriculture. The delegation has shared its commitment to deepen partnerships to promote inclusive and sustainable agricultural growth in rural India and explore new collaboration areas.
The country has made substantial progress in reducing multi-dimensional poverty over the past 15 years, bringing 415 million people out of poverty. However, it still has many poor people (16.4%), and undernutrition remains challenging. The situation has worsened due to the impact of the COVID-19 pandemic.
Both on-and off-farm sectors have a considerable role to play in promoting sustainable poverty reduction. Agriculture employs many people, with more than 40% of the workforce still engaged in farming and related activities. India has gone from being a famine-prone net importer of food grains to producing food for 1.3 billion people. Although it is among the top three global producers of many crops, yields are still relatively low by global and regional standards.
"India and IFAD will continue to work together to amplify our efforts to create food systems that are inclusive of poor rural people and societies where the benefits of economic growth reach all levels, not just through IFAD's investments in India, but also through the G20," said Donal Brown. "India has a wealth of experience in developing innovations for the rural poor, and IFAD is working closely with India to expand South–South and triangular cooperation. We are committed to exploring new solutions and innovations that can help small-scale farmers sustainably increase their production and incomes and connect them to markets," he added.
IFAD has accompanied India's development journey for nearly 45 years, moving from recovery and ensuring food security to building institutions and now focusing on the market economy. Its current operations aim to contribute to a sustainable rural economy in India over the next decade. They align with the government's policy framework and efforts to ensure that small-scale food systems are remunerative and resilient to climate change and price shocks.
"There is great potential for small-scale farmers to contribute in measurably significant ways to economic growth," said Reehana Raza. "Our goal is to enable them to become more productive by improving their skills and asset access. As an international financial institution and a UN organization, IFAD is well positioned to support the government in its planned growth trajectories while ensuring no one is left behind."
The delegation visited the Odisha Particularly Vulnerable Tribal Groups Empowerment and Livelihoods Improvement Programme (OPELIP) and saw the results of IFAD's support first-hand. Participants reported improved living conditions and higher incomes. Many families have secured land and forest entitlements through support from OPELIP. They have also improved agricultural practices for enhanced production and explored alternative livelihood opportunities through micro-enterprises, such as rearing goats and poultry to sell to the market. The delegation saw piped irrigation facilities built with project support – infrastructure that has helped remote villages to access safe and regular water for household and agricultural use. With irrigation, farmers can grow crops even during the dry season. The delegation also visited a nutrition resource centre, which doubles up as a crèche and serves as a place for tribal communities to learn about healthy eating habits.
IFAD has supported 32 rural development projects in India, which is one of the organisation's founding members, worth USD 1211.94 million, that directly benefitted 63,41,436 families.
IFAD is an international financial institution and a United Nations specialised agency based in Rome. It invests in rural people, empowering them to reduce poverty, increase food security, improve nutrition and strengthen resilience. Since 1978, IFAD has provided more than USD 24 billion in grants and low-interest loans to fund projects in developing countries.