India and Finland with ample opportunities: Ambassador Vani Rao
Making an unconventional career choice back in 1990s, Ambassador Vani Rao got through the Indian Foreign Service (IFS) in the 1994 Batch which comprised six women IFS officers (among 16).
The Civil Servant then began her career with the Embassy of India in Mexico. Currently in Finland and in charge of Estonia, Ambassador Rao, who has more than 24 years of experience, says that the aim is to diversify the bilateral agenda and strengthen relationships with Finland and Estonia in all aspects. She further states that Finns are beginning to engage more with India in all fields as they have taken note of India as a developing major economy and goes on to emphasise that both Finland and Estonia are an ideal launch pad for Indian companies looking at entering the European markets.
As India and Finland inch closer to celebrating the 70th anniversary of their diplomatic ties in 2019, Ambassador Rao, is an exclusive interview with Delhi Post, speaks fondly about Finland, the depth of India and Finland relations, and why IFS makes a good career choice.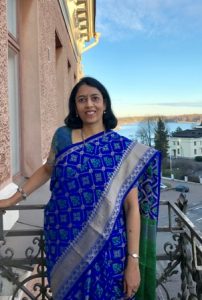 Delhi Post: None from your family was from the Civil Services. Starting from there to becoming a career diplomat, tell us about your journey.
Ambassador Vani Rao: My father was an engineer and my mother a graduate who chose to be a home maker to take care of three children. I grew up in a middle class family. Civil service was an unconventional choice back in 1990s when I attempted UPSC. At that time, engineering or medicine was the most sought after career option – it still is for many in South India. I attempted unsuccessfully the medical entrance exam knowing that I did not have an aptitude for those subjects or the profession. After Class 12, I pursued BA, MA and got through to the Foreign Service. I was the first civil servant on either side of the family, and am the first woman Telugu Ambassador.
Delhi Post: As a woman, how challenging has the journey of being a career diplomat been – personally and professionally?
Ambassador Vani Rao: The Foreign Service has been very open to women as diplomats. During my career of 24 years, I was able to pursue opportunities and deployments like any other male officer. Indian women diplomats have become Ambassadors to USA, Germany, EU, Qatar, Japan and many important stations. We had women as Spokesperson, Chief of Protocol and as Foreign Secretary also. The Ministry of External Affairs does its best to give fair opportunities to women officers while taking into consideration their role as home-makers.
Professionally, it has been a very smooth journey so far. I was posted to Mexico, Sweden and Israel. In Delhi, I did postings in Divisions dealing with UK and other European countries; USA and Canada; and the Indian Diaspora. In fact, I worked as hard, or sometimes harder than my male colleagues. Personally, the challenge has been to balance work and life – a diplomats' work schedule is demanding and there is a great deal of travelling.
When posted abroad, we are representing India 24×7 and there are work commitments after office hours and on holidays. In this day and age, diplomats have a more visible public profile too. My spouse is in the private sector and we could manage to be together during my postings abroad. Only for this posting in Finland – we could not do that and he is working in India. Our daughter is 17 years old and is studying in Finland.
Delhi Post: How has the experience of Finland been after you assumed charge in July 2017?
Ambassador Vani Rao: I moved to Finland in July 2017 for three-year tenure. I am also looking after relations with Estonia, a Baltic nation, which is just two hours by ferry from Helsinki. This is my first posting as Ambassador and I am working with my team in the Embassy to diversify the bilateral agenda and strengthen relationships with Finland and Estonia in all aspects. We work very closely with the Finnish and Estonian Governments, business chambers, companies, and also the various Ministries, and business chambers in India. Finland is one of the most developed countries globally and Helsinki is a very good city to live in. Finns are beginning to engage more with India in all fields as they have taken note of India as a developing major economy – the performance of our economy, size of our market, our democratic credentials have worked in our favour.
Delhi Post: The Indian Embassy was set-up in Finland in 1969. The Finnish Embassy was set-up in Delhi in 1949. India and Finland will be celebrating 70thanniversary of establishment of diplomatic ties in 2019. What are your thoughts?
Ambassador Vani Rao: It is time to take stock of the relationship, review and chart a new course for the next decade. Finland is just 6.5 hours from India by flight – in fact it is one of the closest European countries to India. Nevertheless, there isn't much awareness about India in Finland and vice versa.
While there are many differences in the nature and size of economies and stages of development, there are many complementarities which can be explored to mutual benefit. Knowledge about India in Finland and Estonia is limited to what appears in the media. Similarly, in India, people and even some government entities are not aware that Finland and Estonia are countries which are driven by innovation and technologies. Both countries are an ideal launch pad for Indian companies looking at entering the European markets.
Delhi Post: Finland is known for its cutting-edge technologies (clean tech) and innovation, and companies like Nokia which have been a part of Indian identity. In this context, how important is India's Smart Cities Mission given the knowledge sharing and the market dynamics?
Ambassador Vani Rao: Both Finland and Estonia must engage much more with each other – through more official and Ministerial visits, exchanging business delegations; participating in trade and business events in each other's countries, etc. There is a need to bridge the gap in information between our respective countries. India's focus on engagement with foreign countries has been on the neighbourhood and the P5 – in recent years, we expanded our foreign policy and trade outreach to many other regions and countries.
Nordics including Finland have done extremely well in social and economic indicators and have provided a very good quality of life for their respective citizens. We can learn a great deal from their journey and experience – high-level dialogue is one way of signaling to these countries our interest in these countries and in connecting with them.
Delhi Post: Lok Sabha Speaker Sumitra Mahajan mentioned that "India is keen to increase parliamentary exchanges with Finland which would increase people-to-people contact and awareness about each other's countries and policies, among parliamentarians". As the Ambassador, how pertinent is such an active exchange given both the countries share warm and friendly relations?
Ambassador Vani Rao: Parliamentarians are very influential in any country – they play a key role in shaping public opinion on national, regional and global issues. They also debate and vote on policy and legislative matters in the parliament – so it is very important to engage with them, and keep them informed about the latest developments in India – politics, economy, social transformation, terrorism, our position on environment and climate change etc. Such direct dialogue between parliamentarians will enhance awareness about each other's countries, our priorities, challenges, and foreign policy. In future, such parliamentary exchanges will become even more important as we discuss issues such as global trade, migration, energy, climate change, on which there is a need for coordinated global actions and consensus. For example, the US Congress and Senate played a very important role on the India-US Nuclear agreement.
Delhi Post: Given the emphasis on education, skill development how can the two countries better their prospects in these areas?
Ambassador Vani Rao: Finland has gained a reputation in India for its education system especially K12 – we notice that Indian schools, education providers and others want to learn from Finland's experience and pick up their best practices. Our message to such Indian stakeholders – is that Finland took several decades to develop their education ecosystem. Their education curriculum, pedagogy, teachers training, edutech, are complemented by social factors such as dignity of labour, low disparity of wages, and egalitarian societies.
There is of course much to learn from countries such as Finland – but we must develop our own model of education, pedagogy, curriculum which supports our needs as a developing society, and is interconnected with our domestic industry. Indian parents, society can be more open to vocational education training and encourage diversity of professional and career choices moving away from engineering and medicine.
Delhi Post: There has been a growing talk of innovation and technology partnerships being explored between the two countries. Can you throw some light?
Ambassador Vani Rao: Indian industry and government need to recognise strengths of such countries and economies – the usual tendency is to consider such countries as small markets and therefore not significant enough for engaging in trade in goods and services.
Finland, like the other Nordic countries is an innovation and technology driven economy. They have a well-developed start-up ecosystem supported by local industry and government. It is important for Indian industry to invest some time and effort in identifying technologies and innovations which give them an edge over others to establish technology based partnerships with Nordic countries.
There is a case for start-up ecosystems of India and Finland to establish connections so that Finnish start-ups get guidance to develop products relevant for India; and Indian start-ups can develop products relevant for the European market. Biotechnology is one sector where both governments have enabled industrial R&D; and academic collaboration programmes.
Our Embassy has been promoting such linkages – we are enabling visits of Indian business delegations to Finland; facilitating dialogue between the innovation ecosystems and ensuring continuity of ongoing R&D programs.
SLUSH is an event held every winter in Helsinki to connect start-ups to investors and VCs. Nine Indian start-ups participated for the first time in 2017. In December 2018, 26 Indian start-ups participated in SLUSH. On November 22, the first ever SLUSH Small Talks was held in Hyderabad with T-Hub Incubator – we hope this is the beginning of a productive interaction between the start-up ecosystems of both countries.
Delhi Post: How India and Finland can raise awareness and work towards Sustainable Development Goals and Agenda 2030?
Ambassador Vani Rao: In India, we have adopted several flagship programmes such as Digital India, Skill India, Start-up India, Make in India to usher in transformational changes in our society and economy. We successfully leapfrogged in some sectors by adopting technologies.
Nordic countries such as Finland and Estonia have a successful track record of using technologies to improve lives of their citizens across sectors – education, health care, transportation etc. Estonia, for example, is known for its capabilities in e-governance, cyber security and block-chain. Finland has good capabilities in gaming, Artificial Intelligence (AI) and education. Our government and industry can both study some of these platforms, technologies and programs in Finland and Estonia – and learn from those which are relevant for people.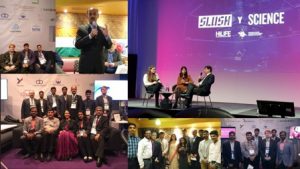 Delhi Post: As Ambassador of India to Finland, what do you think can be done to raise awareness about Indian society and culture at the global level?
Ambassador Vani Rao: Outside India, people's perceptions about Indian society and culture are based on their limited exposure to India – through films, TV, media coverage, social media etc. Those who travel to India for business or tourism are somewhat better informed about India and the rapid transformation taking place in our society. Perceptions of foreigners about India have not kept pace with the fast-paced developments taking place in Indian society and economy.
Social norms and traditions are not as rigid in India as before and India's youth are the true millennials – being exposed to global trends, cultural influences much more than previous generations. It is very important to convey to the world outside India – these changes which are taking place within India. It is not just the task of the government and Indian embassies to do that. Indian media, corporate sector in India, parliamentarians, film makers, artists, everyone must play their role in projecting a balanced image of this emerging, dynamic, vibrant and contemporary India. People-to-people exchanges play a very important role and cultural interactions are essential as well.
Delhi Post: India's youth can consider higher education in Finland and Estonia?
Ambassador Vani Rao: Finland has good academic programs in engineering and tech subjects, AI, gaming, biotech etc. Estonia is well known for programs in IT and related subjects especially cyber security. Both countries have innovation ecosystems which encourage disruption and entrepreneurship. Finnish youth and entrepreneurs can work together with Indian industry, especially SMEs, entrepreneurs to bring their innovations and technologies to India. They can localise their products, and services specific to the Indian market – by working closely with the youth and young entrepreneurs in India. Indian young entreprenuers can also avail programmes like Start-up visa of Finland and E-Residency programme of Estonia to launch their products and services via these countries, to the European markets.
Delhi Post: You call yourself an aspiring urban farmer. Can you tell us more about it?
Ambassador Vani Rao: As I said before, I am from a middle class family. My parents did not own any agricultural land. Our family always had an emotional attachment to the idea of having land for farming. Since my childhood, I was interested in gardening and the idea of growing one's own food. Wherever I was posted I have been gardening and growing vegetables in the backyards.
Some years ago, we bought some land outside Hyderabad where are now growing mangoes and some other fruits. When I am posted outside India, my parents take care of the orchard. We are practicing organic farming, supplemented by water harvesting and drip irrigation. It is very fulfilling to see seedling develop into mature trees and bear fruit.
Delhi Post: Anything else you would like to add?
Ambassador Vani Rao: In India, the usual tendency of students and parents is to look at careers which are within the engineering and medical fields. Men and women have done extremely well as Indian diplomats. I would advocate very strongly for the Indian Foreign Service as a career – it provides you an opportunity to work globally; gives you an unparalleled exposure to different societies and cultures.
Being a diplomat gives you the privilege to fly the Indian tricolor abroad, represent the world's largest democracy and the fastest growing market. It provides you an opportunity to meet and learn from some of the finest people in the world, and bring some of the best practices to India.