India's First Privately Built Rocket Launched Successfully
Nation's first private rocket 'Vikram-S' is considered a turning point for space startups in India.
India's new space age begins with the first-ever private rocket launch by the Indian Space Research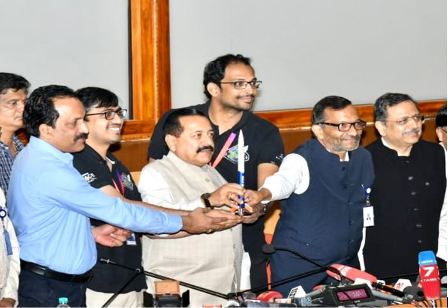 Organisation (ISRO) in Sriharikota, Andhra Pradesh, on Friday. Nation's first private rocket 'Vikram-S' is considered a turning point for space startups and a new beginning for ISRO.
India's maiden private Vikram-suborbital (VKS) rocket has been named after Dr Vikram Sarabhai, the father of India's space programme and former chairman of ISRO.
Union Minister of Science and Technology and MoS PMO, Atomic Energy and Space, Dr Jitendra Singh, witnessed the momentous occasion at Sriharikota; described it as a new beginning in India's space journey and a turning point for India's startup movement.
"This is a major milestone in the journey of ISRO after Prime Minister Narendra Modi unlocked the Space Sector in 2020 for private participation," said Dr Singh.
He further said that the ISRO had added another feather to its glorious space journey, setting a new milestone in the 75 years history of independent India. The launch has put India among the frontline space powers of the world, and many aspiring countries will look forward to taking cues from Indian expertise. The Minister described this as a significant milestone after Prime Minister Narendra Modi had unlocked the space sector in India two years ago for private participation.
Vikram-S is a single-stage fuel rocket meant to test most systems and processes in Skyroot Aerospace's project ahead of the launch of Vikram-1 next year. "The rocket goes to the max altitude of 81.5kilometres and splashes into the sea, and the overall duration of the launch is about 300 seconds only,' said Dr Jitendra Singh.
Skyroot was the first startup to sign an MoU with ISRO for launching its rockets. Apart from being the nation's first private launch, it is also the maiden mission of Skyroot Aerospace, named "Prarambh".
Dr Singh said that the space reforms had unleashed the innovative potential of startups. Within a short period, from a couple of space startups three-four years back, today we have 102 startups working in cutting-edge areas of space debris management, nano-satellite, launch vehicle, ground systems, research etc.
The Minister underlined that PM Modi had enabled India to earn universal recognition for its science, technology, and innovation capabilities. He said that the whole world is looking at India as an inspirational place, as it is helping budding countries in capacity building and satellite building, including nanosatellites.
ISRO said in a statement that Mission Prarambh is successfully accomplished, while Skyroot Aerospace said that Vikram-S makes history as the first private rocket of India to grace the skies. It carried three payloads in space, including one from foreign customers. (India Science Wire).