Make India the Most Advanced Laboratory of Modern Science
The Indian Science Congress is being organised at the Rashtrasant Tukadoji Maharaj Nagpur University, which is also celebrating its centenary.
Prime Minister Shri Narendra Modi, via video conferencing, inaugurated the 108th Indian Science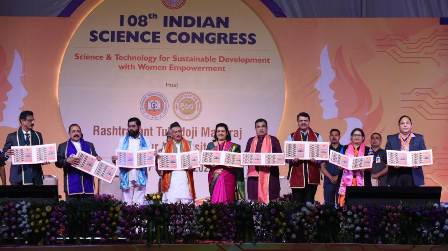 Congress. This year the congress is being organised at the Rashtrasant Tukadoji Maharaj Nagpur University, which is also celebrating its centenary. The focal theme of this year's event is "Science and Technology for Sustainable Development with Women Empowerment".
During the five days(3-7 January), the participants will discuss sustainable development issues, women empowerment, and the role of science & technology in achieving that. They will deliberate on increasing women's participation in higher echelons of teaching, research, and industry, along with finding ways to provide women with equal access to STEM (Science, Technology, Engineering, and Mathematics) education, research opportunities, and economic participation. A special programme to showcase the contribution of women in science and technology will also be held, with lectures by renowned women scientists.
In his inaugural address, the Prime Minister highlighted the role of India's scientific strength in India's story of development over the next 25 years, the 'AmritKaal'.
"When the spirit of national service gets infused in science and passion, results are unprecedented. I am sure India's scientific community will ensure a place for our country of which it was always deserving", he said.
Pointing out that observation is the root of science, and it is by such observations that scientists follow patterns and arrive at required results, the Prime Minister underlined the importance of gathering data and analysing results.
Informing that India has been entrusted with the responsibility to preside over G-20, the Prime Minister pointed out that women-led development is one of the high-priority subjects taken up by the chair.
Concluding his address, the Prime Minister said, "In Amrit Kaal, we have to make India the most advanced laboratory of modern science".
Governor of Maharashtra, Bhagat Singh Koshyari; Union Minister of Road Transport & Highways, Nitin Gadkari; Union Minister of State (Ind. Charge) Science & Tech; (Ind. Charge) Earth Sciences(Ind. Charge); Minister of State PMO, DoPT, Atomic Energy, and SpaceDr Jitendra Singh; and Chief Minister of Maharashtra Eknath Shinde and Deputy Chief Minister of Maharashtra Devendra Fadnavis were also present at the inaugural event.
Various programmes will be organised alongside the Indian Science Congress. Children's Science Congress is being organised to help stimulate scientific interest and temperament among children. Farmer's Science Congress will provide a platform to improve the bio-economy and attract the youth to agriculture. Tribal Science Congress will also be held, which will be a platform for the scientific display of indigenous ancient knowledge systems and practices, along with focusing on empowering tribal women.
The Science Communicators' Meet and Women Science Congress will be held on January 5th, along with several concurrent plenary sessions on Agriculture and Forestry Sciences, Anthropological and Behavioural Sciences, Information and Communication Sciences & Technology, New Biology, and many more.
Nobel laureates, leading Indian and foreign researchers, experts and technocrats will participate in the plenary sessions. A mega expo titled 'Pride of India' will also be organised during the congress, featuring significant developments and achievements primarily from the Indian science and technology sectors.