Meghalaya's rat-hole mining raises safety vs livelihood debate
The National Green Tribunal banned the practice of illegal rat hole mining in Meghalaya terming it to be 'unscientific and harmful'. However, the recent mining incident where 15 miners have been trapped since over three weeks reflects the symptomatic scheme of things.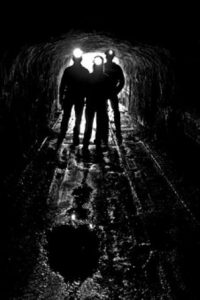 Two miners are reported to be killed in East Jaintia Hills' Jalyiah village even as 15 miners continue to be trapped in an illegal rat hole mine in Ksan area of East Jaintia Hills district in Meghalaya since December 13, 2018.
Recall that around 100 National Disaster Response Force (NDRF) personnel have since been engaged in bringing the bodies of the miners from the 320 feet deep mine, which got flooded from the waters of River Lytein in Meghalaya.
The state government took more than a week to approve the lifting of heavy capacity submersible pumps. Joint efforts of NDRF, National Disaster Management Agency (NDMA), Navy, Coal India Limited (CIL) and Kirloskar Brothers are continuing since then.
"The incident that occurred was very unfortunate and the circumstances in which the rescue operations are going are very tough. Even as we speak, numerous agencies are working together and yet we are not able to find any major breakthrough yet. All agencies have been tirelessly and with complete dedication (putting efforts), but situation and circumstances are very difficult," the Meghalaya Chief Minister Conrad Sangma told Delhi Post in an exclusive interaction.
The techniques of rat-hole mining involve digging tunnels of 3-4 feet high for the diggers to enter and extract coal. The tunnels are narrow, horizontal and just about one person can fit in. Most of Meghalaya's illegal miners are migrant labourers who come to earn better wages.
In April 2014, the National Green Tribunal (NGT) banned the practice of illegal rat hole mining in Meghalaya terming it to be 'unscientific and harmful'. But reports had been circulating even before the miners' incident that illegal mining was still happening. A vast area coupled with difficult geography aids in carrying out illegal rat hole mining despite government's numerous attempts to curb it.
"The Meghalaya Mines and Minerals Policy, 2012 does not address "rat-hole mining". It has been more than four years since it was described 'inadequate' by the NGT but the state is still to formulate an effective and adequate policy."
On January 05, 2019, NGT asked the state government to deposit Rs. 100 crores with the Central Pollution Control Board (CPCB) towards restoring the environment.
---
---
These mines are privately owned and it is not clear how many exist. This mishap highlights the limited employment options where the locals have no choice other than to risk their lives for jobs or face poverty.
Sangma further told Delhi Post, "Safety of the miners and the environment cannot be compromised but at the same time, the livelihood of the people and the revenue of the state also need to be balanced. Hence, it is very important that we work towards a mechanism which will be a balanced approach without compromising on the environment and safety for the miners."
Jaswant Singh Gill, who is a mining expert and has been coordinating the rescue efforts said in his interview to NDTV that "In this kind of an emergency situation, we expect rescuers to function like a well-oiled machine." Gill also spoke of the need of a proper mining map.
An important lesson can be learnt here from USA which passed its Miner Improvement and New Emergency Response (MINER) Act in 2006 to improve accident preparedness and response. The Act clearly states the development of written emergency response plan, use of equipment and technology, additional mine rescue team training requirements, teams' response time, civil and criminal penalties, etc.
A Public Interest Litigation (PIL) was filed by Aditya N Prasad seeing a direction to the centre and other authorities concerned to prepare a Standard Operating Procedure (SOP) for rescue operations in mining. The Supreme Court asked the Centre to hasten the rescue process. The Central Government in its reply said that the delay was due to lack of a blueprint as it was an illegal mine. In its observations, the court said that "Still more of a prompt, coordinated and immediate operation is required to rescue the miners."
India is the world's third largest coal-producing nation and coal provides 60 per cent of the country's energy needs. But the industry is poorly regulated. Mining is Meghalaya's biggest revenue generator. At its peak, the state produced coal worth $4 billion a year, or about a tenth of India's total production.
On regularising mining, Sangma told Delhi Post, "We need to move forward and come up with proper plans to regulate mining and ensure that things are done in a legal manner."
A similar incident happened in June 2018 where a group of young boys along with their coach got trapped in ThamLuang Caves in Thailand. It is a testament to the Thai Government's steady support that all of them came out alive even after staying trapped for more than 2 weeks. This incident is important as it highlights the need of an efficient and quick government having good relations with other countries.
---
---
Ministry of Labour and Employment on December 31, 2018 tabled data in the Lok Sabha which revealed that 377 workers involved in mining of coal, minerals and oil were killed in accidents between 2015 and 2017. More than half, 210 workers were killed in coal mines.
This further strengthens the case and calls for steps to regulate rampant illegal mining in the state and the country and provide better and safer employment opportunities to the people while keeping the natural resources intact. Moreover, the families of the miners should be adequately compensated and a better rescue policy needs to be evolved among all the concerned stakeholders so that such incidents in the future can be handled deftly.