Promote innovation; invest more time, money in R&D: M Venkaiah Naidu
Right time for foreign investors to tap the huge potential, and Industry, Govt must work in unison to reduce the urban rural divide, said the Vice President.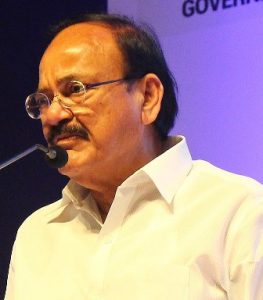 Urging the industry to supplement the efforts of the governments in improving lives of people living in villages, Vice President of India M Venkaiah Naidu observed that the increasing internet penetration in rural India provides a great opportunity to improve rural India. Connecting all Gram Panchayats with optical fibre network under the BharatNet project by March 2019 would transform rural India by enabling access to digital transactions and online sales of products, including agri produce via e-Nam.
Calling for a special focus on agriculture, he said farmers must be trained and educated on diversification of crops, Zero Budget Farming, investing in allied activities like fisheries, horticulture and others to make the sector more inclusive, profitable and sustainable.
At the inaugural session of 25th edition of Confederation of Indian Industry's Partnership Summit in Mumbai, the Vice President urged the nations across the globe to work closely to overcome challenges such as poverty and illiteracy.
With an aim to showcase a New India, the summit was organised by Department of Industrial Policy and Promotion, Ministry of Commerce and Industry, Maharashtra Government and Confederation of Indian Industry witnessed over 1,000 delegates from 40 countries.
The Governor of Maharashtra, C. Vidyasagar Rao, Union Minister of Commerce and Industry, Shri Suresh Prabhu, The Minister for Industries & Mining, Government of Maharashtra, Subhash Desai, Minister for Trade, Industry and Energy, Republic of Korea, Kim Hyun-chong, Minister of Economy of UAE Sultan bin Saeed Al Mansoori and Director-General of World Intellectual Property Organisation Francis Gurry were also present at the inaugural session.
"The Vice President also said that a steady growth rate of almost 7 per cent coupled with a series of reforms made India, the most favourite destination for investments in the world."
He said that it was the right time for foreign investors to tap the huge potential offered by India in various sectors from real estate to healthcare.
The Vice President said that government's initiatives and reforms helped India achieve 11th rank in the Global FDI confidence index 2018. Referring to a report by UBS, he said that the annual FDI inflows would rise to $75 billion over the next five years and added India with its growth momentum would soon become $5 trillion economy.
Describing India as a bright spot in the world economy, he said India would continue to be the fastest growing major economy in the world, quoting the World Bank's latest forecast. It said the GDP is expected to grow at 7.3 per cent this fiscal year and at 7.5 per cent in the following two years.
Vice President Naidu said that the robustness of India's institutions, resilience of its policy frameworks, the reforms initiated by the government and the responsiveness of industry bodies such as CII have insulated its economy from stagnation and helped in achieving the dual distinction of being a stable democracy and one of the fastest growing economies in the world.
Lauding the efforts of government and its agenda to reform processes for the betterment of administration, Naidu said that such reforms were the need of the hour and would continue.
The Vice President also appreciated the healthy competition among various states to attract investors and promote industrialisation. He urged the state governments to promote similar competitiveness among districts to realise rural India's full potential.
Referring to the construction of airports under Public-Private Partnership model in Hyderabad, Delhi, Bengaluru and Mumbai, he said that it was the way forward for effective implementation of infrastructure projects.
The Vice President Naidu advised the industry to promote innovation and invest more time and money in Research and Development and suggested that industry bodies like the CII should promote business ethics, values, transparency and accountability. He said that they should also try weed out black sheep who bring a bad name to the business community.
"He called upon the business community to share more and more of their wealth through Corporate Social Responsibility initiatives to address challenges like poverty, illiteracy, double burden of infectious diseases and non-communicable diseases and unemployment."
The Vice President also urged the private sector to provide equal opportunity to employees and not to practice discrimination against women in any form. "Let women empowerment and gender equality be among the founding principles of all Indian businesses," he added.
Talking about the importance of Skill development to realise India's demographic dividend, the Vice President urged private sector to step up its skilling programmes to enable youth to stand on their feet.
Referring to terrorism, he stressed on the need for the United Nations to conclude at the earliest the Comprehensive Convention on International Terrorism and said that terrorism was a global concern that demands global attention and requires global cooperation. "Terror is enemy of humanity, we must see to it that is eliminated the earliest," he added. He also wanted the world community to ensure that economic fugitives get extradited without delays.