Refugees and COVID-19
Most refugees live in countries that are less prepared to combat the outbreak, where conflicts have destroyed healthcare infrastructure and weakened the health systems.
COVID-19 knows no boundaries. More than 100 countries across the world have reported cases of the virus. Already fleeing from war, violence, and emergency situations, over 70 million refugees and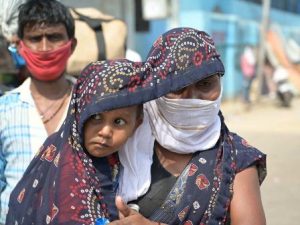 displaced people around the world are the hardest hit by this pandemic. Most refugees live in countries that are less prepared to combat the outbreak, where conflicts have destroyed healthcare infrastructure and weakened the health systems. Overcrowded refugee camps and urban areas with lack of sanitation increase the possibility for COVID-19 to spread rapidly. In many places, refugees already suffer from limited access to essential services and decent healthcare, and are unlikely to be prioritised in the distribution of hygiene kits and future vaccination programmes. Moreover, they are especially vulnerable to the social and economic repercussions of this pandemic.
COVID-19 and the ensuing lockdowns have exposed the pre-existing social inequalities in the world. Especially vulnerable are the refugees, nearly 80 per cent of whom, live in developing countries in the absence of social benefits and poor healthcare facilities. They also have an added layer of disadvantage, as many times they neither have citizenship entitlements, nor proper identification documents that can help them access subsidised food, healthcare and other such benefits. The lack of legal recognition is a jarring prospect, but even more so during a pandemic. For example, in West Asia, in countries such as Jordan and Lebanon, there are huge refugee populations, who are worried that they will not get priority from health officials during COVID-19, as they are not citizens of these countries.
---
---
Loss of Employment
Prior to the COVID-19 crisis, refugee workers were susceptible to earn less than nationals in the same occupations, leaving them much less prepared to face income loss, rising prices of daily commodities or unforeseen health costs. In some cases, loss of livelihoods has exacerbated food insecurity and put continuous education for children at risk. Syrians refugees in Turkey and across the Middle East have been particularly hard hit by layoffs induced by the socio-economic impact of COVID-19. A study by the Turkish Red Crescent found that between 69 and 87 per cent of surveyed refugee households had experienced a loss of employment. In Jordan, a rapid assessment conducted by the International Labour Organisation (ILO), in collaboration with Fafo Institute for Labour and Social Research, found that Syrian refugees, who were less likely to have a contract of employment prior to the crisis, experienced greater loss of income and were twice as likely to lose their jobs permanently than Jordanian workers.
In India, while many under-educated Sri Lankan Tamil refugees are daily wage labourers, the educated and skilled among them too have lost their jobs.
Such refugees, who mainly work as construction workers or painters, have been deprived of their livelihoods as a result of the lockdown. It is reported that many of them are not even able to afford the government's distribution of vegetables. Rohingya refugees, many of them in Hyderabad, are reported to be starving because they are left without a source of income since the lockdown. In Delhi, on the other hand, they are not eligible for the livelihood assistance schemes of the Delhi government owing to the lack of recognition. The same is the condition of the Afghan refugees too, whose livelihood have been affected by the lockdown.
The loss of employment or income for refugee workers, like migrant workers, reduces the amount of remittances they are able to send to families, who may still be living in crisis situations in their home countries or are seeking asylum in other countries.
Gender
Gender is another source of disadvantage for refugee workers. In Turkey, for example, according to an ILO analysis of national labour force survey data, Syrian men workers earned 95 per cent of the minimum wage, while Syrian women made only 77 per cent of it prior to the pandemic. Informal work arrangements and limited bargaining power can also put refugees, especially women, at higher risk of being laid off or seeing their wages cut during the crisis. Trends from previous crises show that when workers are laid off in response to contracting economies or firms' downsizing, women are often the first to lose their jobs. This can be because of the significantly greater care demands on women and reduced time available for paid work, leading them to take up non-standard forms of employment, such as part-time work. Women's over-representation in the informal economy, notably in the services sector, which has been hit particularly hard by the crisis, also contributes to keeping them out of jobs.
Economic Impact on Enterprises and Entrepreneurs
Lockdown and other containment measures have been particularly problematic for refugee entrepreneurs' with micro, small- and medium-enterprises (MSMEs) and for own-account refugees. These are important sources of livelihoods for refugees, particularly where opportunities for waged employment are limited. Small business development is already suffering from limited access to finance, land and property ownership. With low rates of savings and investment and limited cash reserves, they are more susceptible to economic shocks.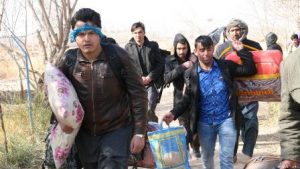 Due to COVID-19 some of the once thriving businesses owned by refugee entrepreneurs are having difficulties inaccessing required licenses to start up new enterprises and to rent retail space. The pandemic has also made it more difficult to access finance and to repay pending loan payments. Lebanon is a case in point where the increasingly deteriorating economic and financial situation since 2019 has taken a heavy toll on MSMEs, which constitute 90 per cent of enterprises in the country prior to COVID-19 and where many refugees are employed.
Social Distancing: A Privilege
Refugee camps in general are cramped spaces and this puts the group in further disadvantage. There are roughly 18,000 Rohingya refugees in India and thousands of them live in densely populated slum settlements in Delhi. As has been the case with slums such as Dharavi in Mumbai, adherence to social distancing norms is extremely difficult in these settlements.
The same is the situation for the Sri Lankan Tamil refugees who also live in cramped conditions in refugee camps with shared sanitation facilities.
---
---
They also have no access to healthcare. Thousands of Afghan refugees, who live in small concentrated areas in different parts of Delhi also not have access to basic amenities.
Risks of Gender-based Violence, Forced Labour and Child Labour
Vulnerable refugee populations, especially those without access to added services, food or income sources are at risk of exploitation. With such populations likely to contract debts to survive, there is a risk of increasing debt bondage. In Turkey, for example, 76.7 per cent of refugees benefitting from the Emergency Social Safety Net were found to be in debt. Criminal networks may actively use this global crisis to exploit vulnerabilities to further restrict the freedom of victims and increase the financial profit that forced labour and human trafficking generates.
Women refugees can be faced with increased exposure to gender-based violence, domestic violence and a general lack of personal space due to confinement measures. At the same time, access to services, such as health and childcare, and domestic violence support and other protection services, can be reduced during confinement periods. Refugee children are one of the groups most vulnerable to child labour and at particular risk in the current crisis. Households may resort to child labour in order to cope with job loss and health shocks associated with COVID-19, especially if children are not in school. Children, in particular girls, can be burdened by increased domestic chores and caring responsibilities and be at increased risk of child marriage.