Uttar Pradesh's Ghagra River is soon to be a National Waterway
Union Minister Nitin Gadkari laid the foundation stone in a push to develop the country's inland waterways sector.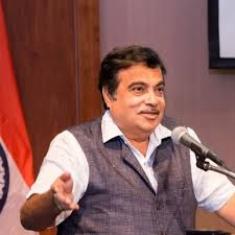 U nion Minister for Shipping, Road Transport and Highways and Water Resources, Nitin Gadkari laid the foundation stone on October 9 for the development work of Ghagra River as National Waterway (NW)-40 at Basti in Uttar Pradesh, under the Sagarmala Programme of Ministry of Shipping.
The waterway from Manjhighat at Ganga-Gaghra River confluence to Faizabad/Ayodhya along Gaghra River for a length of 354 km was declared as NW-40 during the year 2016, as part of Government's renewed push to develop inland waterways sector in the country.
"Together with NW-1 (on river Ganga), NW-40 will be a major transport modal choice for cargo and passenger movement."
The Detailed Project Report on the development of NW-40 envisages terminal at five locations – Ayodhya, Mahirpur (Tanda/Kalwari), Dohrighat, Tortipar and Manjhighat.
Inland Waterways Authority of India (IWAI), under Ministry of Shipping has already initiated work in Phase –I with project cost of Rs. 11.6 crore and has constructed the floating terminal at Tanda/Kalwari to facilitate cargo and passenger movement on River Ghagra and River Ganga.
Under Phase 1, the draft of two metre and width of 45 metre will be constructed in addition to floating terminals through Pontoon-Gangway at two locations- Tanda/Kalwari and Manjhighat.
The Detailed Project Report on NW-40 projects movement of various categories of cargo, namely, agricultural products (rice, wheat, pulses, sugar, livestock),  industrial products, coal (for Tanda power plant), coarse sand, bricks, paper products, leather and other general goods etc. through inland vessel capacity up to 1000 tonne. The first phase works are scheduled to be completed by 2019-20.
"This waterway is being classified as class-III waterway which envisages movement of up to 1000 tonne capacity vessels. Besides cargo and passenger movement, NW-40 will provide connectivity to tourist and places of pilgrimage along river Gaghra and Ganga."
Other projects under IWAI in Uttar Pradesh include, Freight Village and Logistics Hub and Multimodal terminal at Varanasi under the Jal Marg Vikas Project. The terminal is being constructed at a cost of Rs 169.70 crore with a capacity of 1.26 MTPA. The terminal is likely to be inaugurated in the month of November, 2018. The terminal will boost trade via waterways with reduced logistics costs. Better connectivity to coastal regions and neighbouring countries like Nepal, Bangladesh and North Eastern states through Indo-Bangladesh Protocol route will help Micro, Small and Medium Enterprises (MSMEs) to expand trade and commerce and also provide optimal multi-modal mix.