Women rights groups urge political parties to incorporate 'Womanifesto'
Women determined the course of the last General Elections in 2014 and will again decisively determine General Elections 2019 urged women rights groups while releasing the manifesto focusing on ticket distribution of political parties to ensure more women contest in the upcoming elections.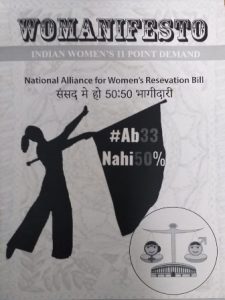 Endorsing the languishing Women's Reservation Bill and the need for women electorate to be represented within political parties as well as inclusion of their demands in manifestos of political parties ahead of the General Elections 2019, pan-India women rights' groups launched the Womanifesto.
"Women determined the course of the last General Elections in 2014 and will again decisively determine General Elections 2019. Women's representation is also as important as women's vote. Women as well as men are part of this document launched at the national level," asserted Dr. Ranjana Kumari, Director, Centre for Social Research at the national-level launch of the Womanifesto held at Press Club of India in New Delhi ahead of the upcoming International Women's Day.
Brought out by the National Alliance for Women's Organisations, a collective comprising 1,800 organisations and individuals across India working for gender justice and gender equality, the Womanifesto lists 11 points focusing on the areas of women's equal representation in Parliament, gender budgeting, increase in health, education, and safety expenditure at national and local level, among others.
"In the past three General Elections, our manifestos were on the basis of our meetings with political parties. But this time, the Womanifesto has had national-level consultations with women across the country. That is the strength of the process. It is also a comprehensive manifesto as it covers almost all issues that women want to raise. Yes, political parties would have their own manifestos and agendas and promises. But this is a manifesto comprising the voices of women and should definitely be incorporated," Dr. Kumari told Delhi Post.
"Besides the appalling Maternal Mortality Rate which is 130 per 1 lakh live births, infant mortality rate is a meagre 34 per 1,000 live births as per NITI Aayog, 2016 report."
Sharing that rate of female employment is 25.3 per cent as per Ministry of Statistics and Program Implementation, Government of India, the activists went on to highlight that employment of women declined during the last 10 years from 30.2 per cent to 25.3 per cent from 2001 to 2011.
---
---
As per World Economic Forum's Global Gender Gap Report 2018, India ranks 142 out of 149 countries in economic participation of women and continues to rank third lowest in the world health and survival of women.
"These are horrific facts that need to be taken into account. That is why, this Womanifesto is an attempt to cover health, education, gender mainstreaming , environment, women's role in peace process and ensure increase in livelihood and employment generation of women," elaborated Dr. Kumari.
 Some of the provisions include at least one crore jobs for women in the next five years wherein work from home and flexible job hours could be availed by women; criminalisation of marital rape; ensuring no dilution of Dowry Prohibition Act, 1961; conducting Women's Safety Audits annually; ensuring 100 per cent literacy for girls; increase in health budget to four per cent of the total union budget and ensuring peace committees have at least half members as women as they are the biggest casualties of aggressions and conflicts.
Archana Jha from Centre for Social Research, Supreme Court Lawyer Bulbul Das, Padmini Kumar from Joint Women's Program, Gayatri Sharma from Women Power Connect and Dr. (Capt.) Anjali Mahta from Justice Seekers also expressed their views during the press conference.
They also made a collective appeal to political parties to provide at least 33 per cent tickets to female contestants.
"We have been talking to the Election Commission in this regard asking for it to put pressure on political parties and to not give them accreditation if they don't have enough women (within the party reflecting the internal democracy). I have been associated with the Women Reservation Bill from the time of Geeta Mukherjee for 23 years and till now, there has been no light at the end of the tunnel. But there is hope because women are coming forward, women are understanding issues and women are becoming politically conscious," Das shared with Delhi Post.
"Notably, India is one of the world's worst countries in terms of women in politics. Data shows that there are only 91 women representatives in both houses of Parliament in India."
In the Lok Sabha, out of the 542 members, only 64 are women. In the Rajya Sabha on the other hand, there are only 27 female MPs among 237 members. India ranks at 153 out of 193 countries in the study conducted by Inter-Parliamentary Union (IPU) as of December 1, 2018.
---
---
But what is keeping the political headweights from at least strengthening the number of women within their parties?
"Seat sharing is such a big issue. Are men within political parties ready to share seat with women candidates? They only talk about sharing seats amongst themselves," expressed Kumar from the Joint Women's Program.
Compared to the abysmal representation of women in Parliament and Legislative Assemblies, there are 44.2 per cent women representatives at the panchayat level because of 50 per cent reservation for women in gram panchayat and urban local bodies.
While the alliance stated that the Womanifesto has been sent to "all political parties' manifesto committee chairpersons", only some of them "directly contacted us about what kind of demands women are making and wanting to include".
"Some of them haven't called back because they don't care enough," said Dr. Kumari.
They also lamented that while all parties agree to women's reservation, none of them brings it (the act into force) when in power.
The activists demanded that political parties should show "genuine commitment" towards the issue in the coming days, and field more women candidates even before the Bill is passed in Parliament.