22 Left-wing Students Get Released on Bail
The Faceoff between Mamata Banerjee's police and left-wing in the streets as CPI (M)'s students' wing, SFI unleashes violence in Howrah.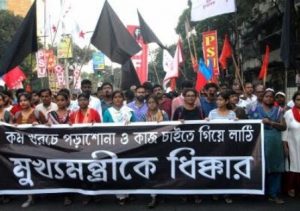 Streets turned red in Howrah crowded with red-blooded left-wing supporters as Howrah district court on Monday released 22 left-wing students, who were arrested during violence between police and students, on bail due to lack of evidence.
Twelve left youth and students' wings had undertaken a two-day 'Nabanna Chalo' march on 13 September to submit thousands of applications signed by unemployed youth seeking jobs. The protest was conducted by the Students' Federation of India (SFI) and Democratic Youth Federation of India (DYFI). The rally was started from Singur, the venue of abandoned Tata Nano car plant as a symbolic gesture. The march was called to demand employment in Bengal.
As they made their way towards Bengal secretariat Nabanna in Howrah, they were welcomed by police barricades and lathicharges. The police denied them permission to the secretariat building saying that the area in and around Nabanna has Section 144 imposed.
As the rally reached Mullick Fatak in Howrah, clashes broke out between police and students. Police used water cannons, hurled stones and fired tear gas shells to stop the students.
---
---
'As many as five police personnel were injured in the clashes that erupted between the members of the rally and the police. Three of them had to be hospitalized after they suffered head injuries due to the brick batting', said Gaurav Sharma, Commissioner of Howrah City Police.
Several students suffered injuries due to the police lathicharge. They were rushed to the hospital andpolice had arrested 22 students.
CPI (M) leader Md. Salim said, 'Thousands from the left parties students' wing members had hit the streets demanding jobs and industries. They had taken out a 'padyatra' from Singur. But, they were mercilessly beaten up and lathicharged by police. No one in the state is allowed to protest in a democratic manner. We condemn this attitude of the government'.
On 14 September, another rally was taken out by the students and youth organization to protest against police restoring to baton charge and lobbing tear gas shells on a 'marcha to Nabanna' programme, which they suspect was pre-planned.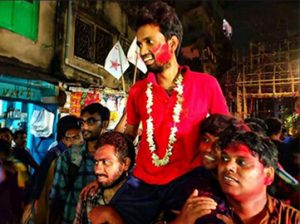 The rally that began from Jora Girja (Twin Church) on Acharya Jagadish Chandra Boase road saw a large participation of youth and students, who had raised slogans against 'police brutality' on the marchers a day ago.
As the condemnation rally reached central Kolkata's Sealdah, tension spread in the area. The students carried huge flags and used the flagpoles to break the barricades and march forward. The small presence of police personnel made it a tricky situation but the youth leaders managed to control their comrades.
'Students were beaten up and arrested because they demanded jobs. Those who are behind this violence are trying to find ways to avoid police arrest. But they will be arrested', said Sujan Chakraborty, member of West Bengal CPI (M).
A student of SFI said, 'We just went to submit our deputation, we had no intention to start violence. We had an idea that there will be a problem but we were not aware that police had a pre-planned attack for us'.