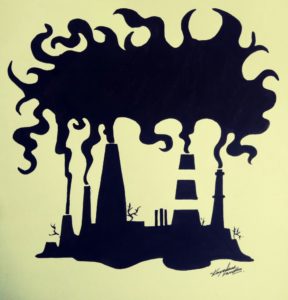 Another morning in the concrete jungle
Arrives with a sleepy, reddish eye;
As the humans prepare for a hectic day,
The endangered trees stand and wait
For their own, imminent demise.
In a dusty, empty, narrow lane,
A  bag of plastic floats around;
As the wind blows, it tries to fly:
Crashing again and again to the ground.
Behold the theatre of millions of puppets,
Struggling and scuffling all day long;
While many fight for basic existence,
Wrestlers, boxers, adventure sportsmen,
Businessmen, professionals, among so many,
Put their lives on the line every day.
Is it a lifestyle, or a mere habit
In the guise of living and earning fame?
Just for this, houses implode,
Legacies tarnish, dynasties fall;
And yet, in aeons, nothing has changed.
Does anyone hear a ticking sound?
Perhaps, an explosive noise from Time
Or one silent, cold signal
Will turn the other noises into silence.