A Post Pandemic Outlook on Migration, Human Rights and Businesses
Future migration trends and migrant worker vulnerabilities, that fall into the nexus of migration and business, may need just solutions in a post pandemic world.
The Covid-19 pandemic has caused major disruptions in migration flows, international supply chains, and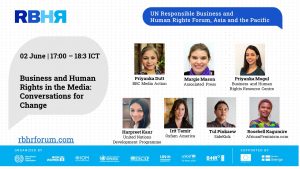 global economies and has led to 81 million workers in Asia-Pacific region losing their jobs in 2020. This has led to a significant decline in the condition of migrant workers, which have historically been fillers for gaps in labor markets in destination countries and a major source of economic boost in the origin countries.
Understanding what the future of lower-skilled migration patterns will look like and what factors are likely to impact this flow will be key for businesses and governments to ensure that migrant workers are part of inclusive and just COVID-19 recovery efforts, and to ensure that steps are taken to maximize the benefits and mitigate the risks of this critical but often dangerous migration journey.
In a session organized at the UN Business and Human Rights Forum, experts from the International Labor Organization (ILO), International Organization for Migration (IOM), the Migrant Forum in Asia, and key government officials of APAC countries discussed how migration dynamics in the region may evolve in the coming years. They also discussed future migration trends and migrant worker vulnerabilities, especially in the case of women migrants, that fall into the nexus of migration & business and human rights.
---
---
While globally migrant workers have been considered essential, the pandemic showed us that their value is unequivocal, since they are engaged in a majority of essential services- construction, healthcare, logistics, agriculture, etc. For IOM Vietnam chief Mihyung Park, however, this has also brought forth the scale of their vulnerabilities. "Migrants are easily neglected and dismissed by both governments and employers. The pandemic has shown us the fragility of human mobility," she said.
The usual drivers of migration were disrupted in 2020 and deployment in several countries came to a standstill. The Philippines saw a return of 700,000 migrant workers in the early months of the pandemic. India also brought back several migrant workers from UAE through the Vande Bharat Missions conducted April 2020 onwards. However, while deployment from origin countries has resumed, the pace is extremely slow.
Nilim Baruah, Regional Migration Specialist for Asia and the Pacific, ILO, added that few prominent factors will shape labor migration in the next three years- Economic recovery, recovery of labor demands, vaccination rollout, shift in migration policies, and technological and climate changes in countries.
"While migration flow will improve with vaccine rollout and pandemic control, the latter's end is nowhere in sight in the APAC region," he said, stressing that countries may also not be able to recover the economic losses faced in 2020.
An important destination country for migrants, the UAE, underwent 6% economic failure in 2020 and was only able to recover 3% by 2021. "Demographic and technological changes will also prove to be important drivers, and the expanding population of young persons will increase migratory pressures in some countries. Japan, China, and Korea will have a high older population by 2025, which will add to the labor market impact in these regions," Baruah added.
Panelists also stressed on the impact of climate change, agricultural outputs, and increased frequency of natural disasters on the hospitability of certain zones. Sea levels, which may rise greatly by 2035, will also impact livelihoods across the pacific.
A study by the Economist Intelligence Unit on the future of labor migration revealed that of 164 million migrant laborers globally, 50 million hails from South Asian countries, and half of these constitute 'low skill' migrants. Of the top 10 migrant origin countries, six belong in Asia- India, China, Bangladesh, Philippines, Pakistan, and Afghanistan. The study also proposed six key drivers in recovery of migration flows in the post pandemic realm:
Economic dynamism of Asia, which contributes to increased intra-Asia migration as well in countries like Thailand and Singapore
Native worker shortages in critical sectors (in construction, food processing, health, and elderly care in Malaysia and Singapore, for instance)
---
---
Demographic Shifts
Increase in educational attainment in developed/high income countries which often results in workers shifting away from highly physical jobs
Large scale infrastructure and economic transformation plans (In Philippines, Thailand, and Indonesia, for instance, are considered to be at the heart of economic strategy)
Tech and automation, which will reshape labor markets due to reduced labor demands.
"The issue of safe and responsible migration will involve regional cooperation, meaning that all stakeholders (private companies, governments, and international agencies) will have to come together. Regional and bilateral agreements, while helpful, still have a long way to go. The government should also increase awareness about migration issues, license migration agencies, and develop a zero fees model for migrant workers," added Minakshi Barman of the EIU.
William Gois, MFA Regional Coordinator, Migrant Forum in Asia, stressed on the need to create a system of global migration governance to improve the condition of migrant workers in the future, especially to not have them be stranded in a world which will be defined by new medical policies. He cited examples from Philippines and India where migrant workers were either stranded at the airports of their origin countries, or were abandoned by destination country governments due to confusion over their jobs, that too after paying hefty sums for flight tickets, quarantine facilities, and employment.
"Saudi Arabia has also released an official document saying that they will only allow people who have been vaccinated by four particular vaccines to enter their country. However, this will put a lot of South Asian migrant workers in a pickle as the dominant vaccine in this region is Sinopharm," Gois added. He further stressed on the creation of an international justice platform for migrant workers to avoid harassment.
"Migrant workers anyway have limited powers, which are further complicated by the drivers that allow them to move. The said platform can be created with either ILO or ILM," Gois said.
(The panel, as featured on the UN RBHR Forum, was organized by the International Organization for Migration. The Forum will be hosting seminars on the topic of Business and Human Rights in the Asia Pacific Region through June 1st to 4th. Delhi Post will be publishing stories on multiple perspectives presented during the seminar)