ABVP sweeps the DUSU polls in a three-way contest
ABVP made a comeback to DUSU polls in what is seen to be the run up to the Lok Sabha Polls 2019, as the AAP backed CYSS failed to make a difference.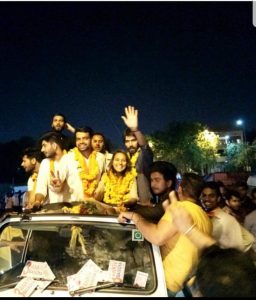 D elhi University Elections 2018 is over. A full of energy event, the DUSU elections was packed with political drama amidst speculations. As it was popularly predicted, ABVP made a comeback to DUSU polls and bagged 3 out of 4 seats.
There were a total of 23 candidates who contested the elections for the posts of President, Vice President, Secretary and Joint Secretary. There has been a slight increase in the voter turnout as 44.46 per cent of students voted in the student elections as compared to 42.8 per cent last year. This increment could also be credited to the Chief Election Officer's decision to place the EVMs for DUSU Elections and college elections in the same room and the DUSU votes to be casted before the college votes. Previously, it was observed that students after casting their votes for colleges used to neglect the DUSU votes and leave the booth without casting their DUSU votes.
"Ankiv Basoya, presidential candidate for ABVP won the elections against the NSUI candidate Sunny Chillar with a margin of 1,744 votes. Ankiv Basoya bagged 20,467 votes as compared to 18,723 votes casted in favour of Sunny Chillar."
For the Vice President's post, Shakti Singh, candidate for ABVP won the elections with a massive margin of 7,673 votes over Leena who was contesting for NSUI.
The post of Secretary was won by Akash Chaudhary against Sudhir who was the sole winner for NSUI in this year's elections. The Joint Secretary post was also won by ABVP candidate Jyoti Chuadhary against Saurav Yadav.
Third front – still ineffective?
The re-emerged third front, AAP backed student wing CYSS in alliance with AISA, couldn't make much difference in the student elections as there was a decrease in their vote share in relation to their previous results and the alliance seemed to be failing in this year's elections.
"CYSS in 2015 elections had a vote share of 14.7 per cent but despite their alliance with AISA, they had a vote share of 13.8 per cent in this year's elections, and were placed third in the polls."
This is in contrary to the confidence shown by Delhiites in their state polls in favour of CM Arvind Kejriwal. The Delhi University is still claimed to be in strongholds of two major parties, ABVP and NSUI.
Connection with 2019 polls
These were possibly the last University elections before the 2019 Lok Sabha Polls. This has come as good news for BJP as the youth in Delhi has still shown tendency towards the seemingly existent "Modi Wave".
"Shakti Singh, newly-elected Vice President in his comments has said that history has been made in this year's polls, and he along with his team will relentlessly work towards the welfare of the students and specifically talked about rent control and hostel regulations in favour of students."
He himself being a sportsperson assured of better facilities and equipments for sportsperson in the University.
It will be interesting to see what the newly-appointed Union brings to the table and whether it's truly an appointment for change.