Dutee now aims for a medal in Tokyo Olympics
Despite numerous struggles, sprinter Dutee Chand's rise to glory in the recently concluded Asian Games has been empowering for many back home.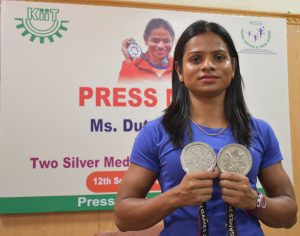 S printer Dutee Chand is now preparing to win a medal in the Tokyo 2020 Summer Olympics. Speaking to media persons in Bengaluru on Wednesday, first time since Asian games in Indonesia, Dutee said that winning at Asian Games has given her much more confidence and she is now determined to win more medals for the country in the next Olympics.
Dutee had recently brought laurels to India by winning two silver medals. By doing so, Dutee joined legendary P T Usha in the list of Indian Athletes to have won more than one medal at the Asian Games.
She clinched medals both in 100m and 200m race, becoming the first Indian woman in 32 years to achieve this rare feat.
Speaking to the media persons, Dutee expressed her happiness and thanked Dr. Achyuta Samanta, Founder, Kalinga Institute of Industrial Technology (KIIT) and Kalinga Institute of Social Sciences (KISS), Bhubaneswar for supporting her to achieve this major milestone.
"I feel deeply proud on being supported by the Founder of KIIT & KISS. Dr. Achyuta Samanta sir is like living God to me. Due to his strong support and encouragement, I got a golden opportunity to perform," Dutee said.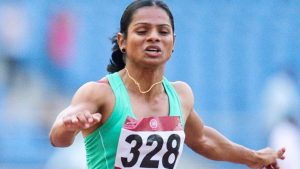 The Indian sprinter and student of KIIT Deemed to be University Dutee Chand was felicitated by KIIT and KISS in New Delhi recently.
Hailing from a poor family from Jajpur district of Odisha, Dutee is the third child among seven siblings. She faced many challenges in her childhood, but was never distracted from her goal. In 2013, Prof. Samanta spotted Dutee and brought her to KIIT.
Since then, he has been giving her all types of support and guidance to her. During the height of controversy relating to hyperandrogenism policy (regulation of female athletes based on their testosterone levels), her most painful time, Prof. Samanta gave her moral support and stood behind her.
"In 2016, Dutee became the first Indian female athlete to qualify for the 100m dash in Olympics in 36 years as she booked a Rio Games berth at the 26th G Kosanov Memorial Meet in Almaty, Kazakhstan."
It has been an outstanding performance by the 22-year-old Dutee who missed out on competition in 2014-15 due to the IAAF hyperandrogenism policy. But she did not give up hope.
She won at the International Court of Arbitration for Sports.  Recently, under a revised rule of the IAAF, Dutee was left outside the purview of the hyperandrogenism policy which gave her liberty to pursue her career. Now she has been trying to erase the ghosts of the past.
"Dutee had got Bronze Medal in Asian Athletics Championships held in Bhubaneswar in 2017; Gold Medal in Asian Junior Athletics Championships in Taipei and Bronze in Asian Athletics Championships held in Pune. At 17, she was setting records on the track."
In 2013, she became the first Indian to reach the final of an international 100m event, at the IAAF World Youth Championships. Then she became the senior national champion in 100m and 200m. In 2014, Dutee won two gold medals at the Asian Junior Championships in Taipei, a first for an Indian athlete.