Atal Bihari Vajpayee: Some Unexplored Stories – Part I
Vajpayee was a charismatic personality, a great orator and much more accepted than other leaders including his successor L K Advani, with the exception of Narendra Modi.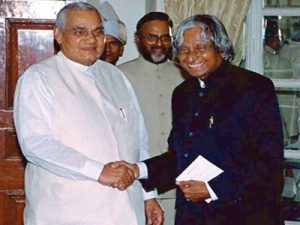 A tal Bihari Vajpayee was once described as "the right man in the wrong party". Since his days of joining the RSS in 1939 to his political journey that extended till he had to withdraw himself from contesting Lok Sabha elections in 2009, the seventy-long years witnessed several ups and downs.
He had, in fact, several unexplained or not much talked about actions that failed to bring him under wider limelight – either those that could have extended his fame or showed him in poor light. These include his "secret letter" to Bill Clinton, former President of US and his role in solving Punjab's internal conflicts.
Indo-Pak conflicts and Kargil war
Since the early 1990s, Pakistan has had proxy wars against India in Kashmir which Pakistan claims as its territory since the Partition. These infiltration wars culminated in the Kargil war when Pakistan regulars in disguise entered into accepted Indian terrain in Kargil area by crossing the Line of Actual Control or LoC in 1999. Following a brief war, intruders were kicked out of the area.
"Meanwhile, Vajpayee wrote a "secret letter" to the then US President Bill Clinton that if Pakistan did not come forward to withdraw immediately from the high-altitude area, India will not hesitate to either cross the border or use nukes to achieve the ultimate objective."
Vajpayee's threat to use the nuke option might have been caused by the long time ignorance by US, the inseparable ally and mentor of Pakistan, of the militancy in Kashmir and terming it as 'Jihadi' – holy war for liberating the land from Indian consolidation.
Later, he was seen extending warm relations with the US with Jaswant Singh and Richard Talbot having several rounds of talks to heighten the bi-lateral relationships. The talks even continued under the UPA government and an agreement called 123 was signed but not executed at large due to political antagonism. Currently, PM Modi almost follows the footsteps of Vajpayee and maintains cordial relationships without relinquishing Russian intimacy. During India Today Conclave talk in 2003, ex-US President Bill Clinton reiterated that Kashmir is the only land dispute which kept two nuclear powers at loggerheads.
US was reluctant to use its influence over Pakistan to have a dialogue with India. The situation turned favorable to India after the 26/11 attacks in 2008 when the US changed its approach towards Pakistan and almost abandoned its trusted ally, in particular, after Bin Laden was shot by the US marines on May 2, 2011.Hence, it could be assumed that Vajpayee era's foreign policy was on the right track.
Even at present, ex-CM of Kashmir, Mehbooba Mufti wanted Modi to follow Vajpayee's doctrine to resolve the issue through dialogue.
Punjab Crisis and Vajpayee's initiatives
Punjab was under a turbulent phase between 1977 and 1987, a decade which was full of violence marring the peace and tranquility of the state. Akalis, since the early 1970s demanded a special approach in the post green revolution Punjab where there were no industries for educated youth and fair returns for agricultural output.
In 1973, a resolution was passed in the Anantapur Sahib which led to greater decentralisation of powers to Indian states. But, instead of solving the issue, central government mishandled which led to militancy fanned by Pakistan and caused the death of one million people. It also led to assassination of Indira Gandhi, then PM, followed by unprecedented riots against Sikhs in Delhi and other parts of the country. The major reason for the assassination was "Operation Blue Star" which took place at the Holy Akhal Takht and Golden Temple complex on June 6, 1984 to weed out militants residing under the leadership of Jarnail Singh Bhindaranwale.
Vajpayee, in fact, cautioned the action as an act of internal aggression. An article on Vajpayee in the Pioneer describes it as, 'The escalation of the Punjab crisis and the rise of Jarnail Singh Bhindranwale had been seen long before it hit the nation', by Vajpayee.
"While Vajpayee congratulated the Indian Army for its successful conduct of Operation Bluestar, he also had a word of caution: "We must not lose sight of the fact that the Army is primarily organised and equipped to fight foreign enemies. Using it against our own countrymen is a very unpleasant step, and we should avoid it as far as possible."
He added, with deep emotion, that "even the roti-beti relationship could not help the gulf from widening". The fire of Punjab indeed reached Delhi when Indira Gandhi was assassinated.
Vajpayee supported the moderate wing of the Akalis led by Longowal and held a peace walk over the entire state which was under imbroglio. It was widely rumoured that it was him who advised the then PM Rajiv Gandhi to sign a peace agreement with Longowal which brought peace to the state in due course of time. However, he was critical of the way the accord was signed without consulting neighbours of Punjab about issues that concerned them.
(This is the first part in a two-part series on AB Vajpayee's momentous journey.)