Benefits of MSP to Farmers
Government has increased the MSP for all mandated Kharif, Rabi and other commercial crops.
Government announces Minimum Support Price (MSP) to ensure remunerative prices to the growers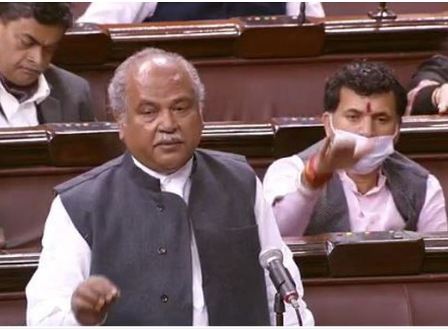 for their produce and encourage higher investment and production. The Government in its Union Budget for 2018-19 had announced the pre-determined Principle to keep MSP at levels of one and half times of the cost of production. Accordingly, Government has increased the MSP for all mandated Kharif, Rabi and other commercial crops with a return of at least 50 per cent over all India weighted average cost of production from the agricultural year 2018-19 onwards.
Cost of production is one of the important factors in the determination of MSP. While recommending its price policy, the CACP considers all costs in a comprehensive manner. CACP projects the cost of cultivation for the current year on the basis of Composite Input Price Index (CIPI) which measures the change in input price over previous year. The CIPIs are based on latest prices of major inputs like human labour, bullock labour, machine labour, fertilisers and manures, seeds, pesticides and irrigation as per data available from different ministries/ departments.
Over 894.19 LMT of paddy procured on MSP for Kharif Marketing Season (KMS) 2020-21, as against 770.93 LMT of corresponding figure last year, benefitting about 131.13 lakh farmers.
Around 433.44 LMT wheat procured for Rabi Marketing Season (RMS) 2021-22, against the last year corresponding purchase of 389.93 LMT, benefitting about 49.20 Lakh farmers.
---
---
As on 27th November, 2021, the Government through its Nodal Agencies has procured 8.37 LMT of Pulses and Oilseeds having MSP value of Rs. 4,65,688.44 lakh benefitting about  5.28 lakh farmers.
Government has taken a "multi pronged approach" to increase the farmer's income and has been implementing/reorienting various schemes for the same which include Soil Health Card (SHC), Pradhan Mantri Kisan Samman Nidhi (PM-KISAN), Pradhan Mantri Krishi Sinchayee Yojana (PMKSY), e-NAM, Pradhan Mantri Fasal Bima Yojana (PMFBY), Pradhan Mantri Annadata Aay Sanrakshan Abhiyan' (PM-AASHA) among others.
This information was given by Union Minister of Agriculture and Farmers Welfare Shri Narendra Singh Tomar in a written reply in Rajya Sabha today.