Border Disputes in Sino-Indian Relations: Past, Present and Prospects
Mutual adjustments and mutual negotiations would definitely improve the situation on the border, but it might remain a dream during Xi Jinping's rule, as China is unrelenting and does not play by any rule.
Border disputes between India and China are not new, and in the post-independent India, the two countries have fought a major war and had engaged in several skirmishes. Both countries are bound by a mutual agreement to not use firearms in the inhospitable and contested Himalayan region along the Line of Actual Control (LAC). However, India received a jolt when 20 Indian personnel were killed at the hands of the Chinese People's Liberation Army (PLA) at the Galwan Valley. No Indian soldier was killed at the hands of the PLA since 1975. As a result, the hardening of Chinese positions in the region since April this year and the causalities in the Ladakh territory of the Indian subcontinent have raised several questions on the political relations between India and China and even strengthened the spirit of nationalism in India. In fact, China has sought to simultaneously interfere with the status quo at different points along the border, namely at the Galwan Valley, Demchok, Daulat Beg Oldie, Host Springs, Four Fingers of the Pangong Tso and Nathu La.
"The hitherto espoused Asian Century with India and China at the core could be a reality if these two giants of Asia would have stuck together", said Ambassador Nirupama Rao, Former Foreign Secretary of India and also Former Indian Ambassador to China, the US, and Sri Lanka.She was speaking at the international webinar hosted by the Centre for International Relations and Strategic Studies (IMPRI), New Delhi, in collaboration with the Sigur Center for Asian Studies, The George Washington University, Washington, D.C., USA. She shared that China has used India's infrastructure development and excuse of India violating the border commitments along the borders as an interpretation to stir up tensions, though they themselves have engaged in expansion of their own infrastructure along the borders. Galwan situation has not been witnessed on Line of Actual Control (LAC)for 45 years before 15 June. Since 1993, India has been using terms such as mutual and equal security, peace along the borders, but these principles have been violated by China recently. Ambassador Rao added that in 1996, Article 10 of the Agreement of Confidence Building Measures posed by China talking about speeding up the clarification and confirmation of the LAC still remains unclarified from China, as was evident by the meeting that took place in 2003 to decide the LAC between China and India, China jinxed up the meet and deliberations never come to fruition.
India–China border is one is the longest land border in the world that remains an unsettled one.
The attitude of Chinese towards border disputes has always displayed negligence. They have a bloated sense of self that China has, which is hurting the interests of India and India needs resistance to the advances made by China. Ambassador Rao underscored that a war with China is not the solution, but internal and external peace is to be maintained.
Ladakh comes under the close vicinity of the areas under the activities of China. The wrong interpretation of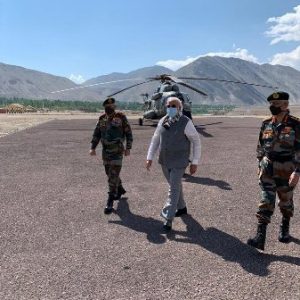 revocation of Article 370 by Government of India have led them to create ruckus on the borders. China has improved relations with Pakistan as its 'iron brother' and converged their interests in targeting India. Ambassador Rao suggested that India should continue to stand up to China as was evident by the Doklam incident in 2017. Mutual adjustments and mutual negotiations would definitely improve the situation on the border, but it might remain a dream during Xi Jinping's rule, as China is unrelenting and does not play by any rule. This certainly remains a cause of worry for India.
Apart from Ambassador Nirupama Rao, the webinar brought together a galaxy of experts on India–China relations such as Dr Kyle Gardner, Associate, McLarty Associates and Non-Resident Scholar at Sigur Centre for Asian Studies, The George Washington University, USA; Dr Deep Pal, Non-Resident Fellow, The National Bureau of Asian Research, USA; Dr Anit Mukherjee, Assistant Professor, South Asia Programme, S. Rajaratnam School of International Studies, Nanyang Technological University, Singapore.
---
---
Participating in the discussions, Dr Kyle Gardner explained the historical context of Sino-India borders and highlighted two important points—missing borders and the complications brought by the claims of the other states. He believed that Sino–India border is not the mutually agreed demarcated line which caused the tragic violence on 15 June in Galwan Valley of Ladakh. He reviewed how Britishers had spent an entire century in Indian subcontinent developing mapping principles and building roads due to the fear of Russian encroachment. They tried to insulate India from Russia, and Ladakh being at crossroads lacked front role while mapping. They used limits of watersheds to map Ladakh, but the process was tedious thus, historically Ladakh never had defined borders. The need for a borderline emerged when encroaching empires started demanding maps. These phenomena of historically missing borders continue till date and gave rise to second problem of continuity of claims by prior states over the territory of Ladakh. Dr Gardner also pointed out that India has carried the British legacy with itself as evident from the practices of road making, restrictive access to borders and surveying.
Dr Deep Pal shared that the President of China has a couple of centenary goals to deliver to the people of China to realise the Chinese Dream. The first centenary envisages that the People's Republic of China (PRC)as emerging as a prosperous democratic society by 2021 and also the 100th anniversary of Chinese Communist Party. By 2049, they are determined to be strong democratic, civilised, harmonious and modern socialist country under the leadership of Xi Jinping. He highlighted, due to pandemic, China is being cornered by large number of countries making the achievement of China dream questionable. China wanted to be the unquestionable leader in the current scenario.
Dr Pal also highlighted the strained relations between China and USA. While USA has retreated from WHO, China is advancing for multilateral arrangement of Silk Road and Belt and Roads Initiative.
Dr Pal warned that the PRC is spreading itself far across from its neighbourhoods and developing relations with Nepal, Pakistan, Bhutan, Sri Lanka and Maldives which enclosed the Indian subcontinent. In future incidence, it is possible that China may be present in all the problems India may have with its neighbours which may not in line with India interests. After the Galwan incident, India and China relations have been changed.
Dr Pal also questioned the talks taking place between China and India to settle the border disputes and said India must make strong decisions. He called for policymakers to look around the world to strengthen the partnerships as evidenced by Australia in the Malabar Coast exercise. He highlighted that China had no interest in solving border issues with India and they will try to solve it in a way which works to their advantage.
---
---
Dr Anit Mukherjee in his discussions highlighted that the revocation of Article 370 had created a lot of turmoil in Beijing. He opined that China wanted to create fuss on the borders to deal with its domestic turmoil going post COVID-19. He raised several questions as whether there should a military response to the Galwan attack to restore status quo and have tit-for-tat operations? While these could be plausible options, but escalation of the conflict remains a consistent risk.The strategic and diplomatic costs must be weighed in. India must work with the countries, which share apprehensions with China. It must utilise this crisis and address the system deficiencies at the borders. Dr Mukherjee also speculated that India's infrastructure development along the borders may have led China to deploy the troops on a large scale on Chinese borders. Perhaps setting up of a comprehensive Committee of Inquiry to address the nuances of the border conflict can be the best way forward.