Celebrating women on wheels
Commemorating 10 years of Azad Foundation and Sakha Cabs' journey, more than 400 women chauffeurs, all alumni of their 'Women on Wheels' programme, came together at the Alumni Meet 'Jashn-e-Karwan' in the Capital.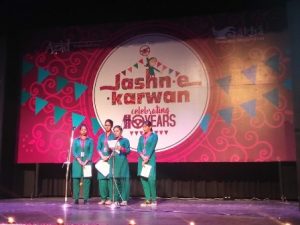 Women chauffeurs – a term that wasn't even an idea in the minds of people became a reality when Meenu Vadera, a feminist and a social entrepreneur, pioneered the concept of 'Women on Wheels', in May 2008.
Equipping resource-poor women with knowledge and skills for them to earn a "livelihood with dignity", 'Women on Wheels' programme by professional feminist organisation Azad Foundation and its strategic employment partner Sakha Consulting Wings helps in placement of drivers in order to create a safe and reliable transport for women by women.
Cut to October 2018 – commemorating 10 years of their journey, more than 400 women chauffeurs, all alumni of Women on Wheels programme, came together at the Alumni Meet 'Jashn-e-Karwan' at NCUI Auditorium, New Delhi.
From bringing them together on a common platform, the day-long event also threw light on the challenges that women as chauffeurs face and yet have gone on to create an identity for themselves. "Over the years, we have demonstrated what it takes to not just bring women into economic mainstream but also how to sustain their participation," said Vadera.
---
Also read: An ode to women and environment
---
The programme provides technical, self-empowerment and self-development training to equip women to become self-sustaining professional drivers. In addition, as per the Foundation's website, 'the programme team assist the trainees to acquire citizenship document and accident insurance, open a bank account and obtain a uniform and mobile phone'. "If needed, we also engage family members to ensure women receive on-going support throughout their learning journey to complete the training. Women with very little means are also offered financial and other support," reads the website.
"Interestingly, as per estimates, Azad and Sakha have contributed to more than 1,500 professionally qualified women as chauffeurs and 700 of them have been engaging in the profession across Delhi, Jaipur, Indore, Kolkata, Bengaluru, Guwahati and Ahmedabad."
Khushi who started as a trainee in 2009 at the age of 18 years is now a trainer with Sakha. Belonging to UP's Jhansi, Khushi had to move to the city of Delhi with her family owing to financial pressures compounded by debt. Referred by her aunt, she took five months training of 14 types including communication and first-aid on the Women on Wheels programme. "I was very happy to help my father with the earning. I started with a salary of Rs 4,000 and now earn such that I have built a three-floor house in Badarpur," the 27-year-old told Delhi Post.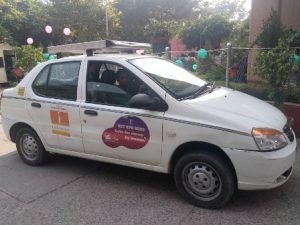 While addressing the audience including the alumni, renowned feminist leader Kamla Bhasin who was the Guest of Honour for the morning half, praised the efforts and stated that each woman needs to help another one so that women empowerment can happen on a larger scale. "Jo mahila andolan ne aapko diya hai woh aage tak badhana hai. Uber ke upar jaana hai aur Ola ka dhol bajana hai!" (What women's movement has given you, you need to take the legacy forward. Go beyond Uber, Do better than Ola!)," said Bhasin.
High Commissioner for United Kingdom H.E Sir Dominic Asquith and Lady Asquith were the Guests of Honour for the evening.
Omkari Mukesh Kumar, a 40-year-old chauffeur shared with Delhi Post that she soon plans to buy an Alto Car. "I always used to look out of my home and see people driving. I had an inherent interest in driving but never got a chance. I didn't even ride a bicycle. But after marriage, through a friend, I came to know about the training and I wanted to do it. But my husband and in-laws didn't allow me. After a lot of convincing, it worked," recollected Omkari. Having worked for over eight years, she is now funding her eldest daughter's graduation fee.
"When I started, it was nerve-wrecking. But the respect that the profession has given me is immense. I am so happy and so are my children," she further said.
The trainees are paid Rs 75 for an hour and depending on the hours at the wheel, their earnings increase. Chauffeur Pinki who is a first woman to drive a vehicle from her family, told Delhi Post that she faced a lot of resistance initially from them but then looking at her growth, her family became supportive and is now happy to let her drive. "I always tell my family that as long as I am in the car, I am safe and happy," she said.
---
Also read: Women as torch-bearers: Meira Paibis in Manipur
---
The professional drivers also presented a seven-point memorandum to the Government of the country for making available information related to various skill development schemes through mass media on a larger scale; need of employment counselling centres in 'bastis'; making non-traditional jobs available for women such as that of mechanics, electricians, painters etc, demanded safer roads as well as urged men to take part in household's unpaid care work besides suggesting that Government should also take up training for women bus drivers.
The women held, "We present these demand on the basis of our collective experience of the last 10 years. We have not just learnt to drive a four-wheeler but we have learnt how to live a life of dignity. If the Government takes our demands and ensures that most skill development programmes provide livelihoods with dignity, then women can participate much more meaningfully in the economic activity which will also help in making public spaces, roads and footpaths safer for women."