Chuni Goswami—the First Superstar of Indian Sports
The golden days of Indian football will always remember a name Chuni Goswami, who was the captain of the Indian team, which won the Asian Games Gold in 1962.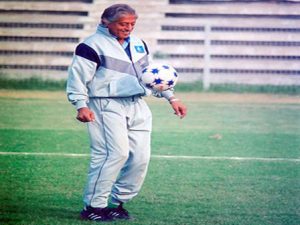 Chuni Goswami, the legend of Indian football, passed away at the age of 82 in Kolkata hospital on Thursday. He succumbed to cardiac arrest. He had been battling with age-related illnesses such as sugar, prostrate and nerve problems.
He was the captain of the Indian team, which won the 1962 Asian Games Gold in Jakarta. It was the last time India won the Asian Games football event. Under his captaincy, the Indian team also finished runner-up at the Asian Cup in 1964 and narrowly lost to Burma in Merdeka football six months later. In club football, Goswami played for Mohun Bagan throughout his career. In his college days, he captained Calcutta University in both football and cricket in the same year.
Apart from football, he played cricket with sheer passion and played two Ranji Trophy finals for Bengal, once as a captain. He played 30 matches for the Indian football team and 46 first-class matches for Bengal cricket team. Resembling his silky football skills, he scored prolifically and took wickets with medium pace bowling.
As he left the materialistic world, Delhi Post takes a close look at the legends of Chuni Goswami that made him the first superstar of Indian sports. If he had played in present-day India, he would have received a heroic farewell on his journey to the cosmic world.
---
---
A Dribbler par Excellence
Goswami played at a time when India was considered to be the giant of Asia. In his time, there was no better ballplayer than him in Asia. An untamed ballplayer, Goswami always regretted seeing the decline of dribbling skills in Indian football. He was an excellent dribbler. With his body balance, subtle skill set, ball controlling and a sensible football mind, Goswami could dribble like Brazilian football legend Ronaldinho. He was one of the few Indian footballers who brought the 'Jogo Bonito', a playing style adapted by Brazil, to India. In 1962, he was awarded Asia's best striker award for the pivotal role he played in India's Asian Games triumph.
As a footballer, he idolized legendary East Bengal footballer Ahmed Khan who was also known for his ball controlling ability.
It would not be an exaggeration to say that Goswami and Ahmed Khan are the most creative forwards India has ever produced.
Brilliant Body Swerve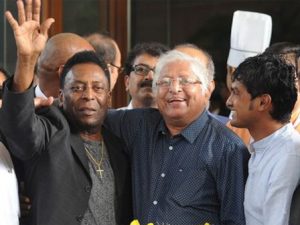 Goswami with his mesmerizing ball dribbling skills could create magic on the field. His ability to command the ball once left 1960 Rome Olympian Syed Shahid Hakeem stunned during a Santosh Trophy match between Services and Bengal. Goswami was tapped near the corner flag. Hakeem attempted to tackle him and took the ball away from India's most fascinating dribbler. To Hakeem's surprise Goswami, with a superb body swerve, evaded him and moved with the ball infield.
Ability to create space for himself in small areas was Goswami's strength. Such was his talent that he could dodge hard tackles with ease and avoid injuries in an era when strikers were not protected by the referees and the concept of yellow and red cards was yet to come into play.
Complete Sportsman
He belonged to an era that doesn't exist anymore. There were only a few sportspersons who excelled in more than one sport. Apart from football, he excelled in cricket. Goswami played for both Bengal and East Zone in the Ranji Trophy and Duleep Trophy. Under his captaincy, Bengal played the 1972 Ranji Trophy final against Bombay. In 1966, he took eight wickets in both innings during a tour game against Gary Sobers-led West Indies. The visitors defeated India 2–0 in the series but lost to the combined East and Central Zone team. After the tour game, legendary all-rounder Sobers queried about Goswami. He was surprised to know that Goswami is an excellent footballer. After his retirement, he occasionally played tennis and hockey.
A Leader in Life
Goswami was not only an excellent player but also a charming man. In his heydays, he earned so much reputation that he was incomparable and football experts all over the world admired him. But the Bengal maestro was his own man, and he never let anyone rule his life. As a football, he often turned up late for training but was forgiven since he was indispensable for Indian football. Before the Rome Olympics, he had joined the State Bank of India as an officer. The burden of the job took him some time to join the national camp. A few players objected to Rahim's decision to give Goswami leverage. But the coach gave them a befitting reply, retorting 'Uskamaafik ball control karlo, tumbhi fir late aana' (If you develop an ability to control the ball like Goswami, then come late. I have no problem).
When Goswami Said No to Fiat
In the 1960s, there were fierce competitions for players between Kolkata giants Mohun Bagan and East Bengal (occasionally Mohammedan Sporting). Demand for skilled players was high. And Kolkata's Big 3 could go any far to sign a big player. Hard bargaining used to break out among them, especially Mohun Bagan and East Bengal. Bribery was common. Once East Bengal's legendary secretary Jyotish Guha made an attempt to sign Goswami. He offered him to buy a Fiat car, worth a princely INR 14,000, which had just come in the Indian market. But Goswami turned down the offer and played for Mohun Bagan till the final day of his career.
Mohun Bagan Loyalist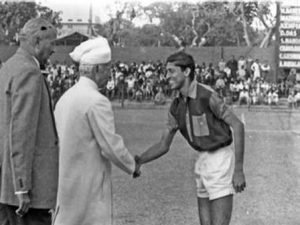 Goswami was a true Mariner to his heart. Since his debut for the club in 1954 till his final days at the Maidan tent, he played for Mohun Bagan. He joined the club as a nine-year-old kid. On 29 May 1954, he made senior team debut for the Mariners as a 16-year-old teenager during a league match against Eastern Railway. Goswami was so lucky that he could play for Mohun Bagan on his first day with the senior team as the club's senior strikers Runu Guha Thakurata and Abdus Sattar were not available for the match due to office duty. As a player, he won six Durand Cup titles, five times as a captain.
How an inside right turned into an inside left
But there is an interesting tale to tell about his club debut. Since Bagan had two experienced forwards—Badru Banerjee and Robin Patra—on the bench, Goswami's chance of making it to the first XI was slim. But Goswami was a clever boy and a passionate footballer. He didn't want to waste the opportunity. His mentor Balaidas Chatterjee had advised him to wear the Green and Maroon as soon as he entered the dressing room. The century-old Mohun Bagan club management was superstitious. The held a notion that once a player wore the club jersey, he couldn't be dropped from the first XI. Patra, an inside left, was not concerned with Goswami's presence in the team since the rickety boy was an inside right. But nothing could shake Mohun Bagan's belief. Badru Banerjee played the match on the right flank as he always did. But there was a change on the left flank as the club decided to go against the odd and asked Goswami to play as inside left which he had never done in his life.
When he retired from the game, he was crowned the best inside left in the country and considered amongst the best of Asia. The surprise was that Goswami's emergence as a subtle winger on the left flank happened to be an accident, not a well-measured decision. If Mohun Bagan had not stuck to its superstition, then India would not have got their best inside left ever.
Asian Games Gold Medal
Goswami was the captain when India defeated  South Korea 2–1 in the final in the 1962 Asian Games and clinched the gold medal.
Though he couldn't score a goal in the final, he made sure P. K. Banerjee and Jarnail Singh get ample passes from the left flank. His crucial passes to the strikers rattled Korean defenders to a large extent. In the semi-final against South Vietnam, he scored twice to win India the thriller 3–2. The Vietnamese team had eight players with experience of playing in French League. He was also the captain of the Indian team that finished runners-up in the 1964 Asian Cup in Israel and 1964 Merdeka Cup.
---
---
Turned Down Tottenham Hotspur's Offer
When Goswami was in his prime, he received an invitation from Tottenham Hotspur for trial under the gaze of legendary coach Bill Nicholson. Tottenham was the best club in London in the 1960s. It won the first-league-and-cup-double of the 20th century and a year later, it became the first club from England to win a European cup thrashing Atletico Madrid 5–1 in the European Cup Winners Cup final. Though he had a chance of earning money through football, he never paid heed to Tottenham's offer. He continued to play for Mohun Bagan even though he never received a single penny from the club during his playing days. He retired from the club at the age of 27 in 1968 which was quite surprising.
The Troika
Goswami's decision to say goodbye to his first love football in his 20s was quite shocking. It made many of his fans regret as they would not see the star taking the Maidan to storm with his dribbling skills. Since his retirement from the game, India had never seen a ballplayer of his stature. In the history of Indian football, the troika formed by him with late legendary Indian striker and coach P. K. Banerjee and Hyderabad's Tulsidas Balaram is still considered to be the sharpest combination in the front ever. Their understanding among each other was so brilliant that they could communicate among themselves without using words. They knew each other very well. Their understanding and dazzling ball skill gifted India many memorable moments.
These memories are now written in golden words. Now the legendary footballer, Chuni Goswami, went to a place of no-return just like the Indian football whose return to the good old days looks just unfeasible.