Maharaja Bhupinder Singh and his patronage towards sports in India
In the early 20th century, princes were on the forefront to introduce India to sports. Maharaja of Patiala, Bhupinder Singh, was way ahead of promoting and made significant contributions to Indian sports.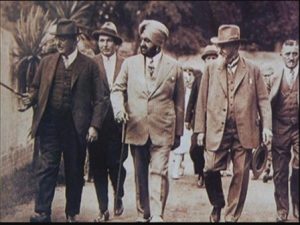 Sports hold key to a modern country's standing at the world stage. In this regard, India's struggle is quite dramatic. Initially, Indians showed interest in sports for the sake of gaining self-esteem in the British-ruled subcontinent. Sports, a classic English obsession, grew steadily in India, courtesy to the timely patronage of the country's elite—the moneyed class and the princes.
In the early 20th century, princes were at the forefront to introduce India to sports. With many kingdoms, India has many kings. But among all, Maharaja of Patiala, Bhupinder Singh (1891–1938), was way ahead of his friends and contemporaries as he delved into sports in quest of self-respect. Out of sheer love and driven by nationalist imaginary, he made a remarkable contribution to sports' promotion and itsoverall growth in the length and breadth of the country.
Looking back at India's sporting evolution; one will see why Maharaja Bhupinder Singh's name is synonymous with sports, especially cricket and India's Olympic movement.
Only a few people know that the origin of Board of Control for Cricket in India (BCCI) can be traced to February 1927 when a rather casual discussion gave birth to the idea of national cricket governing body. At that time, Marylebone Cricket Club (MCC) captain AER Gilligan was on a tour of India. He joined the historic discussion along with British businessman RE Grant Govan and Maharaja Bhupinder Singh of Patiala over cups of tea at Delhi's Roshanara Gardens. It was 10 months after this meeting in December 1927, BCCI came into being.
BCCI, still in its infancy, didn't have money to function on its own. What people generally do not know is that it was Bhupinder Singh, and not Lord Harris or Lord Willingdon or Lord Brabourne, who laid the foundation stone of Indian cricket. If anyone else has to be credited for forming the BCCI, it must be the Persians of Mumbai.
---
---
Being the country's leading sports patron, Maharaja of Patiala was way ahead of his time. He built stadiums and infrastructure to put India on the cricketing map.
Since BCCI was finding tough to materialize the idea of forming the country's premier domestic tournament due to paucity of funds, Maharaja of Patiala came in rescue. He donated £500 to the cause. The Persians recognizing his patronage named country's foremost first-class tournament after his good friend Jam Sahib of Nawanagar, the great cricketer Ranjitsinhji Vibhaji Jadeja.
It was a perfect decision because Ranji was the first cricketer of Indian origin who made a buzz in England, the home of cricket. A right-handed batsman of sheer brilliance, Ranji, scored 24,692 runs at an average of 56.37 in 307 first-class matches while plying his trade for Sussex, London County and Cambridge University respectively. He also played 15 Tests for England. The first season of Ranji Trophy was played in 1934–35.
However, Maharaja Bhupinder Singh's contribution to cricket was not limited there only. He was a brilliant cricketer too. Maharaja had the calibre to double up as a batsman and a bowler. Such was his stature that even famous England captain Douglas Jardine wanted him to play for the MCC. But Viceroy Lord Willingdon was not in favour of this idea. Lady Willingdon was asked to ensure Jardine gives up the wish. But things proved otherwise. Jardine didn't relent and Patiala went on to play against Delhi.
In 1911, he became the first captain of an Indian team that ever toured abroad.
After a gap of 12 years, MCC sent out a team captained by Gilligan to play in India in 1926–27. Needless to say, the entire tour was sponsored by Bhupinder Singh.
Being a passionate fan of cricket, Bhupinder Singh kept the family tradition of inviting great England cricketers to Patiala. He invested time, energy and money to make India a great cricket-playing nation. On his invitation, legendary English cricketers like Wilfred Rhodes, George Hirst, Harold Larwood and Maurice Leyland spent a considerable amount of time in Patiala and played cricket there. Bhupinder Singh played his part, paying them a handsomely.
Maharaja was also the promoter of an Australian team, led by J. S. Ryder, which toured India in 1935–36.
Apart from playing cricket, Maharaja was keen on building the game's infrastructure. To ensure cricket's swift transition in the country, he transformed the polo ground built by his father, Maharaja Rajendra Singh, at Chail near Shimla into the world's highest-altitude cricket ground.
Saviour of India's Olympic Movement
Bhupinder Singh's sporting interests were not limited to cricket only. It can be suggested that Patiala, as he did in cricket, had used his trusted weapon-patronage-to gain control of Olympic matters in India. He had not only funded Indian teams to various international events but had also built a grand stadium in Amritsar to promote track and field sports.
His interest in Olympics was first born in 1923 when he decided to sponsor Patiala long-jumper Dalip Singh for the 1924 Paris Olympics. He was also a notable patron of wrestling, a famous sport in Punjab and Haryana.
Being in love of wrestling he decided to fund and organize the world championship bout in 1928 between great Indian wrestler Gama and Polish champion Stanislaus Zbyszko.
Needless to say, Gama and his brother Imam Baksh were patronized and employed by Patiala himself.
In 1927, when Dorabji Tata stepped down from Indian Olympic Association's presidency citing ill-health and inability to travel to Europe, Bhupinder Singh emerged as the most eligible candidate. Since the Olympic Games had already caught the nationalist imagination, the IOA presidency had become a prestigious position to grab which led to a battle among princes. Therefore, Maharaja of Kapurthala and Maharaja of Burdwan had also thrown their hats in the race of IOA presidency. Kapurthala also had the backing of Tata and the International Olympic Committee since he was a frequent visitor to Europe.
As Bhupinder Singh had done so often in cricket with his affluence, he successfully outmanoeuvred them and proved himself as the saviour of India's Olympic movement. Jam Sahib of Nawanagar, great cricketer Ranjitsinhji, played a vital role here by throwing his weight behind Maharaja of Patiala. Soon after assuming charge, Patiala took the perfect diplomatic step in appointing Dorabji Tata as honorary life president of the IOA in recognition of his efforts to promote the spirit of the Olympic Games in India.
Affluence and Influence
Gradually, Bhupinder Singh developed a sheer influence in the fold of IOA with the help of his wealth gained from the fertile plains of Punjab. He was instrumental in sending Indian contingents to the Far East Games in Japan (1929), the Los Angeles Olympics (1932), Delhi Western Asiatic Games (1934), 1936 Empire Games (later Commonwealth Games) and Berlin Olympics in the same year.
Patiala's solo rise as patron of Indian Olympic sports created a serious resentment, not only among the princes but also among the IOC officials. One body that was most annoyed at the rise of Patiala was Young Men's Christian Association (YMCA) because Bhupinder Singh completely ignored its work for the promotion of Olympic sports in India.
Unhappy with YMCA's waning influence, its national head Henry Gray wrote a scathing critique of Patiala and Indian Olympic affairs to IOC president Count Baillet-Latour. He stated that the Olympic movement in India was stagnant due to abysmal leadership of Maharaj of Patiala. Gray also alleged that Patiala even snatched the voting rights of provinces after they failed to pay their annual dues.
Worried by the development, IOC president Latour asked Dorabji Tata to reconsider his resignation from the IOC. Tata's stature was such that Bhupinder Singh could not but support this suggestion on being asked.
Tata, at an advancing age of 70, steadfastly refused the request citing his poor health and inability to travel to Europe which was required more frequently to liaise with IOC and keep track of its all schemes for modern sports. Tata's refusal meant Patiala's dominance over the Indian Olympic administration grew manifold.
By 1931, Bhupinder Singh even urged the IOC president Latour to allow GD Sondhi to represent India at the IOC session in Los Angeles in ailing Dorabji Tata's absence. It was a well-calculated move. As India was becoming more and more conscious about its position in international sports, Maharaja understood that India's representation at the IOC meetings was important. In the light of India's growing influence in Olympic sports, Patiala didn't hesitate to urge IOC to render them a full representation status at international sports bodies.
1928 Olympics hockey gold strengthened his voice and he pushed further, asking for a permanent place for Sondhi at the IOC table.
Complaints against Patiala hardly made any impact majorly due to paucity of funds required to promote Olympic sports in the country. Days before the 1928 Olympics, only INR10,000 was available in IOA's coffer for sending seven athletes and 15 hockey players to Amsterdam.
In his correspondence to IOC, cricket administrator Anthony de Mello asserts, 'Without the efforts of Bhupinder Singh it is more than likely that our hockey wizards would not then, nor for many years to come, have had the opportunity so completely to baffle the game's experts from the rest of the world'. It was in the 1928 Olympics that India first won its Olympic gold and hockey wizard Dhayan Chand mesmerized the European fans with his stick work. He goes on to suggest that the 'self-imposed task of sending our Olympic team to Amsterdam was only one of many such undertaken by Bhupinder Singh'. Considering his growing dominance in India's Olympic matters IOC also accepted Sondhi as India's official permanent representative at its meeting.
---
---
Legacy                                                                                           
Maharaja's everlasting impression on Indian sports consolidated in 1961 when the grand Moti Bagh Palace of Patiala has been permanently dedicated to foster India's future sports icons under the realm of Netaji Subhas National Institute of Sports (NSNIS). Now it is Asia's largest sports institute. Needless to say, almost every sportsperson in India has trained and slept under the roof of the magnificent Moti Bagh Palace.
To call Bhupinder Singh as one of the key pillars of Indian sports would not be wrong. Recognising his larger than life contribution to Indian sports the Punjab Chief Minister Captain Amarinder Singh has named country's first sports university, Punjab Sports University, in Patiala after his grandfather Maharaja Bhupinder Singh in 2019. Maharaja is long gone, but he is omnipresent among us in the form of newly built Punjab Sports University and NSNIS, where India's topmost sporting talents are now being nourished and nurtured.
Now his legacy lives on in every cricket match India wins around the world and in every medal Indian athletes win at Commonwealth Games, Asian Games and Olympic Games. It will not be incorrect to say if Maharaja of Patiala would not have taken an interest in sports, then India's progress in Olympic sports could take many years to ripe.