Congress Sweeps Karnataka Assembly Elections, Highest Voter Turnout Recorded
In the Karnataka assembly election of 2023, the Congress triumphed handily, taking 136 seats. The BJP lost power after winning 65 seats. It is still unclear whether Congress will choose Siddaramaiah or DK Shivakumar to be the next chief minister.
In a landmark election held on 10th May 2023, the Indian National Congress clinched a resounding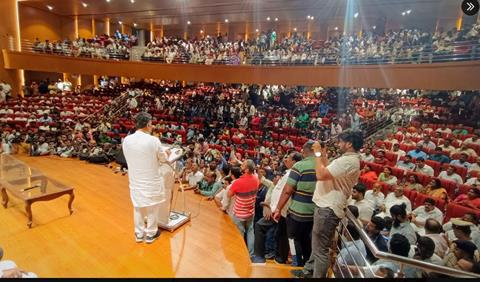 victory in the Karnataka Legislative Assembly elections by securing 136 of the 224 seats. The ruling party, the Bharatiya Janata Party (BJP) fell to second place, securing only 65 seats. The Janata Dal (Secular) followed in third position with 19 seats.
The elections witnessed an unprecedented voter turnout of 73.19%, the highest ever recorded in Karnataka's history. The Congress party's significant win marks the end of the BJP's reign in its last stronghold in the South, providing a much-needed morale boost to the Congress party ahead of the 2024 Lok Sabha polls.
However, the AAP (Aam Aadmi Party) failed to secure a single seat in this highly contested election.
Political analysts have attributed the Congress party's sweeping victory to various factors, including the anti-incumbency wave against the Bommai government and corruption allegations. The BJP's lack of local leadership was also a significant factor contributing to their defeat.
The Congress party connected with voters by effectively highlighting local issues and promoting Kannada pride. The party's triumph is expected to give them the confidence to approach the 2024 general elections under the leadership of Rahul Gandhi, who recently led the Bharat Jodo Yatra.
Muslim votes' consolidation significantly contributed to the Congress party's win, indicating a shift in the community's political preference. On the other hand, BJP's traditionally solid voter base, the Lingayats, seemed to have slipped from its grasp, further complicating the party's position.
Despite the decisive victory, the Congress party now faces the challenge of selecting the Chief Minister from two strong contenders – DK Shivakumar and Siddaramaiah. The decision is expected to be made in a crucial meeting of the newly-elected legislature party scheduled at 5.30 pm on Sunday, as announced by state Congress president DK Shivakumar during a press conference on Saturday.
While the Congress party's victory in Karnataka has boosted its prospects for the upcoming general elections, political pundits caution against viewing the Karnataka result as a diminishing effect of Prime Minister Narendra Modi's influence in electoral politics and leadership.
The Karnataka assembly election results could indeed be an important precursor to the larger political dynamics that might unfold in the 2024 Lok Sabha polls. However, the exact impact remains to be seen as the country heads towards another significant electoral event.