Government Urges Industry Leaders to Set Targets for Going Green
A significant step towards India reducing emissions by 45% in line with the NDC target for 2030 is the Green Energy Open Access Rules, 2022: Shri R. K. Singh, Minister of Union Power & NRE.
In New Delhi, the industry and other stakeholders gathered to discuss the Green Energy Open Access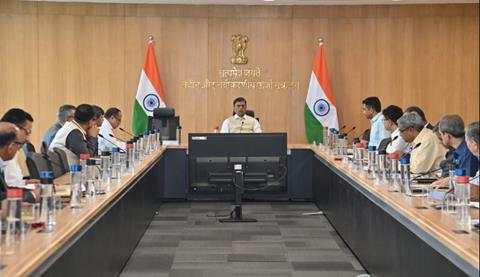 Rules under the leadership of Union Power & NRE Minister Shri R. K. Singh. The meeting was hybrid in nature.  About 50 attendees physically attended the meeting, and more than 500 participated remotely. The attendees brought up various issues with the Green Open Access Rules. To further accelerate India's ambitious renewable energy programmes and ensure everyone has access to affordable, dependable, sustainable, and green energy, the government announced the Electricity (Promoting Renewable Energy Through Green Energy Open Access) Rules, 2022, on June 6 of last year.
Speaking at the event, Shri Singh urged business leaders to set goals for going green, use the GEOAR's provisions to obtain power at competitive prices and help create a more sustainable and greener world. Green Energy Open Access Rules, 2022, is a significant milestone in India's transition to a green economy and its goal of reducing emissions by 45% by 2030, as stated in India's updated NDC objective. Additionally, it will drastically lower the cost of electricity. The Union Power & NRE Minister continued, "I want you all to benefit from the new regulations and work with a vision to leave a greener earth for future generations.
Shri Singh also urged the industry's key players to alert the government when the Green Energy Open Access Rules are not being adhered to strictly for the government to raise the matter with the relevant organisations and, if necessary, take punitive measures. The industry was promised all assistance, including resolving any issues with regulations, policy, evacuation infrastructure, connectivity, GNA, etc., for the drive to adopt green energy open access standards.
Important Features of Open Access Rules for Green Energy
The following are the key characteristics and advantages of "Green Energy Open Access" for regular consumers:
(a). These regulations are published to encourage the production, acquisition, and consumption of green energy, including energy from waste-to-energy facilities.
(b). Any consumer is eligible for the green open access programme. The available access transaction limit for green energy has been lowered from 1 MW to 100 kW to make it possible for smaller users to buy renewable energy through open access.
(c). Customers have the right to request from Discoms the delivery of green power. Discoms would be required to find and deliver green power to qualified customers.
(d). These Rules have streamlined the approval procedure for open access. It has been mandated that time-bound processing take place by introducing uniformity and openness to the application procedure and approving open access through a national site. Green Open Access approval must be given within 15 days after the request, or it will be assumed to have been approved.
(e). Commercial and industrial consumers can voluntarily purchase green power.
(f). Give consumers of green energy open access clarity regarding the open access fees that will be assessed, including transmission fees, wheeling fees, cross-subsidy surcharges, standby fees when appropriate, banking fees and other fees and charges like Load Despatch Centre fees and scheduling fees, as well as deviation settlement fees following the relevant regulations of the Commission.
(g). Consumers are encouraged to become green by a cap on cross-subsidy surcharge growth and eliminating additional surcharges.
(h). All obligated enterprises in the territory of a distribution licensee shall be subject to a consistent Renewable Purchase Obligation (RPO). Green hydrogen and green ammonia have also been added to fulfil its RPO.
(i). If consumers use green power, they will receive Green Certificates and be assisted.
The Appropriate Commission sets the tariff per the Electricity Act of 2003. As a result, the appropriate commission will set the green energy tariff, including the average pooled power purchase cost of renewable energy, any applicable cross-subsidy fees, and service fees to cover the distribution licensee's reasonable costs associated with providing green energy to customers.
Grid Controller of India Limited runs the Green Open Access Registry (GOAR) portal (https://greenopenaccess.in), the single window portal for registering and applying for the Green Energy Open Access, which the Ministry of Power has already designated as the Central Nodal Agency. The web-based GOAR portal, which serves as a central register, makes all information relating to approvals, rejections, changes, curtailments, etc., available to the appropriate parties.