COVID-19: A Wake Up Call for Reimagining Healthcare
As the pandemic rages, existing healthcare institutions are unable to deliver on their duties. It is high time policymakers conduct an autopsy of these institutions to successfully combat disease, malnutrition and death.
India's healthcare infrastructure was subpar before the pandemic. Its expenditure on healthcare is 1.28 per cent of the total GDP – lower than Nepal, Sri Lanka, Myanmar and Bangladesh.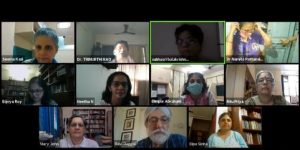 The COVID-19 pandemic exacerbated the already worsening conditions and has forced the country to reassess its programmes and policies regarding healthcare and nutrition. It has also given impetus to improving our understanding towards a more grassroots approach to public health and sanitation.
In the context of the current crisis, the Centre for Women's Development Studies (CWDS) organised a panel discussion "As the Pandemic Continues: Reimagining Healthcare" to discuss government's response to the pandemic, women's healthcare, hunger and malnutrition and learning from the pandemic.
Response of the Government
Ravi Duggal, a health economist who works with Peoples Health Movement and the Medico Friends Circle, shared that the government did not act on time while other Asian countries like Vietnam and Mongolia acted quickly with strategic planning. It was wrong to impose a national lockdown without a notice period. This could have helped people to relocate to safer spaces and given time to businesses to plan for the future. Selective lockdown of hotspots could have made the humanitarian crisis less severe.
According to Duggal, government's relief measures came late and did not ease people's suffering. There were no additional budgetary resources; instead the government appropriated existing schemes like MGNREG, Pradhan Mantri Jan Dhan Yojana and Pradhan Mantri Kisan Yojana. The Aatmanirbhar package announced in May was eyewash as out of Rs 20 trillion promised; only Rs 2 trillion were related to benefits, that too in existing schemes.
Response from civil society organisations saved the crisis from becoming a catastrophe by supplying food, masks and other types of assistance transportation.
Duggal was critical of the healthcare response. The response taskforce was led by bureaucrats instead of doctors, epidemiologists and scientists. A robust primary healthcare and 2.5 per cent of GDP's investment in healthcare would have assured a better response. The government did not utilise taxes, warehouses with food grains or the donations received in the PMCARES fund. Instead the private health sector profiteered through medicines, equipment and services.
---
---
For Duggal, the pandemic is a golden opportunity to emphasise on primary healthcare, strengthen district hospitals, and move towards universal healthcare. The government should also universalise social security for all, which should cover food, housing, basic income for unemployment and pension as rights.
State of Women's Healthcare
Dr B. Subha Sri, an obstetrician who has worked on maternal and reproductive health issues in various resource-poor settings, shared that policies and programs regarding women's health have been limited to maternal health, rather than focusing on overall health and wellbeing. There is a lack of comprehensive framework for sexual and reproductive health. Abortion is not right as it is framed by strictly a health perspective. Contraception is only provided within the family planning programmes. There are no programmes addressing the health of old women.
While 23 per cent of all women have a Body Mass Index (BMI), which is less than normal, 53 per cent are anaemic.
Maternal health of a society is the indicator of overall health and medical structures. According to Rural Health Statistics 2018–19, there is a severe shortage of human resource in health sector. There is a 75 per cent shortage of obstetricians and gynaecologists and corresponding figures for paediatricians and surgeons are 80 and 86 per cent, respectively. These numbers highlight the macro issues in India's health policy. Lowest budgetary allocations for health and reliance on contractual staff plague the system. There is a focus on insurance programmes rather than strengthening public health systems. Privatisation of healthcare and medical education further compounds the problem. The pandemic has exacerbated the denial of healthcare because of the diversion of health system resources is overwhelming the overall medical infrastructure. The pressure has also come on other components like governance and information systems.
During COVID-19 maternal health has been ignored. According to the National Health Mission (NHM), there has been a 43 per cent decline in institutional births in March 2020 as compared to that in March 2019. A 46 per cent decline in caesarean sections has been recorded. Blood availability has been a key issue. Due to lack of access to reproductive health services, there will be around 1.44 million abortions because around 24 to 27 million couples have not been able to access contraception during the lockdown period. Moreover, 834,042 abortions would be unsafe and maternal deaths due to lack of access to reproductive health services are estimated to be around 1743 to 2165.
Due to COVID-19, there is a heightened risk of food insecurity and malnutrition for women and girls as they eat last and the least. The crisis has also exacerbated gender-based violence and intimate partner violence against females and LGBTQIA+ individuals.
Moving forward we need to build health systems which are comprehensive, inclusive and which uphold principles of equity and social justice. Our responses as a society reproduce perpetuate and exacerbate the same vulnerabilities present before the pandemic. Increase in budget and human resource with stronger information systems is the need of the hour. Social determinants should be addressed along with public health and not as a separate issue.
Hunger and Malnutrition Crisis
Dr Dipa Sinha, Assistant Professor, Ambedkar University, Delhi, who has been actively involved in the Right to Food campaign, shared that problems related to hunger and malnutrition are not new, but the pandemic has made the fault lines of the system visible. The economic consequences of the lockdown still persist, especially for people working in the informal sector. Post lockdown the livelihood crisis has worsened because prior to the pandemic, there was already an economic slowdown. Rural wages have been stagnant for months and there had been an increase in food insecurity and hunger.
Lack of access to healthcare during COVID-19 is worrying, but for the poor the problem of losing wages is bigger otherwise they would starve. It also needs mention that 92 per cent of labour is informal, out of which a very small section has savings. Therefore, governments and institutions are overwhelmed and unable to address multiple crises precipitated by the pandemic. Policies and programmes, which ensured food security and nutrition, have been lacking well before the pandemic.
---
---
Studies reveal that many households have run out of food completely during the pandemic due to the loss of livelihood. As many as 270 deaths have been recorded because of financial distress and hunger. With this backdrop, it is ironic that FCI warehouses are overflowing with food grains. In response, the government sought to distribute ration under PMGKY-out of 136 crore Indians, only 80 crores were eligible for ration. Marginalised sections like the migrants do not hold ration cards as they cannot prove their residence due to lack of documents—hence these people are severely affected.
The occurrence of starvation deaths, while warehouses overflow with food grains, is ethically and morally wrong.
Other food security schemes like Mid-Day Meals (MDM) and Integrated Child Development Schemes (ICDS), which were helping to fight hunger and achieved dietary diversity have been halted due to the pandemic because these were not seen as essential services. The workers under these schemes have been overburdened by COVID-19 related tasks without improper safety and working conditions.
Sinha shared that there has to be a re-evaluation of policies as they have been taken from Western models without considering the lived realities of people. If the hunger epidemic is not addressed on time, it will stay for longer. The fault lines exposed by COVID-19 give us the opportunity to rethink the growth model of the country by looking at employment centric alternatives. Universal basic services should become a foundation, rather than adding them after the growth is achieved.
Reimagining Healthcare
Prof Ritu Priya, Centre of Social Medicine and Community Health, Jawaharlal Nehru University, shared that lessons from the pandemic should be taken to strengthen and restructure public healthcare in a democratic manner. Perspectives of different groups like women, Dalits and differently abled people should be present to make healthcare diverse and inclusive of needs. As state governments respond to the crisis, we have learnt that public services are essential and private sector does not shoulder much responsibility.
Healthcare is viewed like an authoritarian figure as different classes have been treated differently. This can be changed by making patient–doctor more democratic. This can be achieved by opening dialogues with communities for a new framework of health. According to Priya, public health systems became more efficient and effective when they worked with the community and involved them in the fight. This worked in favour of Kerala and Dharavi. Traditional medicine and modern science should synthesise for a holistic view on healthcare.
Primary healthcare needs more emphasis and districts should be treated as units wherein the public healthcare has to be strengthened. Testing and diagnostics have to be done fast and within the community. Technologies for proper at-home treatment should be developed; this will ensure that medical attention is not delayed. Healthcare providers and communities should interact and motivate people to be part of the healthcare system. Finally, students of medicine, biology, Ayurveda and environment should be encouraged to help within their communities to make this imagination of healthcare a reality.