COVID-19: Duty-bound and Disturbing Districts in India
There are encouraging stories from some districts to adapt the model for other districts to fight against COVID-19 pandemic.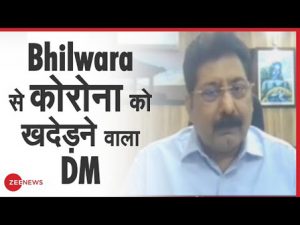 In the backdrop of the novel coronavirus disease crisis, it is worthwhile to discuss the functioning districts of India in response to the pandemic. Out of the 720 districts, many states fared extremely well and some could not do so, despite the efforts. All the districts utilized their optimum knowledge, manpower, resources and commitment to combat the crisis. Violation of lockdown measures has been reported which posed a serious threat to the general public and the risk of spread of COVID-19.However, over the last 27 days, the response to National lockdown has been mixed and thought-provoking.
On 20 April 2020, some of the sectors are opened in the lockdown situations in India. As per Ministry of Home Affairs (MHA), directives have been issues to the states that six-Inter ministerial central team (IMCT) would assess the Lockdown situation on spot, issue necessary directions and report back to the centre. Sensing large scale violation of lockdown guidelines in Indore, Mumbai, Pune, Jajpur, Kolkata and other places in West Bengal, the IMCT team would look into the incidence of violence against frontline workers, social distancing at point of sales and the movement of commercial vehicles with passengers.
When states have been identified for IMCT assessment, districts being the administrative and implementing unit need some scrutiny. The example of two districts—Bhilwara (Rajasthan) and Jajpur (Odisha) are in two extreme ends, their functioning, conceptualizing, planning, implementation and monitoring of COVID-19 crisis need deeper introspection and reflection.
Critical Analysis of Leadership & Commitment at Districts
In western India, Rajasthan, Bhilwara, and in eastern India, Jajpur could be compared with facts and shreds of evidences received from the districts. Both the districts are rich in mineral and with migratory working population contributing to districts' industrial output. It is interesting to know that both the districts have a good presence of industrial houses and a large pool of underutilized District Mineral Fund (DMF) meant for development. The popular textile town, Bhilwara reported its first COVID-19 case on 19 March 2020 and then quickly emerged as a hotspot, reporting 27 cases, becoming the worst-affected district in Rajasthan. It was reported by BBC to be the next 'Italy'.
---
---
Bhilwara, Rajasthan: The way Bhilwara handled control and containment of COVID-19 disease, the Cabinet Secretary Rajiv Gauba recently urged other states to adopt the 'Bhilwara model' in their efforts to contain the community spread of COVID-19.
The district administration was quick enough to mobilize stakeholders and jumped into action. It had developed a five-point strategy to fight COVID-19 emergence the district which is 250 km from state HQ. There was no option but to mobilize human and other resources to respond to the crisis on a war footing step. Rajasthan, never saw a complete clampdown, even though several wars have been fought against Pakistan in past from this boarding state.
The five-point strategy of Bhilwara includes Strict Lockdown, Mass Screening & Contact Tracing, Sealing of Hotspot Zones, Dedicated Workers and Special Hospitals& Hotels.
On 21 March, District Collector of Bhilwara, Rajendra Bhatt issued the first directions in the district closing all industries, factories, brick kilns and other establishments in which more than 10 workers were employed. By 28 March, the administration got the results of the first door-to-door survey and medical screening commissioned. The list contained names and addresses of all symptomatic people displaying signs of cough, fever, cold and breathing problems. The screening exercise of the first list suspects and their family members was completed within 24 hours. By 29 March, when the second list was handed to the administration, almost 2,000 teams had reportedly screened 2.2 million people—92 per cent of the district's entire population.
Coincidentally, special 'Corona Fights' teams were formed in every village that included Accredited Social Health Activists (ASHA), Anganwaadi workers and other local officials. These teams ensured that people who were asked to self-quarantine did not venture out of their homes. These teams constantly monitored quarantined families and sent daily reports on their health and isolation status to district authorities.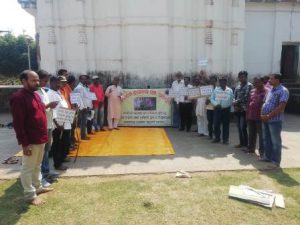 Jajpur, Odisha: In a far-off eastern Indian state, administrative excesses were also reported in Jajpur, a district in Odisha. The district has a strategic place where the national highway and railways pass through it and connect with Kolkata and Chennai, in north and south of the country. Lots of human and material transfers happen in through this district. A mineral-rich district, Jajpur has no dearth of funds. The district has more than 2,000 crore extra funds under the District Mineral Fund (DMF), which the district could spend. Bhilwara, on the other hand, is a Textile industry-based district where migrant workers from other states do come. Other than this, the district is a poor state in Rajasthan. As per 2011 Census, Bhilwara district has more than 24.09 lakh population with 61 per cent literacy rate.
Jajpur district still carries the baggage of the ill-fated habitation of Nagada of Juanga tribe. The Jajpur district has not yet resolved the issues of disease in Nagada where 17 children died in July 2016 in suspected Japanese Encephalitis and AES diseases. The disease outbreak was endemic to the hills and could not take the shape of a pandemic.
Indicators and Impact of Control & Containment
| | | |
| --- | --- | --- |
| COVID-19 Containment Approaches | Bhilwara (Rajasthan) | Jajpur (Odisha) |
| Population (2011 Census) | 24.09 lakhs | 18.27 lakhs |
| Literacy Rate (2011 Census) | 61.37% | 80.13% |
| First Outbreak Timeline | 19 March 2020 | 3 April 2020 |
| Total Outbreaks | 28(Twenty Eight) | 07(Seven) |
| Strict Lockdown | Line departments and officials worked in a coordinated manner | Errant police involved in the accident and violating social distancing (entering Jagannath Temple illegally) |
| Mass Screening & Contact Tracing | 25,000mass screening per day | Mass Screening was not done, only suspected cases/samples referred to under capacity testing centres. |
| Sealing of Hotspot Zones | Excellent mobilization and coordination with communities | Coercive action leading to attack by mob and arguments |
| Dedicated Workers | Frontline workers were guided who are the backbone of control and containment | Transfer, suspension and show-cause notices served to officials by the district administration, thereby creating a fear psychosis and decreasing morale among workers |
| Hospital and Hotels | Highly Secure | |
National Lockdown & State Authoritarian
When the lockdown condition was declared by PM Narendra Modi on 24 March 2020, all the Indian states unanimously implemented the national call. The first 21-day lockdown situation was in force till 14 April 2020, which was further extended to 19 more days, up to 3rd May 2020. Till that date, there would be no movement of the human through road, rail and air or otherwise. Interestingly, when PM Modi announced the extension of national lockdown to more than two weeks and hinted that exact plan would be declared by MHA, Jajpur was one such district to declare till 30 April 2020. It is not yet understood on what basis, the district administration reached the conclusion.
The district administration was actively engaged in Blood Donation Camp at Dharmasala where the district magistrate was there to inaugurate.
Interestingly, when the district administration was creating a sensation of news in Sukinda block by vising Naxal affected habitations with prominent officials, the Inspector In-charge (IIC) of Badachana police station was arrested in Jagannath Puri for illegally entering into the heritage Temple of 11 century, violating social distance and lockdown norms. An FIR was lodged against the erring officer vide No. 40/2020 at Singhadwar Police Station, Puri. The next day, on 20 April 2020, five new positive cases were identified in Jajpur district, raising the total tally at seven and the question of fresh outbreaks.
The present lockdown situation has three major departments in the field: Home Department,  Health Department and I & PR department are on the ground with its frontline officials. Rest other departments are supporting at different levels. The coordination and convergence of these departments do vary from state to state. The public ire on state authoritarian and police took shape and people protested in an ugly turn of event.
---
---
Violation of National Lockdown 1&2
The first case of COVID-19 in India was reported in Kerala on 30 January, and Jajpur district was clueless of the risk even after one month. There was a congregation (Istema) of minorities at Bramhabarada between 28th February to 1st March 2020.The district administration was callous to the appeal of Sachetan Nagarika Mancha, Jajpur, a civil society organization to cancel the event with links to Nizamuddin Tabligi. It is believed that more than 70,000 participants from different parts of the country and abroad attended the event.
The district administration was so unlawful that the Ranjan Kumar Das, the collector of Jajpur inaugurated a blood donation camp in Dharmasala and an FIR has been registered against him for violating social distancing and lockdown at Dharmasala police station. Similarly, on 18 April 2020, in an adverse event of lockdown-2, the mob attacked government officials, part of district magistrate team, moving with the Gopinathapur village under Kuakhia police station limits and for which eight people were arrested. Some of the behavioural issues of the district administration that were against COVID-19 control strategies are:
Lockdown period relaxed much after PM declaration of Lockdown-2, and when a new case was reported, the lockdown period extended.
Lack of clarity and ambiguity in govt. orders—revoke, alternation and misrepresentation of government orders.
Erratic time table of shops and frequent changes, resulting in crowd and violation of social distancing.
District Magistrate personally travelled in two-wheelers with a stick in hand, thereby a violation
Loosely followed, as evidenced by casual approaches for shopkeepers, informal service providers (barbers, fishermen, milkmen, newspaper hawkers, migrant labourers, etc.) in the district.
Odisha was the first state to announce near-total lockdown on 21 March 2020, ahead of National Lockdown-1 affected on 25 March 2020.
Building Trust and Adverse Communication at Districts
The sudden lockdown and low preparedness of district administration and community have created initial jerk to the people. Slowly, the benefits of staying isolated would pay back in the long run, and that is achieved through concerted efforts of government, service providers, community and individuals. So, communication and mobilization around lockdown and pandemic is still a relatively new area with limited experience in India. The success and failure of lockdown, control and containment of pandemic largely depend on the districts, as they form the last mile connect with the community.
(Slider photo: Jajpur District administration discussion with the civil society members)