COVID-19 Pandemic: Struggle for Survival of Nomadic Communities
Constitutional safeguards need to be applied for the nomadic communities. Despite state-level commissions with less power and very small budget for these communities, there exist massive disappointment among the nomadic community people.
"Most of the people in my tribe are now beggars. Before the lockdown, we stepped out on the streets on a daily basis, and managed to earn at least something." These are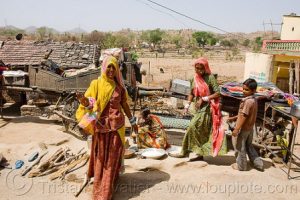 the words of Saheb Nath Madari, who belongs to the Madari community in Ahmedabad, Gujarat. He works as a daily wage labourer. Saheb Nath Madari was speaking asa panellist at the Voices from Margins Webinar seriesorganised by the Praxis in partnership with Partners in Change.
Representatives of communities like Madari, Od, Kal Oddar, Gujjar and Gadiya Lohar participated in the discussions sharing their communities' experience in the context of pandemic and lockdown. Tom Thomas, CEO, Praxis, said "As we all understand that lockdown and nomadism debase each other as these are mobile community that have been locked down completely. We will hear from people belonging to different communities and different places such as Gujarat, Bombay, Tamil Nadu, Uttarakhand, and so on".
"The Madari community was traditionally involved in snake charming, entertainment tricks with monkeys and bears and performing on the streets. With the rise of animal rights, the people in the community have had to find other employments. Many have left their nomadic habits to settle down to become farm workers and daily wage labourers, said Saheb Nath Madari, who is 30 years old,who belongs to a family of nine members. He added further that "Most of the younger people in our community work as labourers in factories. They get paid Rs100-200 per day. After coming back, they go on the streets to beg. "But even when begging, people look at us with suspicion, as if we may rob or kidnap their children. This is the extent to which our community is stigmatised". Recently, a woman from our community was killed. She had a small kid. The kid has fallen ill. We are afraid to even beg because of the way we are perceived. But still we have to go, no other option. We get 2-3kg wheat, etc. at times and our priority is to feed children first. At least earlier, we had some means of earning money and buying food. Now that is also gone. Inspite of living here for so many years, we have not got any benefits from the government. The condition of people from our community is very poor, no one has anything to eat. A few people had ration cards, but they have been cancelled; we don't know why. So even that option is gone."
Mohd. Safi is 49-year old and lives in the Jim Corbett National Park, Uttarakhand. He belongs to the Van Gujjar community. Van Gujjars are traditionally nomadic and rear buffalos, cows, and horses. Currently, his entire community is fighting for their right over the forest and he wants to educate his community about community forest rights. According to him "There has been a large impact on Van Gujjars in summers; they shift their location near water dams and a few in mountains. Van Gujjar moves near Tial where it is cold in mountains, and now it has been stopped,and it has now created a problem for them". Among Van Gujjars only very few have bank accounts, and they end up taking support from money lenders (Baniya and Lallas) and they fix rate of milk annually (on Deepavali) at Rs 40 and Rs 35 for those who have debt on them from the moneylenders. The problem is that the rate has fallen from Rs 40. Down in village, villagers are getting access to the food supply from the government. Saif added "For our quota, in my village, peoplehave ration card, but there are certain villages where Van Gujjars neither have neither ration card, nor voter card. Our ration Cards are also under Van Gram and that is also an issue. Villagers are getting ration; we have been asking, but get sympathise only, they say you give us in writing, you will get it. They say you don't have BPL Cards., White Cards, etc., and they are trying to fool us. They are not denying to provide us, they keep saying that you will get it. But so far, we have not received any. As of now, we are managing with leaves from the forest, at present, it is the season of hay, which we are not able to get neither fodder (like chockher and khal) that is not available. In Uttara Khand, there is a total ban on inter-district travel. We are in Uddham Singh Zila and we cannot travel to the neighbouring district, our source for fodder, factory, small farmers—everything is there, cannot access them, and is tough. We are struggling to manage for food. Those who used to eat thrice a day have shifted to twice and those who were eating twice, now once. In our village, there are 50 and at least 20 people struggling for food".
Arjun Shinde is a daily wager belonging to Oddar community from Thane, New Bombay, Maharashtra. They have been living in Patni, Maharashtra for 10 years. "Everyone here belongs to the Oddar community. There are around 600 people in the community. Most people work as daily wage labourers in Mumbai. They go for work in Mumbai for 10–15 days.
"Since lockdown, there has been no work at all. Our ability to buy food changes on a daily basis as we are daily wage labourers. We have not been able eat since days", shared Shinde.
---
---
Mahadevi Gore lives in Thane, New Bombay, Maharashtra, and belongs to the Od (Vadar) community. She is a student and was part of the Community Research Fellowship coordinated by NAG-DNT and Praxis. She stays at Ganpati Pada, Vashi, Navi Mumbai. I belong to Oddar community. Oddar community is predominantly seen at Solapur, Latur (Maharashtra), Gulbarga (Karnataka) district. Oddar community is predominantly involved in stone dressing, cutting (stone quarry work). Sharing her life in lockdown times, Mahadevi said that "People residing at our location (Oddar community at Ganapati pada, Navi Mumbai) are having ration card, while many of them do not have local ration card (they have ration cards issued from their native districts), and hence not getting any entitlement from the ration store in Navi Mumbai. We, as a Denotified Tribe (DNT) community, faced lots of hardships due to the lock down. Nagar sevak (elected representative of Municipal Corporation) like Kulkarni has been distributing cooked food once daily to some of the families residing at Ganapati pada. However, this cooked food has not been sufficient to families where there are more than 7-8 people. Families who do not have local ration card, should they have just one meal a dayin the absence of ration cards and money?"
Munishwari has completed her course in teacher's training and is currently pursuing a law degree in Madurai. She belongs to the Kal Oddar Kurravar community. She chose to study law to help her community fight against the baseless accusations laid on them by the police.The people from this community are mostly daily wagers and even before the lockdown they were dependent on their daily wages for food, and with the lockdown they are not able to go for work and have been struggling a lot to even get food. All of these families are dependent on their daily wages to buy basics like milk or biscuits or vegetables, but they have not been able to provide their children with any of these necessary supplements as they do not have any earnings. Due to this, they tried to get loans from the neighbours and were not offered any loans since they are daily wage workers and they might not be able to pay it back.
Munishwari shared that most of the families have more than four children and before the lockdown they were dependent on schools (Balwadi's) to provide food for their children. But after the lockdown they are not able to provide food for them.Most families, they eat only 2 meals per day." She also shared that people from the community are also being troubled by the police since they do not belong to a standard job category.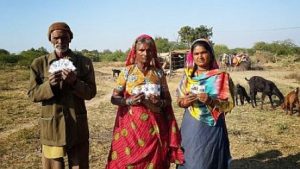 Vijayan is from the Kal Oddar community. He set up the Azhagikudi Makkal safety and protection centre. Vijayan helps community members access their entitlements and also offers legal support to them. The Kal Oddar community has been harassed by the police continuously, as they have registered theft cases on them. During this time none have any source of income and children are also affected. Most of them are using the Rs 1000 given by the government, to get gas cylinder. Vijayan shared that "We are facing a lot of problems during this time and it has been difficult for us to survive. None have own house all are living in rented houses. Daily wage earning is the only option that we know, but now we do not have that also".
Participating in the discussions, Dheeraj, Partners in Change, Delhi, shared that "If we look at the communities talking to us today, we need to understand that, all of them are unique and so is their problems. These communities need to be identified along with their issues faced in this pandemic situation. One of the major problems is their food security, as they are not able to avail ration through BPL or APL ration cards. There are people in these communities who do not have any ration cards and they cannot access to the government-promised ration."
Dheeraj added that "If we look at tribe-wise, there are issues attached to the community from ages. For Gujjars, they are highly dependent on forest and this is the time when they go to the uphill with their cattle which got stalled due to the lockdown. There is a need to focus on this community per se as these are the people who comes under the migrant population. The sort of stigma they face every day is in the forefront now as we just heard them. Also, they have been resisting the social stigma from long back and now became resilient to it".
There were no proactive messages from any government website, addressed to media to clear out the misunderstandings with regard to the stigma attached to the community people.
---
---
All these tribes come under the category of denotified tribes, they cannot be seen together. At the same time there are constitutional safeguards that need to be applied for these communities. There are also state-level commissions with less power with very small budget for these communities that is creating massive disappointment among these people.
Mayank, NAG, shared about the historical context of the nomadic community. He shared that the word 'nomad' is derived from the Greek word 'nemos' that means posture. Etymologically 'nomads' refer to the people who move from one place to another along with their personal belongings such as animals. Nomads or semi nomads are the social group traversing seasonally as a part of their livelihood. Citizenship is related to the modern concept of state where people are linked to a specific political boundary and this is considered as nation, state or country. Unfortunately, the nomads were never a part of this modern civilisation, treated indifferently to its political movements and could not identify themselves with it, remained as non-participant in the formation of the state. They were never a part of the formation of the nation state. Debates, migration studies are based on the sensitisation of these communities. Few studies have looked at the ethnic migratory population, their challenges and their negotiation with the modern civil society as well as other states. A significant work has been done in this area in a context of Europe that hardly contains enough knowledge or policy with regard to citizenship in India.