COVID-19's 'Fourth Wave' in Delhi; No Lockdown in Delhi: CM Kejriwal
Amid a surge in COVID-19 cases, CM and AAP chief Arvind Kejriwal addressed the citizens of Delhi and said that no lockdown will be imposed
Delhi Chief Minister Arvind Kejriwal took to a live webcast on social media to address the citizens of the capital over rising COVID-19 cases. After a high-level meeting with senior officials, including Delhi Health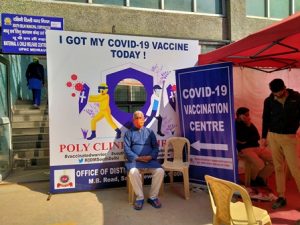 Minister Satyendra Jain, Mr. Kejriwal announced that despite the rise in cases, a lockdown will not be imposed in the city. "In the last few days, cases in the city have witnessed a steep rise. On 16 March we had 425 cases, but yesterday (April 1) we registered 3583 cases. While it is only the second wave of the virus nationally, in Delhi it is the 'fourth wave'," Mr. Kejriwal said. He added that Delhi has already seen three peaks in the last 1 year, and thankfully, has been able to deal with them successfully. He worried over there being an exponential rise but said that the cases now are not that 'serious' in their impact.
"Essentially, very few people are being admitted to hospitals this time. We had a similar number of cases (3000-4000) cases being reported on a daily basis in October, with about 1700 being in the ICU at the time. However, this time around, 800 have been hospitalized. Most people have been able to recover under self isolation," he said.
---
---
Mr. Kejriwal also added that the number of deaths occurring this time was much less. In October, Delhi witnessed 40 deaths on a daily average, but in the last few weeks, the number has ranged between 10 and 15.
According to the medical bulletin released on Friday, April 2nd, Delhi witnessed 3594 fresh cases of COVID-19. However, the Aam Aadmi Party chief said that the government was keeping a sharp eye on the virus and is making detailed plans to contain it spread. "Not only this, we are ensuring that all facilities such as ambulances, hospital beds, ventilators, oxygen, ICUs, etc. are available in enough numbers for anyone who requires them."
He appealed to the citizens to get back to wearing masks again, and requested everyone to maintain social distance. "The government's role is very less. It primarily depends on the people. Make sure you are wearing masks, maintaining social distance, and washing hands regularly," he added.
Mr. Kejriwal also discussed the COVID-19 vaccination drive and said that Delhi government now has a capacity of vaccinating over 90 thousand citizens every day. He added that 71 thousand were vaccinated on Thursday. "The only issue we face, however, is that vaccination has been restricted to hospitals due to a worry about side effects of the medicine. But it has been 4 months and we have not seen any serious infections or side effects, and thus I appeal to the central government to allow us to conduct a mass vaccination program," he said, and added that vaccination needs to be done in community centers, schools, and non-medical spaces to ensure that it reaches a wider population. He also appealed to discard the age limit set by the central government and allows members of all ages to be vaccinated.