Delhi Govt has encouraged us to work without inhibition: Sarvodaya School VP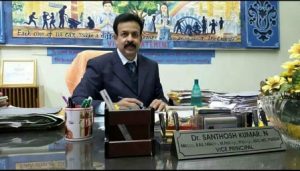 In his four-and-a-half years with the school including two-and-a-half years on an independent charge as Head of School, Vice Principal of Sarvodaya (Co-Ed) Vidyalaya, Masjid Moth, New Delhi, Dr. Santhosh Kumar. N, has seen tremendous improvement in school curriculum and applauds the impetus given to secondary/senior secondary level education in government schools. The Sarvodaya (Co-Ed) Vidyalaya has about 800 students and caters to students from KG to Class 12th. The school has been taking initiatives such as a host of clubs for children to participate in, Digital classroom, a cultural room, and with some NGOs on board, it has also started a few initiatives for the students including a girls' football team.
Dr. Kumar. N, who has several degrees to his name including M.A (Economics), B.Ed, MBA, M.Phil, (Finance) and PhD (Management), UGC-NET and PGDSLM, says that the untapped potential is immense in the students despite majority of them coming from underprivileged backgrounds. Which is why, the school has tied up with several NGOs to enhance their potential.
He speaks to Delhi Post on the sidelines of the NGO ChildFund India initiated 'KhiltaBachpan' Campaign (launched in 60 schools) that aims to bring arts education to government school children. 
Delhi Post: Tell us about your school.
Dr. Kumar. N: This is a small school of about 800 students. We have students from KG to Class 12th. We have commerce and arts stream. The present Delhi Government has given tremendous support in terms of infrastructure, investment and technology. I have also given enough emphasis in order to develop and improve the school on a daily basis. We developed a digital room which is meant for internet-based teaching through visuals for a class of 100-120 students.
We have also got a functional SMC or School Management Committee that is cooperative and democratic in nature. We work with them as a team to fulfil our goals and objectives.
With great amount of happiness in my heart, I can say that we are houseful in terms of gender ratio of teachers and students. There are also 9 CWSN (Children with Special Needs) in our school and there is a special educator for them with a separate teaching methodology that helps aids their learning. We also have educational and vocational guidance counsellor.
---
---
Delhi Post: Disturbing accounts of aggression in students is often reported from schools, especially government ones. You have pointed out the need to channel their aggression into something constructive. Tell us more. 
Dr. Kumar. N: When we engage the children, we try to convert their energies into positive way and divert their minds into creative ways through activities involving team work, working in a community, and showing affection, taking care of each other etc, it helps build a space for communication.
I worked on this in National University of Educational Planning and Administration or NUEPA, also. We had undertaken an initiative on disciplinary matters. I have to tell you that not a single child is a truant child. Not even a single child leaves the school without a slip approved by the principal with prior permission.
When children are engaged, and children are going to classes and teaching schedules are stuck to, there is no time to indulge in harmful activities. I have nurtured the students and teachers and motivated them to develop a relationship. That is the fundamental objective.
This is where programmes like Khilta Bachpan helps to stress on overall development.
Also, academic and non-academic activities continuously take place in the school. There are also 4-5 NGOs on board including ChildFund India, TFI, Alohomora, Cequin and Rotary Club. Then the school is a busy school which is happening and vibrant. This doesn't let time be wasted. This is my method of controlling aggressive behaviour.
Delhi Post: What initiatives have you taken to engage more students towards personality development?
Dr. Kumar. N: I developed various teams in this school. Yes, they have to complete a curriculum. But at the same time, they can also work for their personality development. We have cultural team, art team, music team etc which are working at the same time.
Activity clubs help build the confidence of the child. We have around 10 of such clubs. Activities were performed before also, but now, they are much more categorised. A person who has some interest can go into that direction. I consider it my job to do team building and to motivate them continuously for the vision and mission of the school.
The school is going to have a vibrant and dynamic future because these children who were not able to get much exposure to football, especially girls' football, self defence and various art forms are doing wonders. Our school has secured prizes even at state level. We have been the consecutive winners of Kala Utsav (Ministry of Human Resources and Development initiated programme to promote arts education under Rashtriya Madhyamik Shiksha Abhiyan) for the past two years.
---
---
I am working on a borrowed concept called Super 30 with the cultural team of the school. Out of 800 students, we have identified 70-75 students who have potential to perform in multiple fields. From there, we are narrowing down to 30. We will totally focus on these and groom them as gems of the school so that they contribute to the winning culture of the school.
Delhi Post: Tell us about your association with Khilta Bachpan.
Dr. Kumar. N: Khilta Bachpan people approached me with an idea of bringing theatre, art, dance and music education to our school. I was already having this concept in mind when I introduced the cultural room. But I didn't have it crystallised. When they met me, I understood that there is an alignment, an amalgamation. It was time to integrate my thoughts with theirs.
We have imitations. We can't put lot of funds into the initiative. As a Head of the School, I can't get exposure to our school of such a large scale. So, I thought that for the children's development, infrastructure and opportunities galore with such partnerships. So, this can be summed up as a synergy situation where I took the best out of them while providing them viable support and giving them extraordinary motivation to align with my goal and their goal. That worked.
Delhi Post: You have stressed that the Delhi Government has done a tremendous job when it comes to school infrastructure. However, critics point out that mere infrastructural development without inclusive education won't hold education in government schools in good stead. How would you react to this?
Dr. Kumar N: Last year, for the first time, the government schools started showing an improvement of 9-10 per cent in CBSE Board Results, which was much more than the private schools in Delhi. This, I feel is really amazing. We are dealing with downtrodden community of people who are not very well off and many of them are first generation learners.
There is tremendous improvement in academics because government has come with variety of programmes like Chunauti (correcting learning disparities by dividing Class 6-9 learners into groups) and Mission Buniyaad (for students from Class 3-8). A lot of study materials, support materials and other textbooks which are favoured by the Delhi Bureau of Text Books (DBTB) are provided to enable an academic environment. Study materials, board papers, sample papers,modelquestion papers are all available and ready in hand. The government has encouraged us to work without inhibition. They have given lot of TLMs or Teaching-Learning Materials and funds have been allotted for investments in various projects. So, these all have started showing results.