Delhi University Election: Casting leaders of tomorrow
As DUSU elections are round the corner with a new third front, can developmental politics actually take place?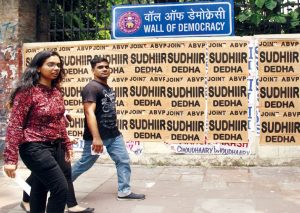 I n Delhi University Calendar, if there are two things that are most awaited, these are fests and elections. After one of them has concluded, it has made its way for the latter. Delhi University or DU has always been a brewing hub for young politicians who aspire to be the leaders of tomorrow. It has produced many eminent personalities like Arun Jaitley, Ajay Maken, Vijay Goel among many others who were actively involved in student politics.
The Delhi University Student Union (DUSU) Election is going to take place on September 12 this year and speculations and alliances about candidatures are on around student campuses.
The previous year
"There are around 1.5 lakh students studying in DU which is a huge number at the grassroots, however the irony is that only 42.8 per cent has been the turnout at DUSU Elections even as the same voting group's turnout has been huge for the Lok Sabha elections. Even more interesting is the revelation that more students are opting for NOTA (None of the Above) as their voting choice."
According to 2017 poll data, 5,162 votes were in favour of students not favouring anyone which was interestingly, the second runner up in the elections results. The relatively bigger youth parties such as NSUI and ABVP got 16,299 and 14,709 votes respectively. The decline in interest could be accounted to the controversial backgrounds of many candidates. Rocky Tuseed of the NSUI who was the President of DUSU 2017-18 had a criminal case against his name under Section 307 IPC and due to that his candidature got cancelled by the Delhi High Court in July 2018. But this was appealed to a higher bench and the same was stayed by the bench.
In 2017, there were a total of 10 candidates who contested for the post of President among which NSUI candidate Rocky Tuseed won the elections by a margin of 1,590 votes over ABVP candidate Rajat Chaudhary.
"It was only in the year 2009 when an independent candidate supported by ABVP won the election, except that it is only the ABVP and NSUI who have been ruling in DUSU."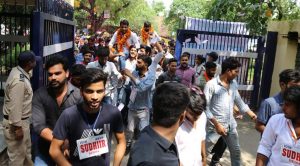 Even various student leaders have voiced their opinion about upcoming elections. Uma Shankar, Joint Secretary, DUSU, claimed that the DU students did not get the best leader in the last elections, as Rocky Tuseed had a criminal case against him and despite him being the President, he did not perform his duties, instead, he was in courts proceedings. His candidature was later cancelled and hence, students felt cheated about the loss of time, and the plausible development that could have taken place with an apt choice of candidature.
The Present
However, this time there is an alliance between All India Students Association (AISA) and the Aam Aadmi Party Student Wing; Chhatra Yuva Sangharsh Samiti (CYSS). CYSS has been stating that the DUSU elections have become synonymous with "money and muscle power". CYSS and AISA will fight the elections with a focus on "positive politics" and "better education" as claimed by AAP leader and Delhi minister Gopal Rai while launching the joint manifesto under which they claim to provide 24*7 college libraries, medical clinics for students and installation of CCTV cameras among others. AISA is going to contest for the post of President and Vice-President. However, CYSS is going to contest for the post of Secretary and Joint Secretary.
"It was only in the year 2015 that AAP's student wing contested elections in DU and lost all the four seats. Since then, they didn't contest the DUSU Polls which supposedly reflects a marked decline in young voters' trust in AAP and its leadership. So is the reason for this desperate alliance of CYSS-AISA"
Like every year, huge amounts of money and muscle power is being pumped in the DUSU Elections even though according to Lyngdoh's guidelines, a candidate can spend a maximum of Rs.5,000 for canvassing and other election-related work. This amount needs revision considering Lyngdoh came in the year 2006.
The issues
Added to the list of issues are innumerable promises about improvement in infrastructure, ACs, libraries, and resources which are hardly much. Roads are blocked by the candidates during election time which causes road blocks in the campus often causing inconvenience to the public. Delhi High Court issued bailable warrants against 15 students who contested in 2017 polls for failing to appear despite notice being served in connection with PIL against defacement of public property. And it directed candidates to work with DMRC to restore defaced property worth 16 lakh which was expected to take six months of time to restore as around 76 metro properties were found to be permanently defaced. The bench said it could not tolerate public properties being defaced blatantly. Even when the bench warned the DU students that they may be sent to jail for defacement of property, still there has been no considerable effect.
Developmental politics, anyone?
DUSU elections have been blessed with presence and contribution of influential and national level leaders. Some of the leaders affiliated to major national parties have actively supported and campaigned in student elections, which makes it a colossal event by itself.
"As seen in other states during Lok Sabha and State Polls, DU Elections have also been witnessing 'The Modi Effect'. In a talk with various students among the University, they were seen to quote their inclination towards developmental politics even at the student level."
Parv Pahuja, a student from Shaheed Bhagat Singh College, DU told Delhi Post, "Many of us in my college, including me, are inclined towards right wing politics and the current Modi Government policies."
However, DUSU elections are all about the leadership skills of young student leaders, and it will be interesting to see new and young faces make it to the top this time. Hopefully, a new generation of leaders inclined towards developmental politics.