Doner Minister, G Kishan Reddy Meets UNDP Global Head
UNDP and the Minister of Development of North East Region, Tourism and Culture discussed strengthening and expanding their partnership to ensure holistic development.
The North East Region's Minister of Development, Tourism, and Culture, Shri G. Kishan Reddy,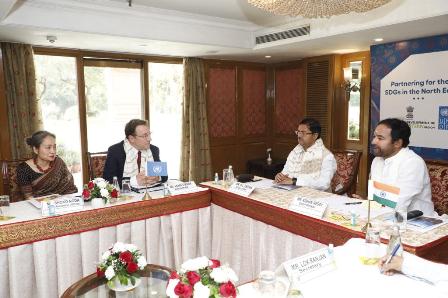 received a visit from Mr. Achim Steiner, Global Head of the United Nations Development Program (UNDP), today. They spoke about strengthening and growing their partnership while ensuring the region's overall development.
In welcoming the Mr. Steiner-led UNDP delegation, Shri. Reddy expressed appreciation for the ongoing collaboration between MDoNER and UNDP and stated, "Under the leadership of Prime Minister Shri Narendra Modi, the Ministry is committed to acting first and acting swiftly for the Region so that it may enjoy growth parity with the rest of the country. With the help of UNDP, initiatives like the first North East Region District SDG Index have helped to advance data-driven decision-making. Our Ministry is dedicated to ensuring that everyone in the area meets the SDGs.
Mr. Steiner expressed his appreciation for the Indian government's efforts during the conference to hasten the development of the North Eastern Region. "UNDP is dedicated to supporting national efforts to achieve the SDGs by providing technical support on SDG localization and capacity development for improved implementation and monitoring of development programmes," he stated.
Additionally, he suggested that MDoNER and UNDP collaborate closely to enhance community lives and livelihoods by facilitating access to employment and chances for a sustainable way of life through scalable technological and creative solutions.
Additionally, Mr. Achim Steiner and Shri G. Kishan Reddy concurred to work towards a memorandum of understanding (MoU) that would broaden the partnership's focus to accelerate the socioeconomic development of the north-eastern region the achievement of the Sustainable Development Goals (SDGs).