Dr Manmohan Singh awarded Lifetime Achievement Award
The former Prime Minister became the first recipient of the V.C. Padmanabhan Memorial Lifetime Achievement Award.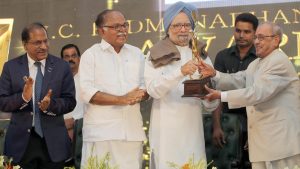 N ew Delhi: Former Prime Minister of India, Dr Manmohan Singh received the first V.C. Padmanabhan Memorial Lifetime Achievement Award from former President of India, Pranab Mukherjee. The V C Padmanabhan Memorial Awards were instituted in 2010 to commemorate the illustrious founder of the Manappuram Group of companies.
They are presented every year to eminent personalities who have made significant contributions in the categories of Arts and Literature, Civil Servant achieving Excellence in Public Administration, Public Representative achieving Excellence in Good Governance, Business Excellence and Ecology and Environment Conservation. A new category, 'Excellence in Sports and Games' was added in 2018. It is also the first time since inception that an award for Lifetime Achievement was presented.
"In his acceptance speech, Dr. Singh spoke about India's gold consumption and said that a large part of demand for gold is due to lack of financial literacy and gaps in spreading financial inclusion."
He also mentioned how a money lending and pawn broking business by its founder V.C. Padmanabhan has now adapted to change and transformed itself into one of India's leading NBFCs under the leadership of V.P. Nandakumar.
The former president of India was of the opinion that Dr. Singh had provided stability to India during "turbulent time", and successfully presided over the country's finances during those times between 2004 and 2014. Mukherjee also spoke about how a list of legislations including the Food Security Act and Right to Information Act were landmark legislations enacted during Dr. Singh's tenure. Highlighting Dr. Singh's ability to manage coalitions, Mukherjee mentioned that only 147 members were in the Congress at that time and Dr. Singh, 'aptly and efficiently' managed the coalition.
The ceremony also saw P.J. Kurian, Deputy Chairman of the Rajya Sabha and V.P. Nandakumar, MD & CEO, Manappuram Finance Ltd. in attendance.
The nominees for the awards were selected by a six member jury. Headed by Justice (Retd) M Ramachandran, former Judge, High Court of Kerala, the other members were T. Balakrishnan, IAS (Retd.), former MD, INKEL Ltd., T.M. Manoharan, IFS (Retd.), former Chairman, Kerala State Electricity Regulatory Commission, Dr. P.V. Krishnan Nair (former Secretary, Kerala Sangeetha Nataka Academy) and P.K. Vijayakumar, IRS (Retd.), former Insurance Ombudsman for Kerala and Lakshadweep as well as V.P. Nandakumar.
Over the years, many eminent people from all walks of life have been recipients of the award. Dr. E. Sreedharan (MD, Delhi Metro) in 2010, M. Damodaran (former Chairman, SEBI) in 2012, Vinod Rai (former CAG) in 2013, Amjad Ali Khan and Adoor Gopalakrishnan in 2015, M.T. Vasudevan Nair (2016), Amitabh Kant IAS (CEO, Niti Aayog) and Shashi Tharoor (Member of Parliament) in 2017.