E-Courts: Are They Viable Post Pandemic?
E-filing improves the access to justice delivery system as it becomes very easy and can be accessed from anywhere anytime. Hence, judiciary's priority must be modernisation when normalcy returns.
The COVID-19 situation is worsening and has seriously affected all the businesses around the globe,
including the legal services. The crisis has shaken up the functioning of the court and litigation. Three judges of the Madras High Court were tested positive for novel corona virus while hearing cases. Thereafter, a judge from Rohini Court in Delhi has tested positive, and hence quarantined himself.
The traditional court requires attendance of judges, staff, litigants, witnesses, etc. Considering the difficult times, the Supreme Court resorted to online filing of cases, hearings, mediation of disputes, judgment delivery, etc. and hence, it directed all the courts functioning in the country to adopt the same so that justice is not denied to an individual.
China set up the Chinese Internet Courts in Hangzhou and Guangzhou in order to hear the criminal and civil matters online during the epidemic. The establishment of such courts in the country sets an example of pioneer development in the litigation field. Chief Justice of England and Wales elucidated the importance of court systems in public services and articulated. "We have an obligation to continue with the work of the courts as a vital public service, just as others in the public sector and in the private sector are doing". Chief Justice of the Republic of South Africa Mogoeng Mogoeng in his letter to colleagues stressed that "the courts have to stay open in case members of public want to bring a challenge in relation to the constitutionality or validity of the measures being implemented amidst corona".
Necessity is the mother of the invention, but the way India's antiquated courts have been updated for access to justice have been implemented merely to avoid contagion and not improve its quality. Therefore, judiciary's priority shall be modernisation when normalcy returns.
Accessibility is core to justice and many people in India lack such access. Some do not possess financial strength to reach court or hire lawyers.
The situation worsens for people with disabilities. Hence, such a measure of video-conferencing seems to be a boon. The Supreme Court in Swapnil Tripathi v. Supreme Court of India asserted use of live-streaming of proceedings.
The Supreme Court has initially instructed litigants to use app Video designed for the US government.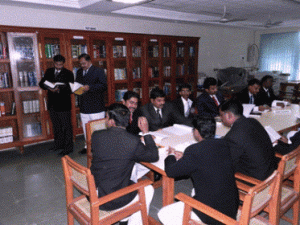 However, it raised security questions and led to linkage issues due to increased traffic. And thereby, instructed to use alternative options like WhatsApp and Skype. However, the Karnataka High Court has done a commendable job by providing e-mail addresses of all district courts to conduct e-filing via mail. This suggests that the public function cannot depend upon third party and National Informatics Centre (NIC) must create the requisite platform to make the entire system faster and reliable. It would be challenging to bring coordination between different departments under one roof. However, this can be catered by modular approach wherein every department takes control of their module and then the task of the coordinating agency shall be to ensure inter-operability between different modules for proper functioning. The redundant procedures shall be eliminated to make system efficient.
In the recently organised webinar Justice G S Patel, emphasised that mindset of individuals need to be changes to accept the new setup. The judges under the new system would have less chance of adjournments and would focus on prolonged arguments. There shall also be a surge in the alternative dispute mechanism like arbitration, mediation and conciliation. However, he was apprehensive about the security breaches as recently a court's order was forged under his name. In terms of suggestions, he shed light on the need for developing the facilitation centres for the people who do not have access to internet as accessibility shall always remain a challenge in order to ensure justice for all as emphasised by Justice D Y Chandrachud.
---
---
Can the e-courts deliver justice and enhance justice delivery system? E-filing improves the access to justice delivery system as it becomes very easy and can be accessed from anywhere anytime. This also reduces the cost of transportation by obviating the need to travel physically. Digital documents can reduce the cost by eliminating printing charges and can be environment friendly. However, things are not pretty easy as it seems to be. No infrastructure, poor internet connections, inefficient software hampers the growth of such e-courts.
The engagement between advocates and courts requires attention. The engagement between litigant and advocates ameliorates with digitisation. Litigants can easily hold conferences for draft pleading, evidence preparation, etc. with their advocates. Access to e-libraries for precedents make it much more worthy. However, problem lies on the notion of recording of evidence as through online modes it cannot be assessed if there is any kind of coercion, duress or undue influence. Exhibiting of documents, cross examination of witnesses and courts to record demean or of witnesses will become difficult. Realising the situation, Justice Ravindra Bhat in a webinar articulated that the recording of video shall not be left to video conferencing.
In order to make the hearing objective, impartial, fair and generate confidence, the 'public' shall be included in the administration of justice.
The suo moto cognisance of PIL must be catered with utmost care as it affects the public directly and helps in shaping the policies of the government. Section 153B of Code of Civil Procedure elucidates that the place of trial shall be an open court to which the public must have access. It is upon the judge's discretion to decide if trial of any case may not be accessible to public in various circumstances. Section 327 of Code of Criminal Procedure highlights that the criminal courts shall be treated as open courts and have access to general public. However, in offences relating to rape and the like shall be treated in camera. Hence, here also proceedings are an exception. The nine judge bench of the Supreme Court in Naresh Shridhar Mirajkar v. State of Maharashtra held that all the cases, whatever in nature must be heard in open court so that 'there can be just one opinion'. Article 145(4) of Indian Constitution emphasises that no judgement shall be delivered except in open court. This principle can never take a shape with digitisation of justice delivery system as links are made available to just the representing advocates. The public shall not have any access even in the public interest litigations which directly or indirectly affects a large number of people at a time.
---
---
Advocates shed light on the law points, facts and precedents for judges to take appropriate decision. However, the digitisation can turn this into its shortcoming as they might not be able to refer different documents simultaneously. Also, the quality of judgements is likely to get affected as reflective thinking of judges gets affected as hearing is just transactional. Therefore, e-courts with present structure of infrastructure in the country cannot be the new normal. A lot of effort has to be put under the post-COVID scenario to make it efficient in order to deliver justice and overcome all the challenges posed by it.