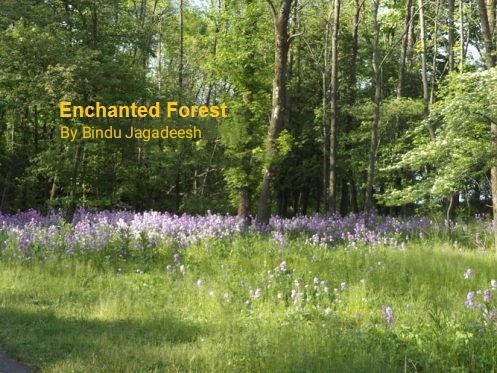 The forest opened its doors
To lure in unwary travellers.
Purple trees swayed in the wind
Yellow apples grew in trunks
Green snakes hanged from trees
Black flowers formed carpet.
Friendly snakes
Welcomed travellers.
Trees strolled along
Offering solace.
Apples grinned at them
Flowers pricked at feet.
People entering the forest
Forgot the world outside.
Magic spells kept them chained.
They ambled around mesmerised.
Forest paths led no where
The world was upside down.
Doors to the outside life
Closed for them.
Lost people found their way in
They never came back.
Life becomes stationary
In the forest.
Time remains frozen.
Days repeated themselves
Nights were endless.
Magic forest
Slumbers in eternity.