Feeding the Hungry
Atmashakti's Mission Rahat initiative has helped over 6000 families overcome hunger amidst COVID-19.
Amid the second wave of Covid-19, Atmashakti restarted its 'Mission Rahat' covid relief campaign to  support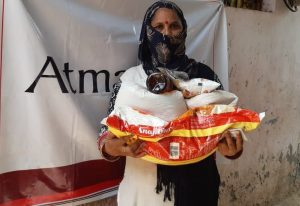 slum residents of the Noida region with Dry ration kits (atta, rice, dal, cooking oil and salt) for 4 weeks initially and their support has reached over 6000 families.
Through this initiative, they are reaching out to those who reside in slums and are left with no income since the lockdown was induced after the surge of cases in the second wave of COVID-19. This initiative is being carried out with the help of local volunteers and NGO networks to ensure that the help reaches the needy people.
This year they have introduced a new approach to their work i.e. food for work. This is meant to create incremental assets among families who have been left out of income. Under this, we have offered people to volunteer for packing of 400 rations kits and get an ensured dry ration kit for 1 month for their families. This is an addition to our usual dry ration support work for needy people in those areas.
Most of the supported communities under this initiative are Ragpickers, Migrant labourers, Rickshaw pullers, Beggars, street children, Daily wage earners, Domestic help, Old people who have nobody to care for and Single women.
---
---
It is difficult to imagine that after the trauma of a year ago, the slum dweller has been hit so hard again. The difference is that last year, the "migrant" workers made headlines, but this time the medical supplies disaster has overshadowed other equally serious issues. Their rapid assessment of about 60-70 slums in Noida reveals the following:
Around 40-50% have already fled to their villages leaving only around 7000 families, who for various reasons are staying out.
These people are mostly daily wage earners, auto and cycle rickshaw drivers, rag pickers and domestic workers. There is an illness in the community, but in the absence of awareness, testing and medical facilities, people are "self-curing" at home.
With the complete drying up of income, food is the oxygen that these families need.
"As the lockdown started due to the second wave of COVID-19, the numbers needing help from across Noida slums swelled up. Most of them are daily wage earners. The lockdown has restricted their movement and thus caused a loss of income. So, we decided to support them at the earliest. Our motto remains "leaving no one behind" and especially helping the most vulnerable and working in unorganized sectors who have no means of support in this challenging situation", said Ms Ruchi Kashyap, Executive Trustee of the Trust.
What impact is the initiative creating or expected to create?
Short-term-Overcome food insecurity who had food needs, do not have to run outside for food which may increase chances of their exposure to COVID-19.
Intermediary: Build up local Sangathan, educate communities about rights and entitlements that they can avail the benefit of, starting up collective action on community developments in slums
Long-term- Once the local Sangathans are built up and communities are aware of their rights and entitlements, we will work with the policymakers to resolve policy issues related to food insecurity, livelihood and other social security assistance programmes to be implemented, initiated by the government.
Last year work under Mission Rahat:
During the first COVID-19 in India in 2020, we supported dry rations and cooked food to over 93000 people from Delhi, Haryana and Uttar Pradesh state who were mostly ragpickers, construction workers, and migrant labourers, domestic and daily wagers through our covid relief campaign 'Mission Rahat'.
Mission Rahat is an initiative of Atmashakti Trust to help vulnerable communities facing challenges such as food and safety measures during COVID-19. It started last year when the lockdown was announced in Mid-March. The motto of the initiative is "leaving no one behind" and we aim to reach out to the most marginalised communities.
Under this initiative, we are providing food assistance through dry ration kits, cooked food, including masks, sanitisers and other covid safety kits for the covid hit poor and vulnerable communities across Noida and other places of Uttar Pradesh, Delhi and Haryana.