FM on Reforms through Technology and Knowledge–Driven Mechanisms
Simplification of kyc and expansion of digilocker etc. for individuals proposed.
While presenting the Union Budget 2023-24 to Parliament, Union Minister for Finance Smt.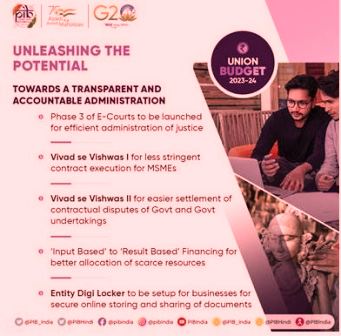 Nirmala Sitharaman proposed a multi-sectoral focus on reforms through technology-driven and knowledge-based mechanisms during Amrit Kaal as part of the Government's overarching Saptarishi–7 priorities.
The Minister of Finance stated, "Our vision for the Amrit Kaal includes a technology-driven and knowledge-based economy with robust public finances and a robust financial sector. "Jan Bhagidari is required for this through Sabka Saath Sabka Prayas."
The Finance Minister said, "Our focus on comprehensive reforms and good policies, which we put into place through Sabka Prayas, has led to Jan Bhagidari and targeted help for those in need, which has helped us do well during hard times."
During his Union Budget speech, the Finance Minister said that India's rising status in the world was due to a number of things, such as:
Unique world-class digital public infrastructure, such as Aadhaar, Co-Win, and UPICovid vaccination drive in unparalleled scale and speed
Proactive role in frontier areas such as achieving the climate-related goals
Mission LiFE, and
National Hydrogen Mission
Farmer-centric Digital Public Infrastructure: The Finance Minister proposed Digital public infrastructure for agriculture to be built as an open source, open standard and interoperable public good. This will, Smt. Sitharaman said it enables inclusive, farmer-centric solutions through relevant information services for crop planning and health, improved access to farm inputs, credit, and insurance, help for crop estimation, market intelligence, and support for the growth of agri-tech industry and start-ups.
National Digital Library for children and adolescents: As part of inclusive development, Smt. Sitharaman proposed to setting up a National Digital Library for children and adolescents to facilitate the availability of quality books across geographies, languages, genres and levels, and device-agnostic accessibility. The Finance Minister stated that States would be encouraged to set up physical libraries for them at panchayat and ward levels and provide infrastructure for accessing the National Digital Library resources.
Bharat Shared Repository of Inscriptions (Bharat SHRI): The Finance Minister proposed 'Bharat Shared Repository of Inscriptions', to be set up in a digital epigraphy museum, with the digitisation of one lakh ancient inscriptions in the first stage.
5G Services: Smt. Sitharaman proposed setting up 100 labs for developing applications using 5G services in engineering institutions to realise a new range of opportunities, business models, and employment potential. The labs will cover, among others, applications such as smart classrooms, precision farming, intelligent transport systems, and health care applications.
Three centres of excellence for Artificial Intelligence: To realise the vision of "Make AI in India and Make AI work for India", the Finance Minister proposed three centres of excellence for Artificial Intelligence to be set up in top educational institutions. Leading industry players will partner in conducting interdisciplinary research, and develop cutting-edge applications and scalable problem solutions in the areas of agriculture, health, and sustainable cities. This will galvanize an effective AI ecosystem and nurture quality human resources in the field.
Simplification of Know Your Customer (KYC) process: Streamlining the financial sector further, Smt. Sitharaman proposed that the KYC process will be simplified by adopting a 'risk-based' instead of a 'one size fits all' approach. The financial sector regulators will also be encouraged to have a KYC system fully amenable to meet the needs of Digital India.
Fintech Services: Smt. Sitharaman said that Fintech services in India have been facilitated by our digital public infrastructure including Aadhaar, PM Jan Dhan Yojana, Video KYC, India Stack and UPI, and proposed to enable more Fintech innovative services, the scope of documents available in DigiLocker for individuals to be expanded.
Entity DigiLocker: The Finance Minister proposed to set up an Entity DigiLocker for use by MSMEs, large businesses and charitable trusts. This will be towards storing and sharing documents online securely, whenever needed, with various authorities, regulators, banks and other business entities.
E-Courts: The Finance Minister proposed that for an efficient administration of justice, Phase 3 of the E-Courts project will be launched with an outlay of ₹7,000 crores, further unleashing the potential of E-Courts.
Digital Payments: Smt. Sitharaman stated that in 2022, digital payments show an increase of 76 per cent in transactions and 91 per cent in value. Considering that digital payments continue to find wide acceptance, the Finance Minister proposed the continuation of fiscal support for this digital public infrastructure in 2023-24.