Govt in Continuous Touch with Pfizer: NITI Aayog Member
Talks with international pharma giant Pfizer for its vaccine produced in collaboration with Germany-based BioNTech may soon transpire to results.
The Central Government is in continuous engagement with Pfizer, the international pharmaceutical giant, to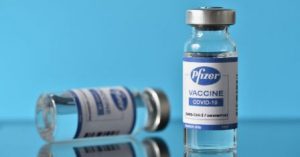 have them manufacture their vaccine in India, NITI Aayog's Dr. V.K. Paul said on Thursday. "We hope to ramp up vaccine production in India soon. We are currently engaged with Pfizer to acquire vaccines from them, especially since they have shown interest and indicated that they may spare vaccine doses for India," the Health Committee member said, adding that GOI will help the company hasten the process of acquiring licensure if talks pan out.
The Pfizer vaccine has been created in collaboration with the German firm BioNTech. It is one of the three main vaccines developed by the USA.
He added that Indian vaccine manufacturers are also aiming to ramp up the production of Covoshield and Covaxin in a few months. Bharat Biotech, which began by producing 90 lakh Covaxin doses per month with the Indian Council of Medical Research, is planning to ramp up its production to produce 10 crore vaccine doses per month. The Serum Institute of India is also planning to increase the production of Covishield from 6 crore to 11 crore per month. However, this is only expected to transpire by October.
---
---
"The pace of vaccination has also picked up. Major efforts are being made to coordinate with all channels of vaccine dispensation," Dr. Paul added. On Wednesday, over 18 lakh citizens were given vaccine jabs across the country.
He also said that other vaccines in the pipeline are reaching close to supply, including the Russian manufactured Sputnik V. The development pace for the Zydus-Cadila vaccine and the BioE vaccine and the Gennova vaccine has also been increased. They will receive funding under the Covid Suraksha scheme, a government response said.
In a separate interview, Dr. Paul informed news agency ANI that Pfizer can be administered to children. "SII has also requested for pediatric trial for its second vaccine, Novavax," he said.
A statement released by the central government on Thursday said that three other firms will start production of Covaxin. "Three plants will start production of Covaxin apart from Bharat Biotech's own plants, which have increased from 1 to 4. The three PSUs will together aim to produce up to 4.0 Cr doses by December," it read.
It also said that Russia's Sputnik V will be manufactured by 6 companies coordinated by Dr. Reddy's Labratory.
Covid Snapshot
India has been witnessing a steady decline in new cases since the last 20 days. On May 7, the country registered 4.14 lakh cases, and it reduced to 2.86 lakh cases in 10 days. On Thursday, India registered 2.11 fresh infections.
"Since May 17, we have less than 3 lakh cases. This is a positive development. May 19-25, only 359 districts report more than 100 cases. Active cases are also declining by 25% from the last peak. 24 states have reported a decline in active cases since last week," Joint Secretary, Union Health Ministry, Luv Agarwal said.
India registered 2.83 lakh recoveries on Thursday. A decline in the weekly case positivity rate was also witnessed. Daily case positivity was recorded at 9.7 percent.