Green Budgeting: The Road to be Taken
Aligning with the strategic priorities of the government as well as the SDGs related to climate, water, energy, ecosystems, responsible consumption and production, green budgeting mainstreams sustainable development.
Green budgeting is fast evolving as a concept and gaining considerable attention. It is emerging as the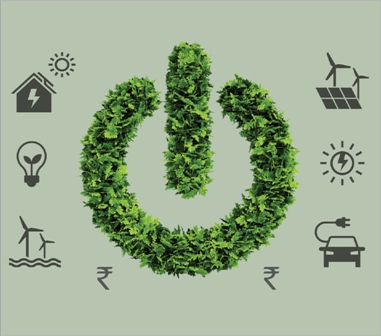 third pillar in budgeting, in addition to child and gender budgeting, which is already in place to some extent. Green budgeting is not a scheme or programme and does not require additional budget resources. It is related to the expenditure side. From a broader public policy perspective, it looks at each line item or scheme with a sustainability objective. It is largely a state/government-driven process and has much to do with reimagining budget lines.
"Green budgeting can be defined as a budgetary practice whereby the climate and environmental contributions of budgetary items are identified and assessed concerning specific environmental performance indicators, with the objective of better aligning budgetary policies with environmental goals". It is a policy innovation which can be implemented at the national and state levels. France has developed and integrated green budgeting into their budgeting architecture as an essential part of the government's efforts to promote sustainable development and address environmental challenges. The government has undertaken several initiatives to support green budgeting, including creating a special fund to support green investment and developing environmental assessment tools for public spending. The adoption of the Grenelle laws in 2008 is considered a classic example. Divided into six major themes, buildings and Urban Planning, Transport, Energy and Climate, Biodiversity, Risks, Health and Waste, and Governance, the laws set out a framework for sustainable development. They established many measures to promote environmental protection and sustainable economic growth. Some other French initiatives implemented in recent years to support green budgeting include creating a national plan for energy transition and developing a system for evaluating the environmental impacts of public spending. Over the years, green budgeting has significantly promoted sustainable development and addressed environmental challenges in France. Apart from France, several European countries such as Finland, Sweden, Ireland and Italy cover green budgetary items with environmental objectives. However, methodologies for assessing greenness vary across countries.
India has issue-based budgeting processes in the form of Child Budgeting (Statement 12 of Union Budget 2022-23 and Gender Budgeting (Statement 13 of Union Budget 2022-23). Bihar is the first and only state to table a green budget in its legislative assembly. The state's Department of Finance initiated green budgeting when Sushil Kumar Modi was its finance minister. As proof of concept, the Bihar model can be adopted and followed by other state governments. Odisha, too has conducted some exercises related to climate budgeting.
The advantage of green budgeting is that it can enable innovations in existing schemes within the fiscal space to enable public fund flows to critical areas of environment-centric activities. When climate/environmental challenges and vulnerabilities are looming large, and the whole world is grappling for solutions to address biodiversity loss and other environmental degradation issues, green budgeting should be prioritised. Further, realising the broader objectives of the much-debated Sustainable Development Goals(SDGs)requires urgent actions and concrete and systematic approaches. Budgeting assumes a crucial role, as all government departments undertake budget processes and exercises in a time-bound manner at the state and national levels.
Green budgeting is a tool for budgetary planning to help systematically map and track the sources of funds, outlays, expenditures and policies. It can support collaborative policy design, and identification of periodic and continuous finance needs to achieve the envisaged green objectives. In India, though environmental regulation is the principal responsibility of the Ministry of Environment, Forest and Climate Change (MoEF), many ministries and departments are involved in much of the implementation of aspects of environmental sustainability. Environmental sustainability needs to be mainstreamed across various schemes, programmes and activities of other ministries, departments and sectors, not only for attitudinal changes and commitments of multiple department officials and actors but also for their implementation at the ground level. Green budgeting can create momentum regarding the environmental consciousness of diverse stakeholders both within the government and outside and lead to better planning within the available fiscal space. It can transform budgeting exercises to realise the broader goals, vision and mission, which are well-aligned with the SDGs and climate targets.
Green budgeting is a way to integrate environmental and social considerations into the financial planning and decision-making processes towards creating more sustainable outcomes. It is a tool to support the transition towards an environment-friendly economy. It provides information on environmental benefits and environment-promoting expenditure and policy actions. It can help inform stakeholders on which ministry/department spends money on what environment-promoting activity/is, how much it spends, and for which activity/scheme/s.
Green budgeting is a new concept, and unlike gender and child budgeting, there is a limited understanding of the green budgeting process. Hence, there is a considerable need to raise awareness of the concept and the framework for green budgeting among key stakeholders, including the government, academia and research institutions, and civil society. The Energy and Resources Institute (TERI), New Delhi, has developed a portal on Green Budgeting to serve as a knowledge resource for government officials, research institutes and civil society. Dr Shailly Kedia, Senior Fellow and Associate Director, TERI, has outlined six pillars of green budgeting: mainstreaming; resource allocation; planning, coordination and innovations; transparency and accountability; evaluation and monitoring; and policy signals.
The mechanism of green budgeting is a decentralised one. It follows a bottom-up process for identifying components of schemes and programmes that contribute to environmental sustainability—aligning with the strategic priorities of the government as well as the SDGs related to climate, water, energy, ecosystems, responsible consumption and production, and green budgeting mainstreams sustainable development—further; it enhances transparency and accountability through greater stakeholder engagement in the budgeting processes.
Green budgeting can involve various activities, including energy efficiency improvements, renewable energy investments, and sustainable procurement practices. Some of the themes which are relevant in the context of green budgeting are energy efficiency/conservation, energy audits, water audits, green buildings/infrastructure, water recycling, sewage treatment plants, disaster risk reduction, forestry and green cover, eco-tourism/sustainable tourism, sustainable or ecological agriculture, water harvesting/recharge, waste management, research and studies on environment/climate change, clean technology development, environmental education and awareness, sustainable fisheries/aquaculture, biodiversity, wildlife and ecology, climate change adaptation, sustainable consumption and production, sustainable land use and watershed management, mangrove protection, agroforestry, wetlands protection, etc.
Considering the broad spectrum of themes, green budgeting calls for prioritising certain activities, which are critical to achieving the envisaged objectives under each of the schemes or programmes. They include but are not limited to the programme/scheme implementation, regular operation and maintenance, capacity building and skilling of specific beneficiaries such as farmers and youth, undertaking research studies, policy action/regulation/benchmarking/visioning/target-setting, initiating and establishing demonstration project, education and curriculum development, information, education and communications (IEC) for awareness, etc.
Institutionalising green budgeting is challenging. Several limitations can make it challenging to implement effectively. At the outset, it is important to have accurate and up-to-date data to make informed decisions—political compulsions and priorities conflict with the proper implementation of green budgeting. Powerful political and other vested interests sometimes hijack green budgeting efforts and create bottlenecks in resource allocations and utilisation. Green budgeting requires a long-term perspective. With a focus on short-term goals and results due to political pressures, prioritising long-term environmental considerations often takes a back seat. Another critical concern with green budgeting is that capturing the environmental contribution of a specific budget line item can be a challenging task due to various reasons. For instance, environmental benefits for one segment may be detrimental to others (e.g., wind farms as a source of clean energy are favourable for climate but harmful to biodiversity).
Despite all these, the beauty of green budgeting is that it has the potential to bring on board a wide stream of experts and stakeholders on climate change, biodiversity, sustainable energy, sustainable urbanisation, responsible consumption and production, environmental policy and inclusive, sustainable growth, etc., to achieve sustainable development.