How Covid-19 Affected India's ASHA, ANM, and Anganwadi Workers
Female community healthcare workers, who were engaged at the frontlines during the Covid-19 pandemic, underwent issues of irregular pay, reduced incentives, poor health, and increased work hours
India's female community healthcare workers have been at the frontline ever since the Covid-19 pandemic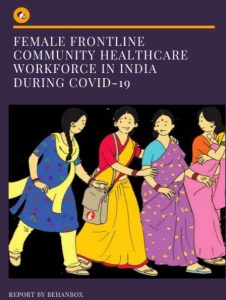 began in March 2020. From door-to-door surveys, at-home testing, and regular visits to containment zones, India's ASHA, Anganwadi, and ANM workers have been fighting to rid the pandemic by standing at its baseline. However, investigations and detailed studies have found lapses in the ways their work has been recognized and compensated.
A study conducted by researchers at Behan Box has concluded that throughout the pandemic, female community healthcare workers have been affected by issues of monetary debt, weakened physical health, exacerbated mental health, and negligence in remuneration.
Behan Box, an online platform that deals in investigative and research-driven journalism on gender issues, conducted the study titled 'Female Frontline Community Healthcare Workforce In India During Covid-19" with the Covid Research department of Azim Premji University. The team interviewed over 200 female healthcare workers from 10 states across the country, including Assam, Bihar, Haryana, Jharkhand, Karnataka, Maharashtra, Madhya Pradesh, Delhi, Telangana, and Uttar Pradesh. They interviewed accredited social health activists (ASHA), Anganwadi workers (AWWs), and auxiliary nurse midwives (ANMs).
---
---
The team spoke to 95 ASHA Workers, 77 AWWs, and 29 ANMs, which reflected regional representation, Covid infection rates, and socioeconomic representation. The women belonged to both urban and rural households, SC/ST and upper-caste districts of Covid Red Zones, and states with tribal populations.
"One million ASHA, 2.6 million AWWs, and a large cadre of ANMs have been at the forefront of Covid-19 response system in India, and for decades, have been engaged in strengthening primary healthcare outreach and community nutrition programs across the country. While their work has been crucial to India's healthcare system, they have often been underpaid and undervalued," the report reads.
ASHA Workers, AWWs, and ANMs were engaged in monitoring and regularly surveying their communities, apart from engaging in disease surveillance, data reporting, public health messaging, and delivering essential foods. The report finds that all three groups clocked over 12-hour workdays and engaged in their duties continuously, despite feeling alienated and undervalued for the "disproportionate burden they bore against Covid-19 without adequate pay, personal protection, or state support."
"India's pandemic response was heavily reliant on the underpaid, undervalued, and invisible labour of its community healthcare workforce," the report says. 
All three groups of workers reported higher workload and field duties during the pandemic. ASHA and AWWs were engaged in conducting a large majority of Covid-19 surveys. They even checked quarantine centers, monitored containment zones, distributed food rations, and worked between 12–15 hours a day.
The workers also reported a lapse in the transfer of government allocated honorarium of INR 1000 per month. Over 31% of the ASHA workers interviewed by the team said that they had not received the honorarium. "These women also saw their incomes drop by INR 1000–5000 during the pandemic. Loss in incentives led to an income drop for 86% of the ASHA workers we interviewed," the report reads.
The report also found that the female community healthcare workers were not provided with appropriate Covid-19 preventive gear, including PPE kits. As per the study, "At the time of interviews, 28% of healthcare workers had not received PPEs at all from the government. ASHAs and AWWs in most districts across all states noted that they received safety kits only 2–3 times since the beginning of pandemic duty in March 2020. In many districts, ASHA, AWW, and ANMs reported stitching masks, buying soap and sanitizers for personal use as well as community distribution."
Incidences of abuse and violence were also reported, along with the unfortunate (Covid-19 related) deaths of some workers in Bihar, Madhya Pradesh, Delhi, and a few other states.
Throughout, healthcare workers have crucially demanded adequate policy response by central and state governments.
 While ASHA workers have mainly demanded fixed salaries and regular payments, Anganwadi workers have demanded regularization of their employment. Groups have also requested for their Covid incentives to be increased from INR 1000/month to at least INR 300/day. ANMs have also demanded government insurance cover.