India is experiencing a positive change in the fashion industry: Jeesha Chowdhury
Asian Academy of Film and Television alumna Jeesha Chowdhury is a fashion designer and is a proud plus size model and body activist who advocates against body shaming, and is a staunch supporter of being comfortable in one's skin and shape. She recently won the Ms Extraordinary Plus Size pageant. Jeesha shares about her winning journey, her beliefs and her dreams. This interview is part of our #Featured section.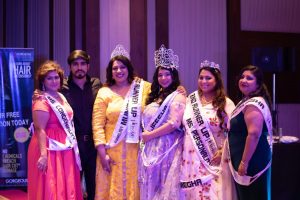 Delhi Post: Tell us about yourself?
Jeesha: I am basically from Delhi but I have completed my schooling from Uttarakhand. I am a fashion design graduate from Marwah Studios, Asian Academy of Media Studies.
Delhi Post: How has your Ms Extraordinary Plus Size pageant journey been?
Jeesha: My journey so far has been wonderful and full of self acceptance. I have discovered so many new things about myself. I am really grateful to a few people namely, Sana ma'am, Vishwajeet sir, Mobita ma'am and especially Kalpana who became a great friend of mine during the pageant.
Delhi Post: With the phrase 'plus-size' comes a lot of health-related stereotypes. Do you face such issues?
Jeesha: I believe that beauty comes in all shapes and sizes, be it thick or thin, you are beautiful. It is very sad that in today's society, people judge others on the basis of their external appearances. It is not only those who are plus size but also people who are thin, who are often body shamed. Be it tall, short, dark or fair, it's really wrong to judge a person and pass nasty comments because I have been a victim of such stereotyping. It became really depressing for me, so I used to tell people to not do it, and don't consider it to be normal. I have my friends at times who don't realise that they are crossing the line by calling me "baby hippo" or "baby elephant" as this is not okay. You might not know what I was going through and I had been starving myself which is not healthy, but now I have realised and finally accepted myself. I am really happy about everything and proud in the body I am in today.
Delhi Post: What is your mantra for success?
Jeesha: Firstly, I choose not to entertain any sort of negativity and we all shouldn't entertain any such things. I feel certain issues shall be addressed, especially when I am asked and told that I am promoting obesity. No, I am not promoting obesity and nor are people of my body type. It's not that we are always eating and consuming an unholy amount of food, or are hogging upon food 24×7. We do workout and I believe in exercising because health comes first.
Delhi Post: Your role model and famous body positivity activist Ashley Graham called out for more body diversity on ramps. Do you think India should follow suit?
Jeesha: I absolutely agree with Ashley Graham and I am actually happy that from the past few years India is experiencing a positive change especially in the fashion industry as there have been new opportunities which are being given to people of different body types, plus size as well as different sexualities such as the transgender. We all are changing, things are changing and new opportunities are here for everyone.
Delhi Post: Your future plans?
Jeesha: I have planned out many things for myself. I'll start with my own fashion brand that shall cater to all sizes and for which I am extremely excited. I would love to pursue modeling and acting. And yes, I also want to be a plus size fitness model because people like me are often slammed for not being healthy and prove the world wrong by being a plus size model.
Delhi Post: Any message for our viewers on body positivity?
Jeesha: I would like to tell everyone, please love yourself, love your body, be confident about yourself no matter how you are. Short, tall, fat, thin. This is you, love yourself, nobody will do this for you. Celebrate yourself and you deserve the best of the best things in life. Don't let anyone pull you down and say you cannot do it.
Thank you Delhi Post for having me here.